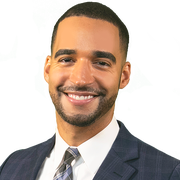 Michael Estime
Meteorologist
I am honored and humbled to return home to Detroit and work alongside the most talented meteorologists in the country here at WJBK Fox 2 News.
Before joining the WJBK Fox 2 News family, I served for 4 years as the Weekend Meteorologist and weekday co-cost of "Live on Lakeside" in Cleveland at WKYC. Northeast Ohio is an incredible part of the country to live given its proximity to Lake Erie. Lake Erie impacted day to day life every fall, winter and spring with tons of lake effect snow! It was a forecasting challenge, but one that I welcomed with opened arms and a shovel in hand.
Prior to heading to Cleveland, I worked as the Morning, Midday & Noon Meteorologist at WTVQ in the "Horse Capital of the World" - Lexington, Kentucky.
While in Kentucky, my forecasts of crippling snowstorms, record-shattering cold, devastating flooding, and violent tornadoes helped earn our weather team the title of "Most Accurate Forecast in Central Kentucky" by WeatheRate. Your safety before, during, and after a storm is my number one priority. Rain or shine, day or night, my passion for the weather, commitment to our community, and optimistic outlook are qualities that you can count on.
I started my professional broadcast career in the "Song & Soul of the South," - Macon, Georgia. I served as the Morning Meteorologist at WMGT for several years before being promoted to the Chief Meteorologist - a position I held for an several years. I experienced just about everything in Georgia, from blistering hot summers and hurricanes to snow and ice storms. The historic April 27-28, 2011 tornado outbreak in the southeast, which decimated parts of Central Georgia, serves as my piece of humble pie as to the extreme power of Mother Nature.
I am a proud graduate of Central Michigan University (CMU) and earned a degree in Meteorology with a minor in Mathematics. During my time at CMU, I worked for MHTV News Central 34, and was awarded "Best Weathercaster" in 2006, 2007 & 2008. Fire Up Chips!
WJBK is not my first stop in metro Detroit. I started my career working behind the scenes at WWJ-TV CBS Detroit through the Emma L. Bowen Foundation (EBF) and was awarded a 5-year work/study scholarship with CBS News. The EBF allowed me the opportunity to work/job shadow with meteorologists all over the country from New York, Chicago, Atlanta, and Detroit (…such as Jim Madaus, Ben Bailey and yes, even Rich Luterman … many, MANY years ago!) to The Weather Channel. In 2009, the EFB honored me with its coveted "Outstanding Student of the Year" award.
I am an AMS Certified Broadcast Meteorologist through the American Meteorological Society, and also hold a membership with the National Weather Association.
In my spare time, I enjoy volunteering in the community, playing the clarinet, and spending time with friends and family (including my mirror-identical twin brother!)
If you would like me to speak with your students or participate in your charity event, please send me an email!
The latest from Michael Estime