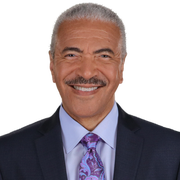 Hello, my friends! Thanks for watching FOX 2 News and thanks for stopping by.
I'm blessed to have one of the greatest jobs in the world. In the 24 years that I've worked for the station, I've traveled the country with Nelson Mandela, followed the Pope, and covered nearly every major political convention. But best of all, I get to work with some of the most talented reporters, photographers and producers in broadcasting.
Along the way, I picked up two Emmy Awards for reporting and four nominations for Best Anchor. Not bad for a young man who was on his way to becoming a lawyer when he got his first big break in television. I think I made the right choice.
Over the years, I've developed a deep and abiding faith in the people of metro Detroit. Time after time, I've seen us overcome enormous odds. No matter where we live or what we do, there is a sense of community that always seems to bring us together. There is nothing we cannot achieve ... no problem that we can't solve.
In addition to anchoring the 5 p.m., 6, 10 and the Edge at 11 p.m. I also host the popular talk show, "Let It Rip!" at 10:30 every Thursday night. Whenever you watch FOX 2, you'll see a wide range of stories and people. Some of them will make you cry; some of them will make you angry; some of them may even leave you laughing. But at the end of the newscast, I hope you feel that we've been working together for you, trying to solve problems, not just expose them.
We hope it's the information you need to lead a better life.
The latest from Huel Perkins