From Ingham County to U.S. Senate, Debbie Stabenow plans her goodbye
LANSING, Mich. (FOX 2) - For the past five decades, Debbie Stabenow has had a hand in laws that affect Michiganders. But that will soon change after her announcement of her plans to retire rather than seek reelection in 2024.
The U.S. Senator announced her plans to not seek reelection in 2024 on Thursday, which will mark the end of a nearly 50-year career in politics.
It started at the age of 24 when, fresh out of Michigan State University, Stabenow became the first woman to chair the Ingham County Board of Commissioners. Four years later, in 1978 she was elected to the Michigan House. She ran unsuccessfully for lt. governor and governor. In 1996, she ran for and won a seat in the U.S. House, which she ultimately gave up in 2000 when she ran for Senate. That's where she's been for the past 23 years.
But she says the time is right.
"It really is about family," she said.
Stabenow has a 96-year-old mom and grandkids. A lot of politicians say they are leaving to spend more time with the family, but oftentimes there is a hidden reason behind that rhetoric.
She insists that's not the case. She says she's healthy, not burned out, doesn't have another job, and isn't running for anything else.
Up until a couple of weeks ago, she was raising money and was planning to run again. But after the election, she went back and forth on retirement and finally concluded it was time to 'pass the torch to a new generation of leaders' which is why she made this announcement two years in advance.
"It's important to give people who would be interested the opportunity to plan running for the U.S. Senate. It's a lot of work," she said.
The Senator is the number three leader in the U.S. Senate and she will be under pressure to leave her job next year. That would give Governor Gretchen Whitmer the chance to appoint a Democrat to replace her which would give that person the chance to run for the job as the incumbent. Many believe that would be the smart political move to make, but Stabenow says she won't do it.
"I am running to the tape. I will retire in January 2025," she said.
Next up? Possibly a book but other than that, she's not sure. She does say that running for another office isn't happening.
The line on the left and the right to replace Stabenow has already started to form - and it will be a long one.
"One thing that you learn from Debbie is that she is absolutely tenacious," said Sen. Gary Peters.
Peters reflected on what he's learned from Stabenow - who is now 72 and has spent five decades in public service. One of her many priorities during that time, has been mental health.
"We are finally going to treat healthcare above the neck the same as below the neck," Peters said.
Senator Peters say it's an important part of her legacy.
"Debbie is probably in my mind the foremost champion for mental health care in the United States Senate and really in the entire Congress,"
Accolades have been pouring in - Whitmer called her a champion, while Detroit Mayor Mike Duggan reflected on her impact.
"She's been such a tremendous asset to this state and i'm just really happy that she's going out on top," he said.
So who will fill her shoes? Duggan says it won't be him.
"I promised the people of Detroit when I ran in 2021, that I would serve my full four years," he said. "There is no chance at all, I will run for senate."
But already plenty of possibilities are being suggested on the Democratic side - from Transportation Secretary Pete Buttigieg - whose family recently moved to Michigan - to U.S. Congresswomen Elissa Slotkin and Haley Stevens - or State Senator Mallory McMorrow.
FOX 2 caught up with political insider Adolph Mongo.
"I like the Lt. Governor, Garlin Gilchrist, a smart young man - I think he would be great for the state," he said.
On the Republican side - former gubernatorial candidate Tudor Dixon tweeted that Republicans need a strong candidate - a person familiar with the matter saying she isn't ruling out a run for that seat.
Recently elected Congressman John James is also a possibility.
"John James on the Republican side - I wouldn't be surprised," Mongo said.
Mongo says it's anybody's guess who will run - but he would advise them to announce soon.
"Who has the most money - and who gets out there first," he said.
For a Senate seat, Republicans are pledging to aggressively pursue, as Democrats fight to maintain such a slim majority - Michigan will once again - be a battleground.
"We have an awful lot of highly qualified, very capable individuals that I'm sure will take a serious look at this race," Peters said. "And when it's all said and done we will be sending a Democrat back to Washington D.C. in two years."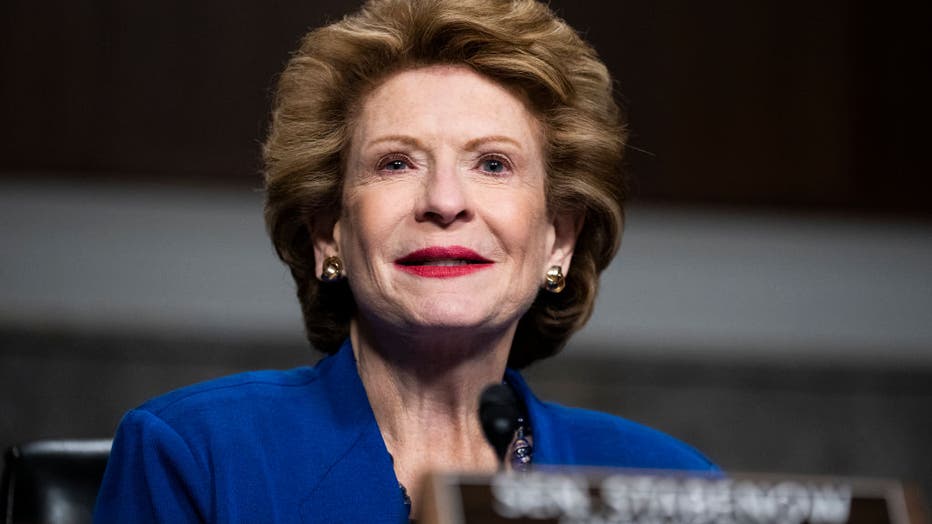 UNITED STATES - DECEMBER 1: Chairwoman Sen. Debbie Stabenow, D-Mich., speaks during the Senate Agriculture, Nutrition and Forestry Committee hearing titled FTX Collapse Lessons, in Dirksen Building on Thursday, December 1, 2022. Rostin Behnam, chairm