Super Bowl LVII: Glendale residents prepare for thousands to descend on their neighborhoods
GLENDALE, Ariz. - After every Arizona Cardinals game, the side streets around State Farm Stadium are packed with cars, and on Super Bowl Sunday, that of course will kick up several notches.
What's it like to live right next to the stadium and deal with these massive crowds? Well, let's just say these cul de sacs are used to crowds.
It's a normal Saturday in Gina Van Arsdall's Glendale backyard. The former Phoenix College pitching great is coaching the next generation of hitters, but between the cracks of the bat is the sound of low flying planes with advertisements above.
"All week. All week. You can't get through certain roads because they have them blocked off" she said.
It's about to get a lot louder than that. The Super Bowl is quite literally their next door neighbor.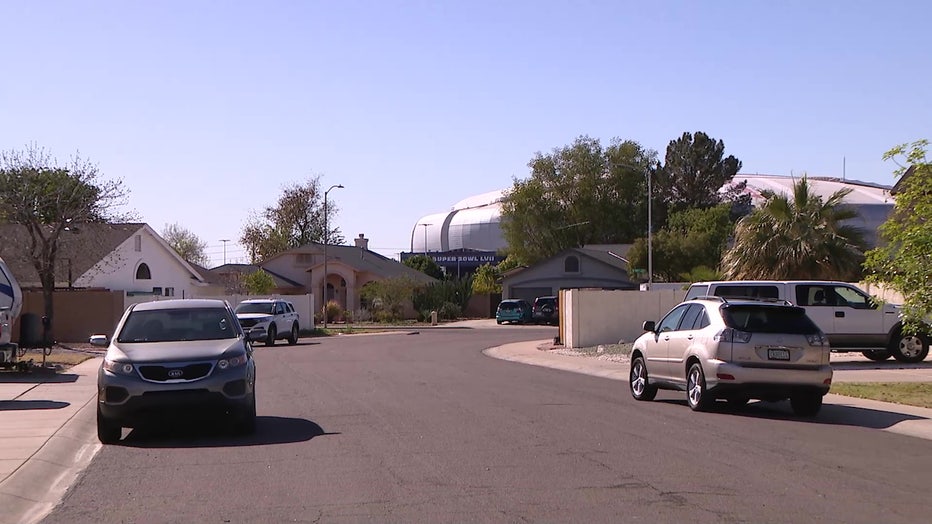 Joey Van Arsdall spent the day sealing the RV and loves the energy the big game is bringing.
He says, "Yeah, it gets loud. It shakes the mirrors on our walls."
Beckie Brown has her own strategy for the worldwide party outside her door. Cones.
"Simple as that," she says.
Super Bowl 57: All you need to know
Glendale usually keeps the crowds off her street, but she puts them out just in case.
"I notice there is not somebody there right now and there are already people lined up," Brown said.
She says locals know how to avoid the massive crowds.
"Can you go to the grocery store during the Super Bowl? Is that even an option?" she joked. 
MORE: Safety tips for dating while the Super Bowl and WM Phoenix Open are in town
Everyone seems ready to watch the game at home, but nearby, they're keeping their ears open for the big plays.
"You can always tell when there's a touchdown or something. You can hear the Woooo!' Yeah, we'll hear it and run outside," Brown said.
Are the Van Arsdalls going to do the same?
"Yeah, oh yeah. Windows open, doors open, love hearing it. Especially when the top is open, you can hear everything," Gina said.
There are a lot of homes on the east side of the stadium with the cones out the day before Super Bowl.
More reports: