Bat-Signal to light up Los Angeles sky in tribute to Adam West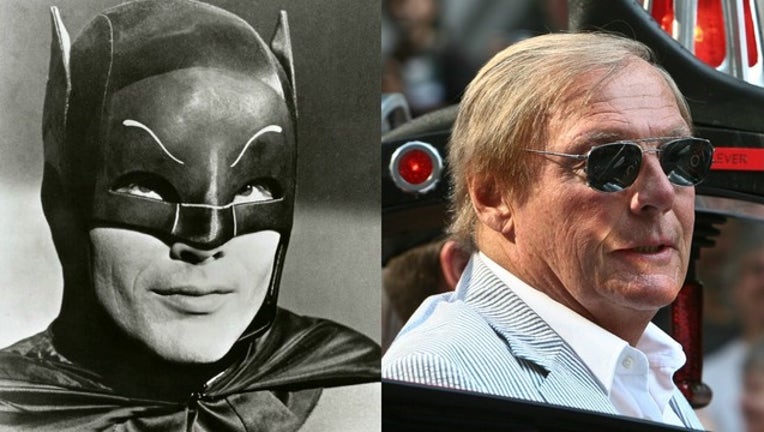 article
LOS ANGELES (AP) - The Bat-Signal will shine over Los Angeles in tribute to the late Adam West, the actor best-known for playing Batman in the campy 1960 television series.
Mayor Eric Garcetti says the Bat-Signal will be lit at L.A.'s City Hall at 9 p.m. Thursday.
In Batman comics, movies and TV shows, the Bat-Signal is a spotlight with the shadow of Batman's winged emblem that is shown on the night sky to call for Batman's help.
West died Friday night after "a short but brave battle with leukemia," the family said.
Garcetti announced the event on Twitter and added the hashtag, #BrightKnight.
Batman is often referred to as the Dark Knight, but West's children said in a statement that he aspired to positivity and always saw himself as "The Bright Knight."
RELATED: Adam West, TV's 'Batman,' dies at 88
West played the superhero straight for kids and funny for adults. He initially chaffed at being typecast after "Batman" went off the air after three seasons, but in later years he admitted he was pleased to have had a role in kicking off a big-budget film franchise by showing the character's wide appeal.
"You get terribly typecast playing a character like that," he told The Associated Press in a 2014 interview.
"But in the overall, I'm delighted because my character became iconic and has opened a lot of doors in other ways, too." He returned to the role in an episode of the animated "The Simpsons."
And more recently, he did the voice of nutty Mayor Adam West in the long-running "Family Guy" series.
In April 2012, West received a star on the Hollywood Walk of Fame. Born William West Anderson in Walla Walla, Washington, he moved to Seattle at age 15 with his mother after his parents divorced.
He graduated from Whitman College, a private liberal arts school, in Walla Walla.
After serving in the Army, he went to Hollywood and changed his name to Adam West, and began appearing on a number of television series, including "Bonanza," ''Perry Mason" and "Bewitched."
He was married three times, and had six children. He had homes in Los Angeles and Palm Springs, but he and his wife, Marcelle, spent most of their time at their ranch near Sun Valley, Idaho.