Blight Busters and HGTV's Bargain Block ready for art show in Old Redford
DETROIT (FOX 2) - Clear the brush - sweep up the dust - Detroit's Old Redford neighborhood is spring-cleaning - getting ready for an art show.
"You know our goal is to save the world starting with Detroit," said John George. "So today we're working with our friends from Bargain Block - we're so excited that they're in our neighborhood working with us and others."
George is with Detroit Blight Busters - teaming up with volunteers for years, as well as muralist and artist Chazz Miller - and now, these guys: Evan Thomas and Keith Bynum from Bargain Block.
The stars of HGTV's Bargain Block also own NINE - their warehouse and shop on Grand River just a few blocks from Blight Busters' Artist Village.
"We're connecting their alley to our artist alley," George said. "On June 17th in conjunction with Bargain Block and friends - we're having an art festival."
One hundred artists - thousands of guests - food trucks and so much to do.
"We're out here getting it ready - food trucks coming - art vendors everywhere - live mural-ing - it will be a blast," said Keith Bynum.
Bynum will be painting a mural on the side of his building and teaching a watercolor class.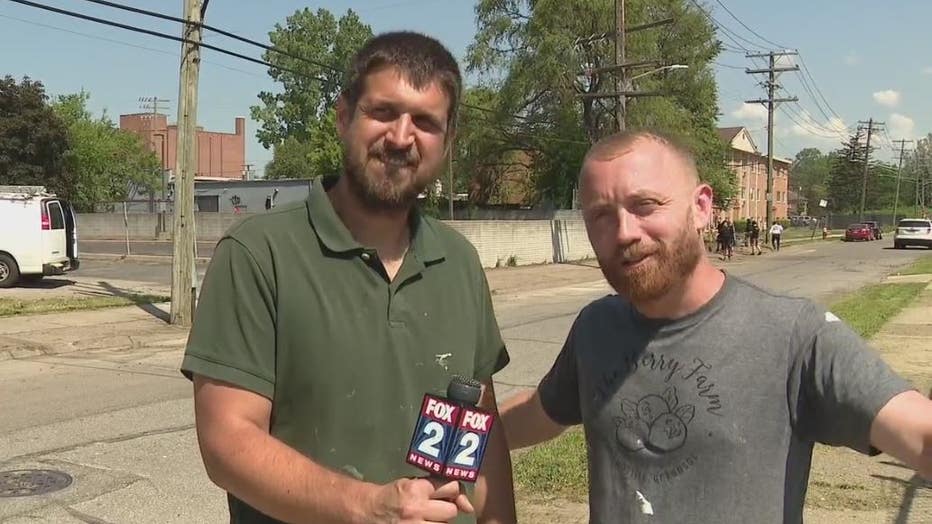 Bargain Block's Evan Thomas and Keith Bynum
There will also be information about financing for people interested in buying a home. Shea Hicks from Bargain Block will be there as well as all the artists lining the alleys over to the Artist Village at Lahser and Grand River.
"It's basically going to start here and end up at the Artist's Village - we'll have poetry and art, music, food, and friends - it's going to be nice," George said.
It's all part of the city's efforts to revitalize and add art to the alleyways. The kind of work the Bargain Block guys have been doing here for the past few years - and John George's Blight Busters have been doing - for decades.
"It's going to be really a lot of fun," George said. "Our goal has always been to bring people together - to not only stabilize and revitalize Detroit. But (to) create some opportunity and hope. And art really adds that flavor.
"We're inviting all artists - quite frankly - to join us as we work together to rebuild Detroit."
The first annual NINE Design and Homes Festival of the Arts is Saturday, June 17th - from 10 a.m. until 5 p.m.
For more information, go here.