DTE: 95% of power will be restored by Monday night after winter storm slams SE Michigan
SOUTHFIELD, Mich. (FOX 2) - More than 50,000 DTE customers are without power after a winter storm that dumped as much as six inches to a foot of snow.
DTE announced Saturday afternoon they expect that 95% of customers impacted by last night's weather will be restored by the end of the day Monday, March 6. 
"Our DTE Storm Response team is actively working to restore power to the customers who are currently without power due to the wind and wet, heavy snow that blanketed southeast Michigan on Friday evening through early Saturday morning," DTE said in a news release.
READ MORE: Thundersnow seen across Metro Detroit as winter storm strengthens
According to DTE, trees and branches damaged by last week's ice storm broke from the weight of the heavy snow and ice, falling onto power lines and other equipment. There are more than 2,000 reported downed wires.
DTE says they have approximately 3,500 field team members, including out-of-state teams held over from last week's ice storm.
Oakland, Livingston, and Washtenaw counties saw the most snowfall accumulation. Wayne, Lenawee, and Monroe counties had less snow.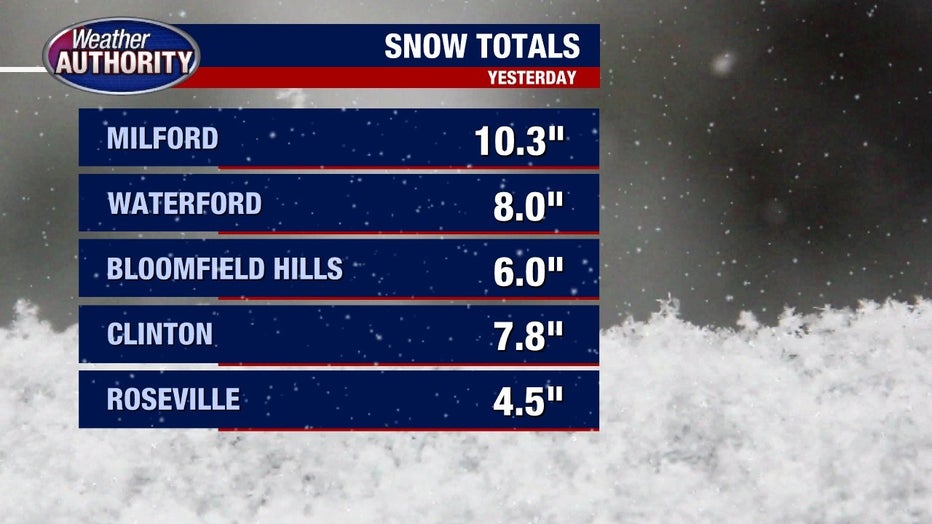 Milford, Howell, and Rochester Hills had the highest totals, with over 10 inches of snow piled up onto the ground.
On Feb. 22, a severe ice storm caused widespread outages, including more than 300,000 customers. Check the outage map here.