Ex-ESPNer shares story of her miscarriage during live broadcast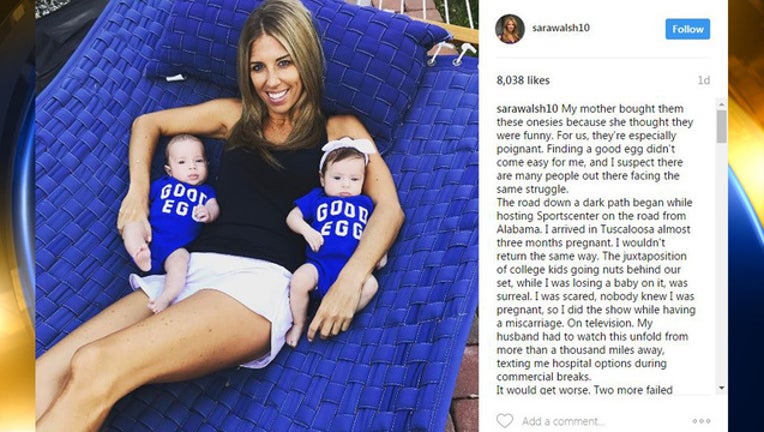 article
(WJBK) - A former ESPN presenter shared a moving post on social media in honor of her first Mother's Day.
Sarah Walsh, who is married to Toronto Blue Jays pitcher Matt Buschmann, posted about their heartbreaking journey to parenthood, which included suffering a miscarriage while on live TV.
"I was scared, nobody knew I was pregnant, so I did the show while having a miscarriage," she wrote on her Instagram post.
She says he husband was watching, knowing what was unfolding, from thousands of miles away. She writes that he was even texting her hospital options during her commercial breaks.
Sarah then shares that, after that miscarriage, she had two more failed pregnancies. She kept quiet about her infertility struggles, and even showed up at work a day after a surgery as to not draw attention to her situation.
She and her husband eventually went down the IVF road, and eventually got pregnant with twins. She was still scared, and didn't really share her exciting news.
"I spent a third straight football season pregnant, strategically picking out clothes and standing at certain angles, using scripts to hide my stomach. There would be no baby announcement, no shower, we didn't buy a single thing in preparation for the babies, because I wasn't sure they'd show up. We told very few people we were pregnant, and almost no one there were two," she writes. "For those that thought I was weirdly quiet about my pregnancy, now you know why."
This was her first time in a while not being on TV on Mother's Day, and, even though she's not sure when she'll be back on TV, she writes that she feels lucky to hang out with "these two good eggs." She also shared a photo of her lying in a hammock with her two children.
Her son and her daughter are wearing bright blue onesies that say, "GOOD EGG."
"My ONLY good eggs," Sarah adds. "And I know how lucky I really am."
Click here to see if you can't see her post above.
Sarah's post has been liked thousands of times.