Ohio residents fear train derailment poisoned air, ground, report animals dying
Officials say it is safe for residents in and around East Palestine, Ohio, to return home after a train derailment released toxic chemicals into the environment nearly two weeks ago. 
However, the Environmental Protection Agency (EPA) has warned contaminated soil may not have been disposed of properly.
A broken axle sent nearly 50 train cars, including 10 carrying vinyl chloride spiraling off the tracks on Feb. 3. No one was injured in the accident, but hazardous chemicals spilled onto the ground. Three days later, residents were ordered to evacuate while Ohio officials executed a controlled release of vinyl chloride to prevent an explosion, which sent thick clouds of poisonous smoke billowing into the air.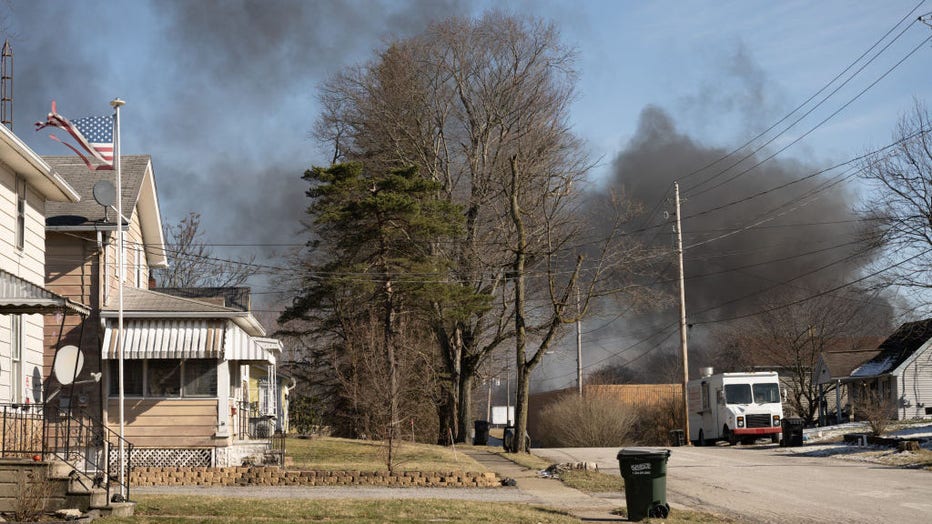 Smoke rises from a derailed cargo train in East Palestine, Ohio, on February 4, 2023. (Photo by Dustin Franz/AFP via Getty Images)
East Palestine Fire Chief Keith Drabick said on Feb. 7 that air and water testing showed it was safe for residents to return home. However, some of those who have done so have reported sick and dying animals in the area. 
Taylor Holzer, who operates a Dairy farm just outside the evacuation zone in East Palestine, told WKBN that several foxes he keeps have puffy and swollen faces, and one even got sick and died. 
OHIO TRAIN DERAILMENT PROMPTS WATER UTILITY ACROSS STATE LINES TO TAKE PRECAUTIONS AS HEALTH CONCERNS MOUNT
"Out of nowhere, he just started coughing really hard, just shut down, and he had liquid diarrhea and just went very fast," Holzer said. 
The EPA, Ohio Department of Natural Resources (ODNR), and other agencies are working with the train company, Norfolk Southern, to monitor the fallout from the accident. In a letter sent on Feb. 10, the EPA informed Norfolk Southern the company bore liability for cleanup and warned some contaminated soil was not disposed of correctly, WKBN reported. 
"Five railcar tankers of vinyl chloride were intentionally breached; the vinyl chloride was diverted to an excavated trench and then burned off. Areas of contaminated soil and free liquids were observed and potentially covered and/or filled during reconstruction of the rail line including portions of the trench /burn pit that was used for the open burn off of vinyl chloride," the EPA wrote.
Norfolk Southern told WKBN that in the company's initial response at the site, some soil was moved around as workers moved equipment and began cleanup. "We will continue to remediate the site, including the removal of soil, to reach or exceed regulatory standards. Soil taken from the site is moved to a separate site for testing before being safely disposed of," the company said, pointing out that a hazmat team was at the scene within an hour of the incident. 
AFTER CRITICISM FOR IGNORING OHIO TRAIN DERAILMENT DURING CONFERENCE APPEARANCE, BUTTIGIEG TAKES TO TWITTER
The company has continued to coordinate the response with federal and state agencies and pledged more than $1 million to assist impacted families and support first responders in the community. 
Norfolk Southern said in a news release Monday that more than 340 in-home air tests conducted since the accident have "not shown any detections of substances related to the incident and does not indicate a health risk." The company said test samples from the Village of East Paletine's drinking water supply wells, drinking water system, and private wells, will be available next week. 
The EPA has said tests have not "detected any levels of concern in the community that can be attributed to the incident at this time." 
However, residents tell a different story. 
OHIO TRAIN DERAILMENT: REP. OMAR CALLS OUT BUTTIGIEG FOR 'DIRECT ACTION,' VANCE SAYS 'MANY QUESTIONS REMAIN
Amanda Breshears, a resident of North Lima, 10 miles away from the train derailment sight, said all the chickens she keept died after the chemical burn. 
"My video camera footage shows my chickens were perfectly fine before they started this burn, and as soon as they started the burn, my chickens slowed down and they died," she told WKBN. "If it can do this to chickens in one night, imagine what it's going to do to us in 20 years." 
East Palestine resident Nathan Velez told "Jesse Watters Primetime" Monday he has come down with persisting headaches related to a foul smell in the air. 
"My house is just across the tracks … and it smells, too. You can't spend a lot of time here without feeling like crap," he said. "And my question is why, if it's okay if it's safe, and all these people say it's safe, if it's so safe and okay then why does it hurt?"
EAST PALESTINE POLICE DEFEND ARREST OF NEWSNATION CORRESPONDENT COVERING OHIO TRAIN DERAILMENT PRESSER
Numerous videos posted to social media by local residents show workers retrieving dead fish from local rivers and streams. 
Officials estimated on Feb. 8 that 3,500 fish were killed in the aftermath of the accident. ODNR said Monday that wildlife officers have found dead fish within about a 7.5-mile radius of the chemical spill. 
Sen. JD Vance, R-Ohio, said Monday he is "horrified" by the anecdotes he's heard from residents and urged anyone with "credible reports of environmental harms" to contact his office. 
"This is a complex environmental disaster with impacts that may be difficult to assess in the short term," Vance said. "Long-term study will be imperative."
Fox News' Yael Halon contributed to this report.