The Cranberries lead singer Dolores O'Riordan dead at 46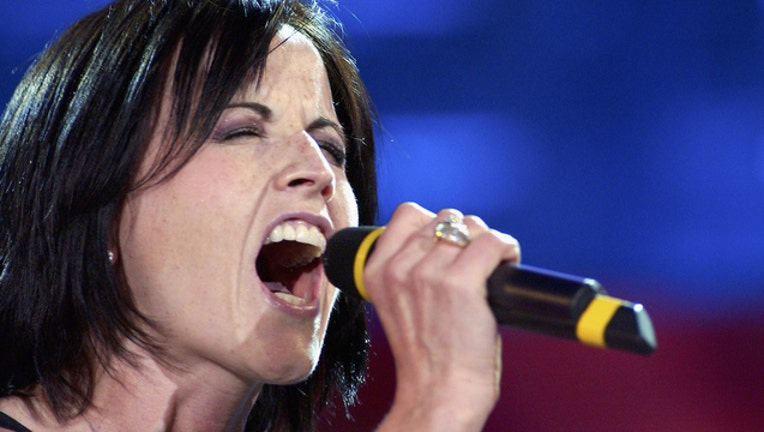 article
LONDON - (AP) -- Dolores O'Riordan, whose urgent, powerful voice helped make Irish rock band The Cranberries a global success in the 1990s, died suddenly on Monday at a London hotel. She was 46.
The singer-songwriter's publicist, Lindsey Holmes, confirmed that O'Riordan died in London, where she was recording,
"No further details are available at this time," Holmes said, adding that O'Riordan's family was "devastated" by the news.
Her Cranberries bandmates — Noel Hogan, Mike Hogan and Fergus Lawler — tweeted that O'Riordan "was an extraordinary talent and we feel very privileged to have been part of her life."
London's Metropolitan Police force said officers were called just after 9 a.m. Monday to a hotel where a woman in her 40s was found dead. The police force said the death was being treated as "unexplained."
The Hilton hotel in London's Park Lane confirmed that a guest had died on the premises.
Ireland's President Michael D. Higgins said O'Riordan and The Cranberries "had an immense influence on rock and pop music in Ireland and internationally."
O'Riordan was born on Sept. 6, 1971 in Ballybricken, southwest Ireland. In 1990, she answered an ad from a local band in nearby Limerick city — then called The Cranberry Saw Us — that was looking for a lead singer.
A name change and a confluence of factors turned The Cranberries into international stars. Their guitar-based sound had an alternative-rock edge at a time when grunge was storming the music scene.
The band's songs — on which O'Riordan was chief lyricist and co-songwriter — had a Celtic-infused tunefulness. And in O'Riordan the group had a charismatic lead singer with a distinctively powerful voice.
Heavy play on MTV for their debut single "Dream" and the singles that followed helped bring the group to the attention of a mass audience.
The Cranberries' 1993 debut album, "Everybody Else Is Doing It, So Why Can't We?", sold millions of copies and produced the hit single "Linger."
The follow-up, "No Need to Argue," sold in even greater numbers and contained "Zombie," a visceral howl against Northern Ireland's violent Troubles that topped singles charts in several countries.
Irish Prime Minister Leo Varadkar tweeted Monday that "for anyone who grew up in Ireland in the 1990s, Dolores O'Riordan was the voice of a generation. As the female lead singer of a hugely successful rock band, she blazed a trail and might just have been Limerick's greatest ever rock star. RIP."
The band released three more studio albums before splitting up in 2003. O'Riordan released a solo album, "Are You Listening," in 2007, and another, "No Baggage," in 2009.
The Cranberries also reunited that year, resulting in the album "Roses" in 2012.
For a time, O'Riordan was one of Ireland's richest women, but she struggled with both physical and mental health problems.
The Cranberries released the acoustic album "Something Else" in 2017 and had been due to tour Europe and North America. The tour was cut short because O'Riordan was suffering from back problems.
In 2014, O'Riordan was accused of assaulting three police officers and a flight attendant during a flight from New York to Ireland. She pleaded guilty and was fined 6,000 euros ($6,600.)
Medical records given to the court indicated she was mentally ill at the time of the altercation. After her court hearing O'Riordan urged other people suffering mental illness to seek help.
She told London's Metro newspaper last year that she had been diagnosed with bipolar disorder, and she spoke to the Irish News about her battles with depression.
O'Riordan said depression "is one of the worst things to go through," but that "I've also had a lot of joy in my life, especially with my children."
"You get ups as well as downs. Sure, isn't that what life's all about?" she said.
O'Riordan is survived by her ex-husband, the former Duran Duran tour manager Don Burton, and their three children.