Bridges, No. 6 Michigan State hold off Illinois 87-74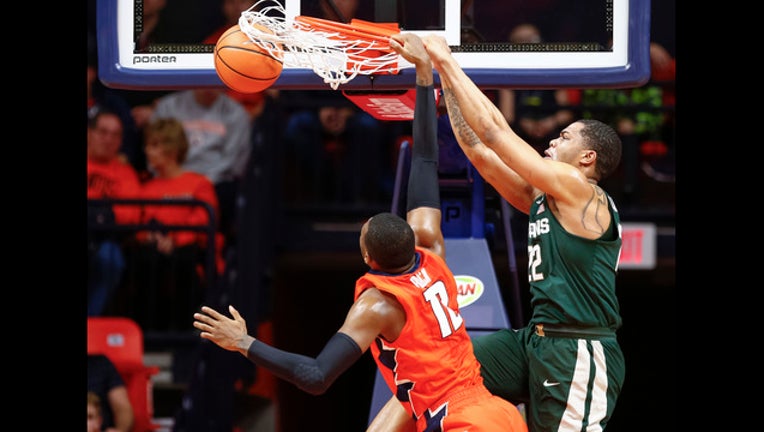 article
CHAMPAIGN, Ill. (AP) - Miles Bridges helped No. 6 Michigan State overcome a game so sloppy, coach Tom Izzo called it "ridiculous."
Bridges scored 31 points, Jaren Jackson Jr. had 21 points and 11 rebounds and the Spartans beat Illinois 87-74 on Monday night despite committing 25 turnovers.
It was the most giveaways for Michigan State (18-3, 6-2 Big Ten) since November of 2005 against Arizona, when they had 27 in an overtime win. This was the Spartans' third straight game with 20 or more turnovers, and they've won each game by double digits.
"It was a bit ridiculous what we did out there tonight," Izzo said.
Michigan State shot 68.2 percent, which set a record at State Farm Center for an opponent's shooting percentage. Illinois shot 43.1 percent.
Kipper Nichols led Illinois (10-11, 0-8) with a career-high 27 points. Trent Frazier and Leron Black added 13 and 12, respectively.
Michigan State turned the ball over 25 times. It was the third straight game in which the Spartans gave it away more than 20 times and still won by double digits.
Michigan State out-rebounded Illinois 37-15. The Illini didn't record their first rebound until nearly 10 minutes into the game.
"That was a war out there," Izzo said. "We had the most turnovers in a decade and our best field goal percentage in a long time. I know it doesn't add up, but somehow it did for us tonight."
Illinois coach Brad Underwood, whose team has lost six in a row - all Big Ten games - managed to sound optimistic after his team's effort against an elite team.
"I liked the team I coached out there tonight," he said. "Losing is unacceptable, but we're young and everything is a growing process for us. Baby steps. Continuing to learn. Tonight, I think we ran our best offense of the year, against a team that is ranked first or second in the nation in just about every defensive category."
Jackson took an elbow to the side of the head late in the first half while fighting for the ball. He was helped off the court and taken to the locker room, but returned to start the second half.
"Jaren is tough," Izzo said. "I think he hit his head, maybe on the floor, and it looked bad for a minute. But when we came off the court at the half, he was waiting for us in the tunnel, ready to go."
BIG PICTURE
Illinois, playing tight zone defense, was able to stick around in the first half despite Michigan State's height advantage.
TURNING POINT
With the game close at the beginning of the second half, Illinois went cold, going 1 of 9 from the field. Michigan led by five at the half but jumped to a 48-36 lead after less than five minutes. The game was never close after that.
HIGHLIGHT REEL
Bridges was a dunking machine, but his one-handed tip-dunk midway through the second half even left his coach impressed.
"Miles had a blocked shot at one end and ended up with a tip-dunk at the other. He was the man out there tonight," Izzo said.
UP NEXT
Michigan State travels to Wisconsin for another Big Ten matchup. Wisconsin crushed Illinois by 25 points in Madison, Wisconsin, on Friday. The Spartans then host Maryland on Sunday.
Illinois remains at home against Indiana on Wednesday and Rutgers on Jan. 30.