Bruins Crush Red Wings 6-1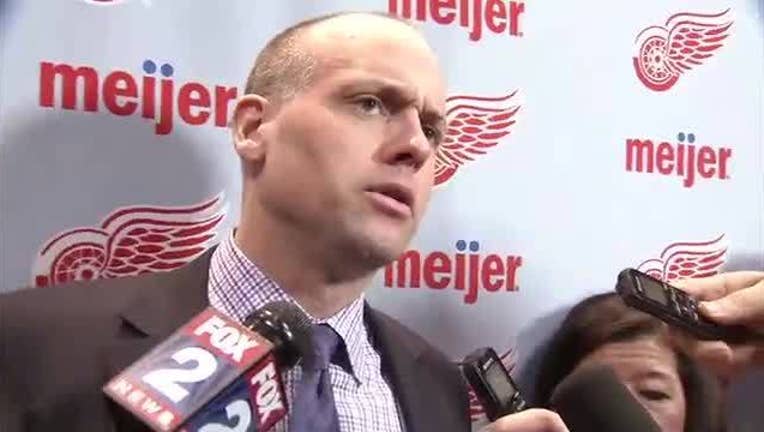 article
BOSTON (AP) - The Boston Bruins had a relaxing night in the middle of a tight playoff chase.
David Krejci scored twice and Drew Stafford had his first with Boston during a four-goal first period that carried the Bruins to a 6-1 victory over the struggling Detroit Red Wings on Wednesday night.
Brad Marchand had his team-leading 31st and 32nd goals, David Pastrnak also scored, and Tuukka Rask made 26 saves. Boston is 9-3 since interim coach Bruce Cassidy replaced the fired Claude Julien on Feb. 7.
The Bruins were looking to rebound from a key divisional loss at Ottawa on Monday. They found it against the Red Wings, who have the Eastern Conference's fewest points.
"The type of season that Detroit's having, it's a little bit different than Ottawa," Stafford said. "There's a little bit more room out there, a little bit more time to make some plays."
Boston moved four points ahead of Toronto for third in the Atlantic Division.
"If you look at our response from the game in Ottawa, it's a good one," Cassidy said. "It's a credit to them."
Niklas Kronwall had his first goal of the season for Detroit. The Red Wings finished a five-game trip 1-3-1.
"It was too easy to play against us," Detroit's Henrik Zetterberg said. "We were just giving away chances."
Detroit starting goalie Jared Coreau was pulled after giving up three goals during a 2:25 span in what's likely his last game with the team before he's shipped back to the minors.
Jimmy Howard, a regular goalie with the Red Wings the past eight seasons, finished his second two-game conditioning stint with Grand Rapids of the AHL on Tuesday. He's scheduled to join the team this week.
Krejci gave Boston a 1-0 lead 11:07 into the game when he skated around defenseman Danny DeKeyser and slipped a wrist shot by Coreau's glove.
"We just didn't execute," Kronwall said. "It's been that way for some time now."
Marchand skated quickly to a loose puck just inside the blue line and broke in alone before firing a shot inside the left post, making it 2-0 just 1:01 later.
Stafford, acquired for a conditional sixth-round pick from Winnipeg at the trade deadline, made it 3-0 at 13:32. Krejci stole the puck from defenseman Dylan Larkin in the slot and beat goalie Petr Mrazek with 14.9 seconds left. Marchand scored on a clean breakaway late in the second period.
Rask knew he's be tested when the Bruins got up big.
"Every time seems to be the same thing, you're playing a bit looser and guys feel like there's more space out there for offense," he said. "As a goalie you just have to be aware of that situation and play the game like it's a tight game."
NOTES: The 32-year-old Howard has been out since spraining his right knee on Dec. 20. Before the injury, he had a .934 save percentage and a 1.96 goals-against average in 17 games. ... It was Krejci's first two-goal and three-point game of the season. ... Bruins center Tim Schaller went hard - skates first - into the backboards and left the ice favoring his right leg in the first. He didn't return. ... Boston forward Ryan Spooner was out with a concussion sustained at Ottawa. Jimmy Hayes took his spot after being a healthy scratch the previous two games. ... Zetterberg's next goal will be the 324th of his career, moving him into a tie for sixth with Ted Lindsay on Detroit's career list. ... The Bruins are 10-1-1 in their last 12 against Detroit.
UP NEXT
Red Wings: Host Chicago on Friday.
Bruins: Host Philadelphia on Saturday.