Dantonio says he wants to be part of solution at Michigan St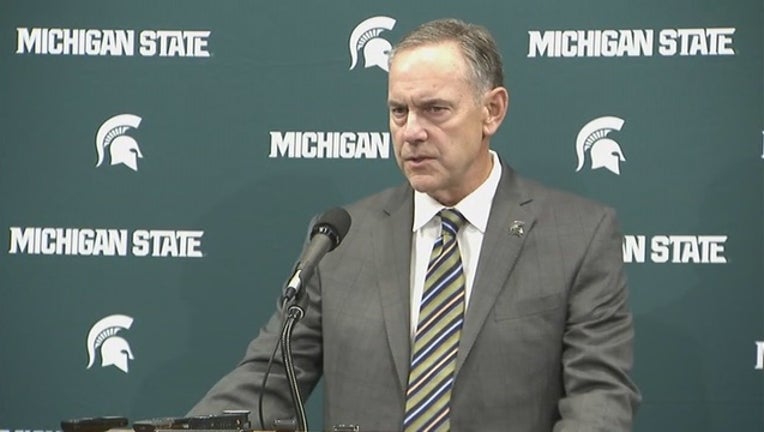 article
As Mark Dantonio and Michigan State began spring practice, there was no avoiding the questions the school and his football program have been facing.
Dantonio wanted to focus on the future.
"I want to commit to be a part of the solution," the Michigan State coach said Tuesday. "I made my statement on how I feel about things, but hopefully we're healing as a community and healing as a university, and it's a step-by-step process."
Michigan State has been rocked by the scandal involving disgraced doctor Larry Nassar, who was sentenced to decades in prison after sexually abusing dozens of women and teenage girls. The school's president and athletic director departed last month.
In addition to the Nassar-related fallout , Michigan State also faces questions about its football and basketball programs following an ESPN report last month detailing various allegations that the school handled sexual assault and gender discrimination cases improperly. Dantonio defended himself after the report, saying he's always worked with the proper authorities when dealing with sexual assault cases.
Dantonio has been able to keep a low profile since then, with his team in the middle of its offseason. On Tuesday, the Spartans held their first spring practice, and he met with reporters on the field. There were a few questions about the off-field issues swirling around the program and the school.
"A lot of time, spring's a time for new beginnings, so I'll use that in this case as well. It's an opportunity to grow and to get better at everything that we're doing and looking at," Dantonio said. "I think John Engler has done a great job thus far, organizationally, in terms of, I guess, confronting the issue."
Engler is the school's interim president following Lou Anna Simon's resignation in January. Michigan State also has an interim athletic director after Mark Hollis' retirement. Hollis' departure came shortly after Simon's. The ESPN report came out around the same time.
Dantonio would not talk about his reaction to Hollis' departure, but quarterback Brian Lewerke commented briefly on it.
"He was kind of stuck in a bad place. Personally, I liked him as an AD. Obviously, I feel like it was kind of a decision that obviously we can't make," Lewerke said. "It was unfortunate but I wish him all the best."
Dantonio said he's made it clear to his players how they need to conduct themselves amid all the turmoil at the school.
"Be respectful of the process. Make sure that we respect women, obviously," Dantonio said. "Make sure that we have no incidents, and that we have to be very careful everywhere we go, and understand that this is a process. They know the expectations here. They know the guidelines and the rules, and we're going to follow those and stay within those."