MSU Beats Penn State 78-51 In Big Ten Tournament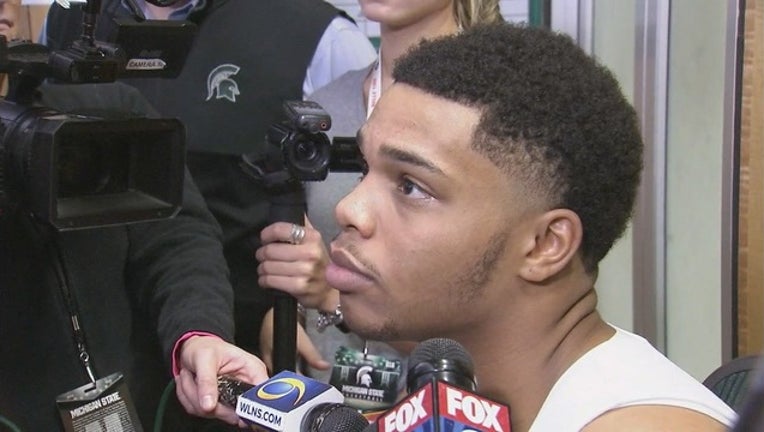 article
WASHINGTON (AP) - It didn't matter that Michigan State had no momentum, or that the Spartans were playing a team that beat them soundly in January.
This was the Big Ten Tournament, when the past usually doesn't matter and Michigan State is almost always at its best.
Miles Bridges and Nick Ward had 15 points and nine rebounds apiece, and the Spartans breezed past weary Penn State 78-51 Thursday.
The fifth-seeded Spartans (19-13) will next face No. 4 seed Minnesota in the quarterfinals on Friday. Michigan State, the defending Big Ten champion, is seeking its fourth title in the last six years.
After closing the regular season with losses at Illinois and Maryland, the Spartans found their groove against a Penn State team playing for the second time in less than 24 hours.
"We're a better team (by) significant amounts, so we just wanted to come out there and show that," Michigan State guard Joshua Langford said. "I felt like they were kind of being nonchalant about playing us, so we just wanted to come out there and make a statement. And we did that."
The 13th-seeded Nittany Lions (15-18) fell behind for good with less than four minutes elapsed, trailed by 18 at halftime and sputtered to the finish after taking out Nebraska in overtime on Wednesday.
"I don't want to say fatigue played a major part in the game," Penn State guard Tony Carr said. "We just kind of got outworked."
Carr and Lamar Stevens each scored 16 points for Penn State, but they combined to miss 23 shots.
Penn State shot 29 percent and was outrebounded 44-29.
Michigan State opened the season with back-to-back defeats, endured a three-game skid in January and finished an uncharacteristic 10-8 in conference play. Yet, the Spartans always seem to be sharp at this time of year.
Michigan State is now 28-14 in the Big Ten Tournament and 101-45 all-time in March under coach Tom Izzo.
"I thought with my guys tonight, we executed a little better and hit our shots," Izzo said. "We got our break going, were pretty good defensively. It's one of the best games we've played this year."
It didn't take long for Michigan State to gain control against a team that one day earlier snapped a five-game losing streak.
The Nittany Lions led 5-3 before Ward made three layups and a jumper in the lane during a 13-1 run during which Penn State went five minutes without a point.
It was 18-13 before a dunk by Bridges and a 3-pointer by Langford launched a 12-0 spurt that put the Spartans up by 17.
Penn State closed to 36-27 before Bridges and Kenny Goins scored on tip-ins, Kyle Ahrens popped a 3 and Bridges soared high on a dunk for a 45-27 lead at the half.
After coasting through the second half, the Spartans began looking forward to their matchup with Minnesota. Even though Michigan State went 2-0 against the Golden Gophers, this game made it clear that past performances don't mean much in the Big Ten Tournament.
"That was so long ago, I don't think that has anything to do with it," Izzo said. "The thing we have to beat Minnesota one time, and they have been playing good. We'll have our work cut out for us, but what a great opportunity to play in this thing and I'm happy we're still playing."
BIG PICTURE
Penn State: The Nittany Lions celebrated on Wednesday night, and they also had wins over Michigan State, Maryland and Minnesota during the regular season. But their lack of consistency left them 6-12 in conference play and with virtually no chance of getting far in the tournament.
Michigan State: The Spartans save their best play for last. So what if they lost two straight coming into the tournament? No team in can match their five Big Ten titles, and there's no reason to think they can't make it six.
UP NEXT
Penn State: Season likely over.
Michigan State: The Spartans beat Minnesota in overtime on the road before registering a 65-47 victory on Jan. 11.