No. 17 Michigan beats Maryland 85-61 for 5th straight win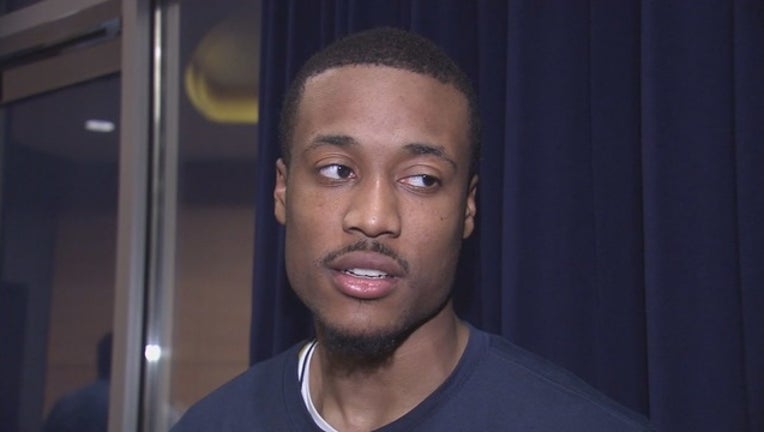 article
COLLEGE PARK, Md. (AP) - It was a first half so pristine, so darn near perfect, that Michigan didn't know what was more impressive - its uncanny shooting ability or unrelenting defense.
Muhammad-Ali Abdur-Rahkman scored 22 of his career-high 28 points before halftime, and the 17th-ranked Wolverines easily defeated Maryland 85-61 Saturday for their fifth straight victory.
Using runs of 9-0 and 16-3, the Wolverines built a 54-24 halftime lead and cruised to the finish. Michigan went 17 for 28 from the floor, including 11 for 19 from 3-point range, in its best half this season.
"If you add offense and defense, it probably was," coach John Beilein said. "At halftime, I talked to them about holding Maryland to 24 points. That's what was great about that half."
Well, Abdur-Rahkman was as close to great as it gets. The senior guard made six 3-pointers in the first half and also led the Wolverines with five rebounds and four assists.
As Abdur-Rahkman kept drilling 3s, Beilein pulled him aside and said, "You're doing a great D-Walt impersonation at just the right time."
The reference was to former Michigan guard Derrick Walton Jr., the team's leading scorer last season and a second-team All-Big Ten member.
Although Abdur-Rahkman cooled off in the second half, he nevertheless surpassed his previous career best of 26 points.
The Wolverines (24-7, 13-5 Big Ten) have clinched the No. 5 seed in the conference tournament, but can earn a No. 4 seed and a double bye if Nebraska loses to Penn State on Sunday.
Anthony Cowan Jr. scored 17 for Maryland, which suffered its most lopsided home loss since a 104-72 defeat against Duke on Jan 3, 1998.
"We were terrible. It starts with me," coach Mark Turgeon said. "We made some really bad decisions out there and it's frustrating. ... Whatever button I tried to push and no matter what I tried to say, it wasn't going to get corrected."
The Terrapins (19-12, 8-10) were 15-2 at home and lost to Michigan on the road by just one point on Jan. 15, which made the blowout that much more surprising.
"It was a little bit of everything today," Cowan said. "We couldn't get stops. I almost felt like everything was going great for them and not for us."
After Michigan rattled off 10 straight points to take a 20-12 lead, Kevin Huerter hit a 3 for Maryland before Jaaron Simmons launched the pivotal 16-3 run with a long-range jumper. Jordan Poole chipped in with a pair of 3-pointers and another by Abdur-Rahkman made it 34-18.
The Wolverines had three turnovers in their opening four possessions, but added only one more before halftime.
"Individually and team-wise, we played a great half on both ends of the floor," Abdur-Rahkman said. "That's just a testament to our team growing every day. We've got a lot of new guys at new positions. We're just starting to jell at the right time."
ROADIES
Michigan capped a 6-5 season on the road with its first win (in four tries) at Maryland since 1937.
"We feel real good about this road win," Beilein said. "I know you all would like us to win every game on the road, but it really is hard to get them. Six of them is a good sign who we are as a team."
BIG PICTURE
Michigan: The Wolverines have plenty of momentum to bring into the Big Ten Tournament. Michigan won it all last year, and again appears ready to take on the big boys in the conference.
Maryland: A flat performance at home means the Terrapins have to win the Big Ten Tournament to extend their run of appearances in the NCAA Tournament to four.
CELEBRITY SIGHTINGS
Former Maryland WR Torrey Smith, who earned his second career Super Bowl ring this season, returned to his alma mater to promote a charity basketball tournament next month in Baltimore. Also, Ravens coach John Harbaugh, the brother of Michigan football Jim Harbaugh, sat courtside.
UP NEXT
Michigan: Big Ten Tournament in New York.
Maryland: Big Ten Tournament on Thursday.