Questionable late flag on Eagles takes drama out of Super Bowl ending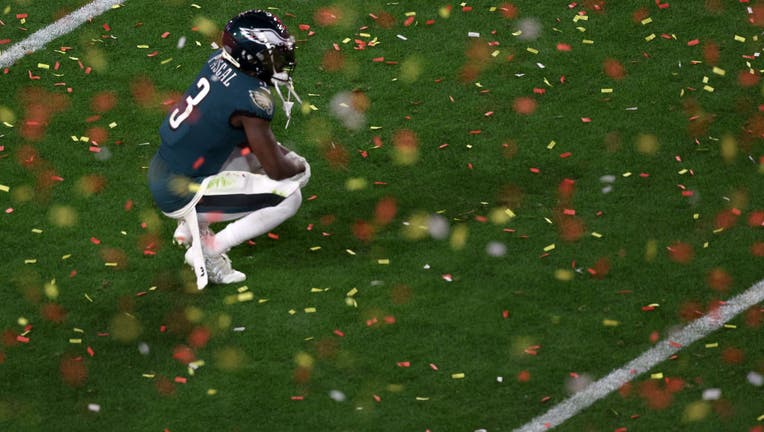 article
PHILADELPHIA - A questionable late penalty on Philadelphia Eagles cornerback James Bradberry with less than two minutes remaining meant that a scintillating Super Bowl 57 had a bit of an underwhelming finish.
Kansas City won its second Super Bowl in four years by beating the Eagles 38-35 on Sunday in Glendale, Arizona. It was an exciting back-and-forth game that saw the Chiefs claw back from a 10-point halftime deficit.
One of the few gripes for football fans — particularly Eagles fans — was the anti-climatic ending.
The Chiefs were driving and faced third-and-8 at the Eagles 15-yard line with 1:54 remaining when Kansas City quarterback Patrick Mahomes threw incomplete to JuJu Smith-Schuster. But officials flagged Bradberry for defensive holding, which negated the incompletion and, more importantly, gave the Chiefs a first down.
Replays showed that Bradberry made light contact with Smith-Schuster, though it didn't appear to affect the play much.
Many fans — and some football commentators — disagreed with the call. Former NFL tight end Greg Olsen wasn't happy with the decision on the Fox broadcast and ESPN and Amazon analyst Kirk Herbstreit was also critical on social media.
The only person who didn't seem upset with the call was Bradberry himself.
"It was a holding. I tugged his jersey," Bradberry said. "I was hoping they would let it slide."
Referee Carl Cheffers said it was a "clear case of a jersey grab."
"The receiver went to the inside and he was attempting to release to the outside," Cheffers told a pool reporter. "The defender grabbed the jersey with his right hand and restricted him from releasing to the outside. So, therefore, we called defensive holding."
Kansas City was able to essentially run out the clock from that point forward. Chiefs running back Jerick McKinnon made a smart move on the ensuing down, purposefully sliding 2 yards short of the goal line instead of scoring a touchdown.
Mahomes then was able to kneel twice as the clock ran down after the Eagles used their final timeout.
Harrison Butker kicked a 27-yard field goal with 8 seconds remaining that proved to be the winner.