Saltalamacchia Lifts Tigers to Fifth Straight Win, Beat Twins 6-5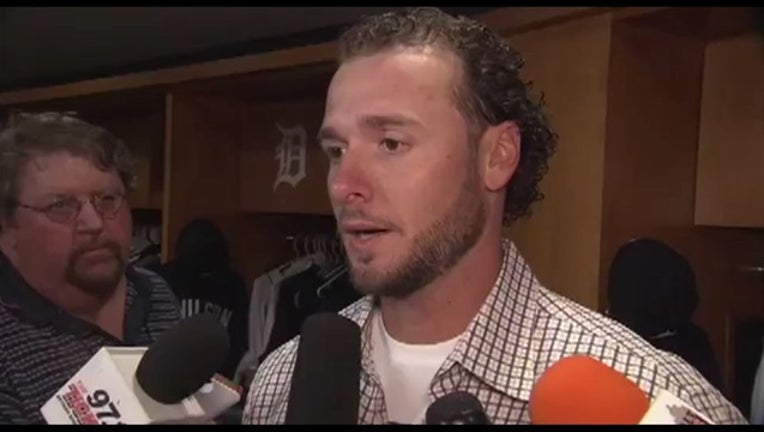 article
MINNEAPOLIS (AP) - Not long ago, the Tigers were left reeling after a three-game sweep by the visiting Indians. One week later, Detroit is heading into Cleveland with a five-game winning streak.
It's amazing what a little hitting can do.
"We had it in us, we knew it, even when we were going through that stretch where we were losing," Jarrod Saltalamacchia said Sunday after Detroit completed its own three-game sweep at Minnesota. "We just weren't putting the ball in play. Our pitchers were doing a good job, we just weren't hitting. We knew we were better than that."
Saltalamacchia doubled home the go-ahead run in the eighth inning, Nick Castellanos hit a three-run homer and the Tigers beat the Twins 6-5.
"We're playing really well, but it's not like we're going to walk into Cleveland and they're going to hand us the series," Castellanos said.
Detroit extended its longest winning streak of the season, but the memory of losing five of its previous six kept the Tigers from celebrating too much after Sunday's win.
"Nothing. Happy flight," Victor Martinez said when asked what finishing the sweep meant to the team.
Saltalamacchia's drive to left field off reliever Ryan Pressly (1-2) allowed Justin Upton to score from first. Twins shortstop Eduardo Escobar could've had a play at the plate, but he bobbled the ball on the relay throw.
Mark Lowe (1-0) pitched a perfect seventh for the win. Justin Wilson worked a scoreless eighth and Francisco Rodriguez converted his seventh save in eight opportunities.
Minnesota led 5-2 in the fifth before Castellanos' homer tied it. Twins starter Ricky Nolasco got two quick outs to begin the inning, but Martinez and Upton hit consecutive singles and Castellanos sent a full-count pitch into the left-field seats.
"That loss is on me because if I make that pitch I think we win that game," Nolasco said.
Martinez batted .692 against the Twins over the weekend (9 for 13) and has hit safely in 13 of his last 15 games.
"This whole series he swung the bat well," Tigers manager Brad Ausmus said.
STILL WINLESS
Facing his former teammates, Tigers starter Mike Pelfrey remained winless this season after working four innings and giving up five runs on eight hits. "Minus me, a pretty good team win," Pelfrey said.
Upton's single in the second to drive in Martinez was the first run Detroit scored in support of Pelfrey in five starts.
Ausmus said he had no reason to think Pelfrey, who signed a $16 million contract in the offseason, wouldn't make his next scheduled start.
"Contract doesn't have anything to do with the decision I make. I don't make a lineup out because a guy makes money," Ausmus said.
FULMER'S NEXT START
Ausmus said he's undecided whether to start rookie RHP Michael Fulmer on Thursday in Cleveland. Fulmer made an impressive debut Friday, limiting the Twins to two runs on five hits in five innings, and earning his first career win. Ausmus said Fulmer was preparing to treat Thursday as a bullpen day, but the staff would discuss during Detroit's off day whether to give the 23-year-old his second start.
TRAINER'S ROOM
Tigers: Ausmus said C James McCann (right ankle sprain) is set to join the team on Tuesday. McCann was scheduled to play nine innings for Triple-A Toledo on Sunday after getting only five innings of work Saturday due to rain. He had originally been scheduled to catch only five innings Sunday. "We'll just flip-flop," Ausmus said.
Twins: GM Terry Ryan said 3B Trevor Plouffe (right intercostal strain) was OK after playing nine innings Saturday and was set to play again for Triple-A Rochester on Sunday. Ryan also said RHP Ervin Santana (back) would make Minnesota's upcoming trip to Cleveland and likely throw a bullpen session. "He's getting pretty close," Ryan said.
UP NEXT
Tigers: Justin Verlander (2-2) makes his sixth start of the season Tuesday night at Cleveland. Verlander will face the Indians for the second time this year after giving up two runs and four hits over seven innings in an April 22 loss.
Twins: Rookie RHP Jose Berrios (0-1) makes his second start of the season Monday in Houston. Berrios lasted four innings in his debut last week against the Indians, allowing five earned runs with two walks and five strikeouts.