Upton, Fulmer lead Tigers to rare win at Angels, 7-1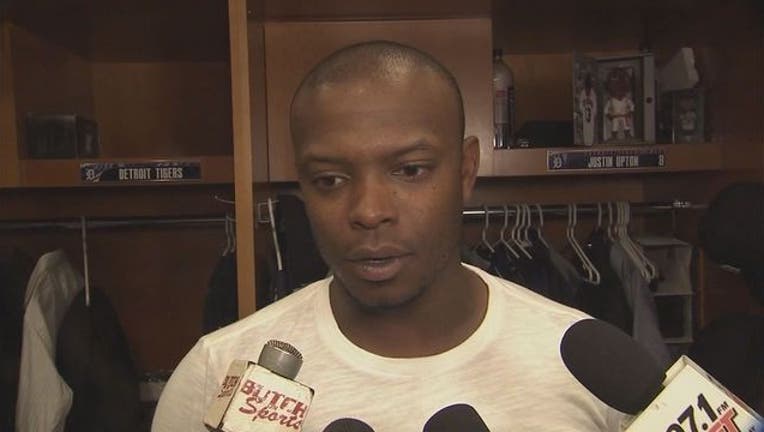 article
ANAHEIM, Calif. (AP) - The Detroit Tigers have been mostly miserable at Angel Stadium over the past several years, losing seven consecutive series and struggling for even the smallest wins.
Giving a five-run lead to Michael Fulmer before he takes the mound in the second inning is a pretty good way to fix those woes.
Justin Upton hit a three-run homer and Fulmer pitched seven innings of three-hit ball in the Tigers' 7-1 victory over the Los Angeles Angels on Thursday night.
Andrew Romine hit a two-run homer as the Tigers got a rare win over the Angels in the opener of a four-game series at the Big A, where Detroit hasn't won a series since August 2009. The Tigers also improved to 7-23 against Los Angeles since September 2012.
"That's one game, and we're not concerned about last year," Detroit manager Brad Ausmus said.
Still, the Tigers put together a comprehensive effort to improve to 3-3 on their nine-game West Coast road trip. Upton connected with two outs in the first inning for his seventh homer of the season, and the Tigers were never threatened.
Fulmer (4-1) was largely outstanding, walking two and striking out seven to improve to 3-0 in his last four starts.
"My goal is to get deep into games and throw strikes and not give up quality contact," Fulmer said.
Yunel Escobar had an RBI double for the Angels, who opened a seven-game homestand with their seventh loss in nine games.
TROUTBACK
Mike Trout went 0 for 4 as the Angels' designated hitter after missing five straight games and six of the previous seven with a tight left hamstring - the most significant injury to date in his spectacular big-league career.
"It wasn't fun," Trout said of sitting out. "You want to be out there. ... I missed some pitches tonight, fouled off some I should hit, but that's baseball."
The two-time AL MVP hadn't played since last Friday, and his 17-game hitting streak ended. But he also felt strong on his legs while sprinting to run out two early ground balls, raising his confidence in his ability to return to center field Friday.
"Felt good," Trout said. "(The ground balls) clear your mind a little bit. Haven't done anything that speed in six days, but it felt fine."
RAMIREZ'S SLOW START
J.C. Ramirez (3-3) settled down to yield eight hits over seven innings, but couldn't overcome early mistakes that allowed Detroit to lead 5-0 after its first eight batters. Ramirez retired 10 straight Tigers and allowed just one runner past first base in his final five innings.
"It really came down to a couple of early pitches," Los Angeles manager Mike Scioscia said. "Outside of that, he settled in and threw the ball the way we expected. Once Fulmer got a lead, he's got strong stuff, and he pitched a good game for them."
ADDUCI INJURED
Romine was a late addition to the Tigers' lineup when Jim Adduci was scratched with a right oblique muscle injury, and he promptly hit his second homer of the season in the second inning. Ausmus said Adduci is probably headed to the disabled list, and injured outfielder J.D. Martinez is expected to join the Tigers in Anaheim on Friday. Martinez hasn't played yet this season after spraining his foot in spring training.
SLUMPING
The Angels benched 2B Danny Espinosa, who is mired in an 0-for-34 slump. Cliff Pennington started in Espinosa's place for the fifth time in nine games.
"We've got a handful of guys in our lineup that are struggling for rhythm," Scioscia said. "We know we'll be better."
TRAINER'S ROOM
Tigers: 2B Ian Kinsler returned to the leadoff spot after missing five games with left hamstring tightness. He went 3 for 4 and scored two runs.
Angels: With Trout as the DH, Albert Pujols played first base. The slugger was charged with an error in the second inning when he couldn't snag a high throw from Andrelton Simmons.
UP NEXT
Tigers: Jordan Zimmermann (3-1, 6.21 ERA) is getting results despite allowing 23 runs in 33 1-3 innings. He has made just one career start against the Angels, losing a four-hitter on an unearned run in Anaheim in June 2011.
Angels: Matt Shoemaker (1-2, 5.21 ERA) has a 1.01 career ERA against Detroit, but the Wyandotte, Michigan, native lost to the Tigers for the first time in his career last June in Anaheim.