Southeast Michigan weather: The latest totals and what to expect tonight
DETROIT (FOX 2) - Friday's winter storm is on our doorstep. It's our first March system which is going to make the snow different from what we would see in a January or February storm and you're going to want to be ready before you head out to clear the driveway.
Weather Authority Lori Pinson says the 5 p.m. to 7 p.m. time frame we will be getting as much as one inch of snow per hour.
From 7 p.m. to 10 p.m. the storm will be building to as much as two inches of snow per hour - especially in Livingston and Washtenaw counties. It is expected to taper off after midnight - although the winter storm warning isn't set to expire until 4 a.m.
Monroe County will miss the most intense portion of the storm, with a little over a couple inches expected.
Power outages are expected with this storm, as DTE Energy currently has 100,000 customers out of service. Check the outage map here.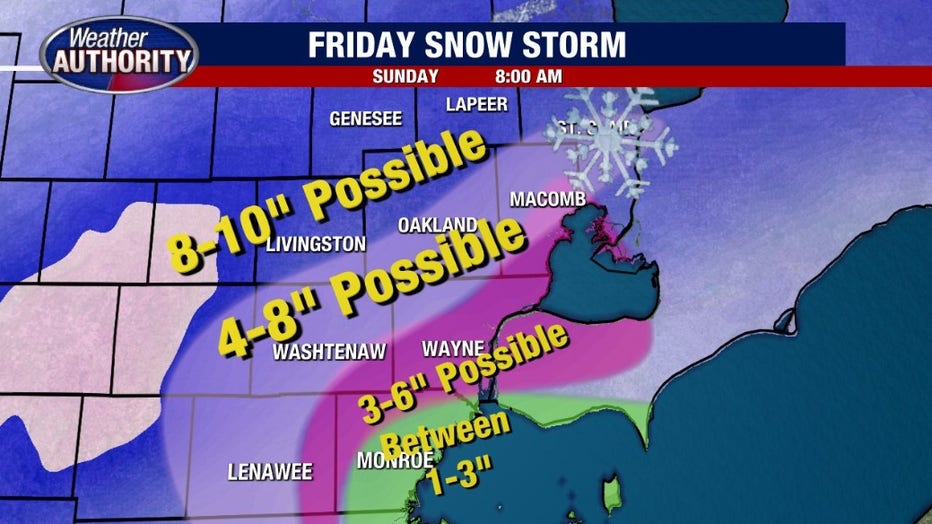 Snowfall accumulation predictions are expected in the following ranges:
Ann Arbor 8.2 inches
Detroit - 6 inches
Mount Clemens 6.6 inches
Pontiac 10.4 inches
Monroe 2.4 inches 
Track the snow storm as it blows into Southeast Michigan with the FOX 2 Weather app.
For the most part, we're looking at between 3 and 6 inches in Wayne, Macomb, and Lenawee counties. Meanwhile, Washtenaw, Livingston, and Oakland counties are going to be in the 4 to 8 inch range. Northern Livington County, Jackson, Shiawasee, and Genesee counties are all in the 8 to 10 inch range by the time we get to 6 a.m. on Saturday.
Expect a very wet and heavy snow. Be sure to shovel it in shifts and take breaks. Remember this is a wet heavy snow so make sure you shovel it in shifts. Do your best not to let it pile up or it will be very difficult to remove.
On top of all of this, the wind is expected to pick up this afternoon, gusting to nearly 40 mph. Let's all keep our fingers crossed that we don't have to deal with more power outages.
By the weekend, it's going to be dry and milder with temps into the low 40s, meaning some snow will start to melt.