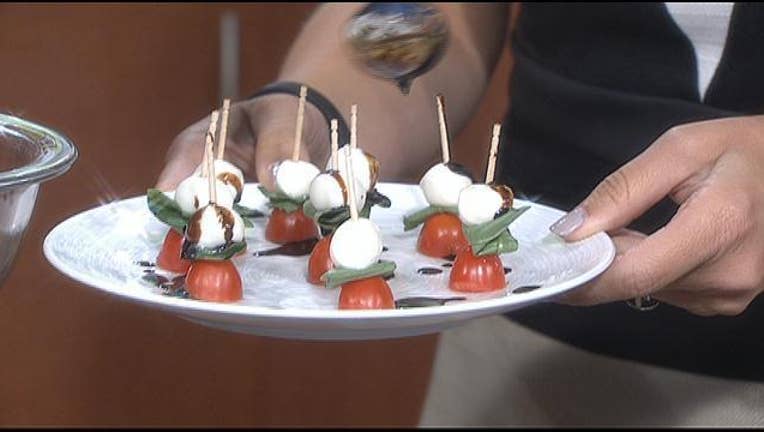 article
SOUTHFIELD, Mich. (WJBK) - Summer Skewers
Watermelon, Feta and Mint Bites
Yield:  12 Skewers
Ingredients:
Half of one small seedless watermelon, cut into cubes
8 oz chunk feta cheese, cut into cubes
12 fresh mint leaves
¼ cup extra virgin olive oil
2 Tbsp lemon juice
1 Tbsp white wine vinegar
½ tsp honey
Salt and pepper to taste
12 skewers or toothpicks
Thread a piece of watermelon on the skewer. Then the mint, folding the leaf in half, and lastly the feta. Combine the salt, pepper, honey, lemon juice and vinegar in a bowl and whisk the olive oil into it to create a simple dressing. Drizzle a bit of the dressing onto a serving plate. Arrange the skewers onto the plate and drizzle a little more dressing over the top. Serve at room temperature.

Tomato and Mozzarella Caprese Skewers
Yield:  12 Skewers
Ingredients:
1 pint Fresh cherry tomatoes
12 mini fresh mozzarella cheese balls
12 fresh basil leaves, cut in half if large
1 cup Balsamic vinegar
Salt and pepper to taste
12 skewers or toothpicks
Bring balsamic vinegar to a boil in a saucepan, then lower heat to simmer until it's the consistency of a thin maple syrup (about 10 minutes). Pour into a bowl and let cool. Cut tomatoes in half. Thread a mini mozzarella cheese ball first, then basil leaf (folded in half if large) and a tomato half onto a toothpick (flat side down). Sprinkle with salt and pepper and drizzle with cooled balsamic.