2004 Wisconsin state quarters could be worth up to $6K: Here's why
There's a very specific quarter from 2004 that's reportedly worth up to $2,000.
Wisconsin state quarters from the 50 State Quarters Program feature a limited-edition design that grows in value if there's a detectable difference in that design, according to coin collectors.
The front of the coin displays a cow, a peeled husk of corn and a sliced wheel of cheese along with inscriptions that name the state, the year Wisconsin was admitted into the union (1848) and the word "Forward," which is Wisconsin's state motto. 
However, some of the Wisconsin quarters that were released in 2004 have a small design difference that shows an extra leaf on the illustrated corn husk.
Collectors have debated whether the extra leaf had been stamped by accident or with intent, according to the Littleton Coin Company, an Ohio-based coin seller.
"Some Wisconsin quarter errors were found with an 'extra cornstalk leaf' – either pointing down ('Low Leaf') or pointing up ('High Leaf')," the Littleton Coin Company wrote in a profile about Statehood Quarter Error Coins.
"The normal cause would be metal shavings accidentally lodged in the die, creating a gouge from the coin striking action," the company's report continues. "However, because roughly equal quantities exist of the two varieties, some experts speculate that the extra leaves were deliberately created by someone at the Denver Mint – as the odds of such a similar event occurring on the same location on two different dies are astronomical."
FOX Business reached out to the U.S. Mint for comment.
$2 BILLS FROM 1890 COULD BE WORTH OVER $4,500: REPORT
Blake Alma, of Lebanon, Ohio, a coin collector and founder of the coin-collecting blog CoinHub, previously told FOX Business that error coins are prized by collectors because they're rare and were never meant to be seen by the public.
Detectable coin errors "are supposed to be inspected, seen and then destroyed by the mint," Alma said.
"Coin collecting is a popular hobby, and many people are willing to pay top dollar for unique and rare pieces to add to their collections," he continued.
Heritage Auctions, an American collectibles auctioneer, has sold at least two 2004 Wisconsin quarters with extra corn husk leaves that were auctioned for thousands of dollars, according to documents published by Professional Coin Grading Services (PCGS), a California-based coin-grading company.
RARE COIN SELLS FOR $4.2 MILLION 
PCGS has assigned pricing guides for the four Wisconsin quarters that exist.
A 2004 Wisconsin quarter with an extra "low leaf" was auctioned for a record $6,000 in January 2020 while a 2004 Wisconsin quarter with an extra "high leaf" was auctioned for a record $2,530 in July 2006.
Both quarters were minted in Denver, and both are believed to be the highest 2004 Wisconsin quarter sales on record, according to PCGS.
The record amount Heritage Auctions sold a Philadelphia-minted "regular strike" 2004 Wisconsin quarter sold for was $1,495. The current record for the quarter's "regular strike" Denver counterpart is $699. 
Each coin's value has fluctuated over time and they're commonly determined by coin grade, according to pricing data published by PCGS.
Collectors can find 2004 Wisconsin quarters on various auction websites. Sellers have assigned price tags that are requesting hundreds or thousands of dollars.
Each 2004 Wisconsin quarter also displays the circulation year and the expression "E Pluribus Unum," which is Latin for "out of many." The Latin phrase has long been considered a national motto of the United States, and it has appeared on various government coins and seals throughout history.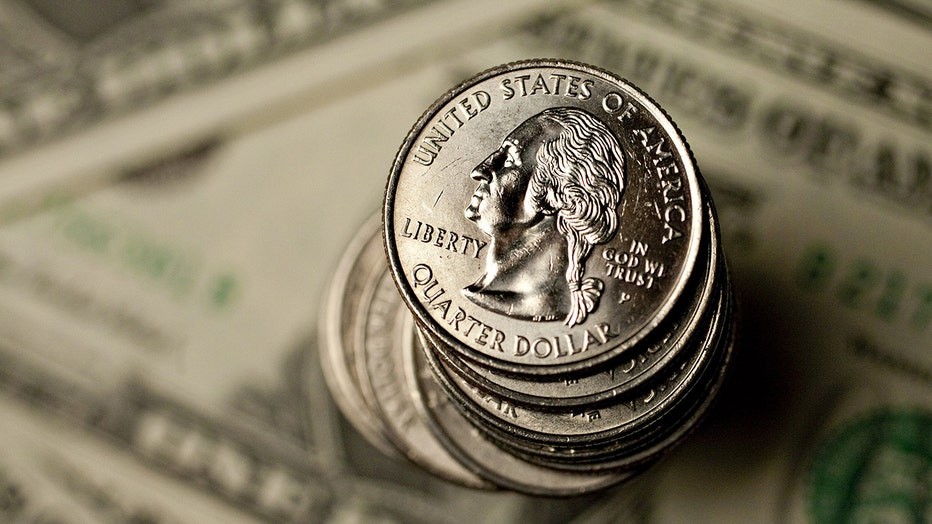 U.S. quarters and U.S. dollar bills are arranged for a photograph in New York, U.S., on Tuesday, Aug. 18, 2009. The dollar may fall to a three-week low against the yen after breaking through a support level, according to Tokai Tokyo Securities Co., c
The U.S. Mint reports that the 2004 Wisconsin quarter's reverse — the state illustration was designed by mint Alfred Maletsky — while the obverse — the right-facing portrait of George Washington — was designed by John Flanagan and William Cousins. 
Maletsky, Flanagan and Cousins were all mint sculptors and engravers who were born in the 20th century.
The 2004 Wisconsin quarter was the 30th coin released from the 50 State Quarters Program, according to the U.S. Mint. 
RELATED: Rare doubled die error pennies sell for big bucks. Here's what they are, and how to find one
It was made at the U.S. Mint Denver Facility and U.S. Mint Philadelphia Facility and the coin made its official debut on Oct. 25, 2004.
The 50 State Quarters Program ran from 1999 to 2008. It was a 10-year initiative that honored each state.
Five state quarter designs were released each year in the order of each state's ratified constitution or union admittance.