Americans are getting tired of tipping, survey shows. Here's why
Americans are tipping less often for a variety of services, demonstrating a steady decline over the last few years, according to new data from Bankrate released this week.
Also, two-thirds (66%) of the survey's respondents have a negative view about tipping, including 41% saying they feel like businesses should pay their employees better rather than relying so much on tips. And, people are feeling annoyed about pre-entered tip screens (32%), sharing that the present tipping culture has gotten out of control (30%), and noting they would be willing to pay higher prices if they could do away with tipping (16%), and being confused about who and how much to tip (15%), according to Bankrate's report.
Ted Rossman, Bankrate's senior industry analyst, says in his opinion, what's causing negative tipping views for the past year is the economy.
"The biggest change, within the past year at least, is that inflation is leaving people with less money to go around," Rossman tells FOX Business. "A lot of people seem to feel like things cost enough already, so they're not as likely to tip on top of that.
6 TIPS TO SAVE $100 A WEEK AND PUT IT TOWARD SAVINGS
Also, he says the "groundswell of appreciation" for service industry workers that was evident early in the pandemic seems to have faded.
"But we were seeing a tipping decline even before the pandemic. It seems like the 'tip creep' that's occurring – being asked to tip for things that didn't warrant a tip – is annoying a lot of people."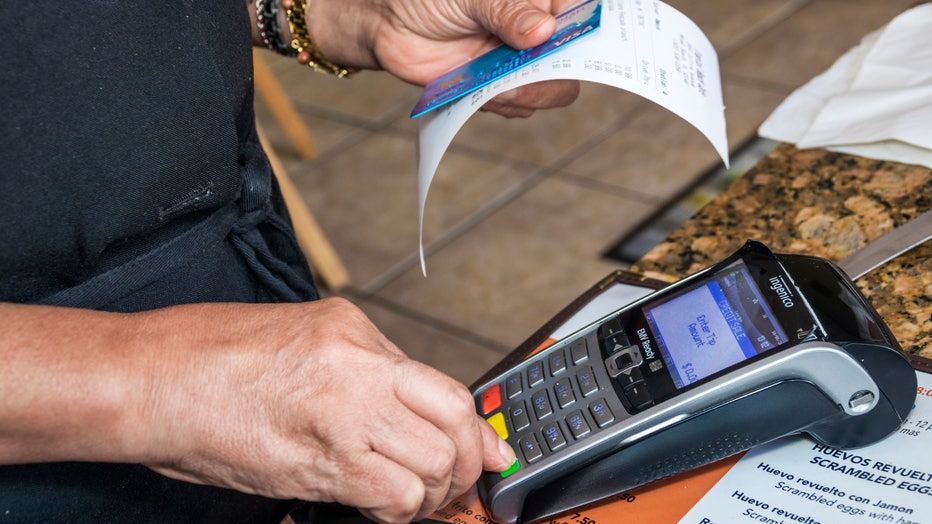 Miami Beach, Tropical Beach Cafe credit card scanner. (Photo by: Jeffrey Greenberg/Universal Images Group via Getty Images)
Tipping for dining acceptance varies by service
Tipping is becoming increasingly ingrained in our society and workers depend on it, says Rossman.
"Consumers aren't going to want to pay higher prices, and if you don't tip generously, you're hurting the worker, not the business," he says.
The tipping acceptance topic with regard to food items often involves the type of service and can include sit-down dining, quick-service stops and delivery services.
"I think everyone should be tipping 20% at a sit-down restaurant, unless the service is really bad," Rossman tells FOX Business. "Many waiters and waitresses make as little as $2.13 per hour (the federal tipped minimum wage), with tips expected to boost their compensation."
Rossman cites from research that just 65% of sit-down restaurant diners always tip, down from 77% four years ago, and he notes that only 44% tip at least 20%, down from 50% last year.
"I think we should always tip for delivery, too. The exact figure depends on the size of the order – for example, instead of a percentage, it might make sense to tip something like $5 for a pizza," Rossman adds.
WHAT IS 'CASH STUFFING' AND HOW DOES IT WORK?
Consumers may not know that a service or delivery fee often doesn't go to the delivery person.
"I don't think you should feel compelled to tip if you're picking up takeout. That was more of a thing during the pandemic when sit-down dining was shut down," he continues.
Why should consumers budget for tipping?
Bankrate's study suggests high inflation and unease about the economy contribute to stingier consumers.
"I understand that money is tight for a lot of people, but I'd also note that tipping often involves discretionary expenses," Rossman says. "Honestly, if you can't afford to tip 20% for sit-down dining, you probably shouldn't be going to that restaurant. When tipping is customary, like it is at restaurants, I think consumers need to build these costs into their budgets."
Can tipping prompts cross the line?
Rossman does think that sometimes the tip creep goes too far.
"I was recently asked to tip by a self-checkout machine at Newark Airport. I also don't like how Hopper, the online travel agency, asks for tips when people book travel on their website. I've even heard of some doctors' offices asking for tips," Rossman says. "These all feel like overreaches and blatant revenue grabs."
According to Rossman, tipping should be more of a reward for service, and is often expected when someone is serving you food or carrying your bags.
"It's not usually for self-service or highly paid professionals such as doctors," he says.
And, in his view, pre-populated tip screens can be awkward.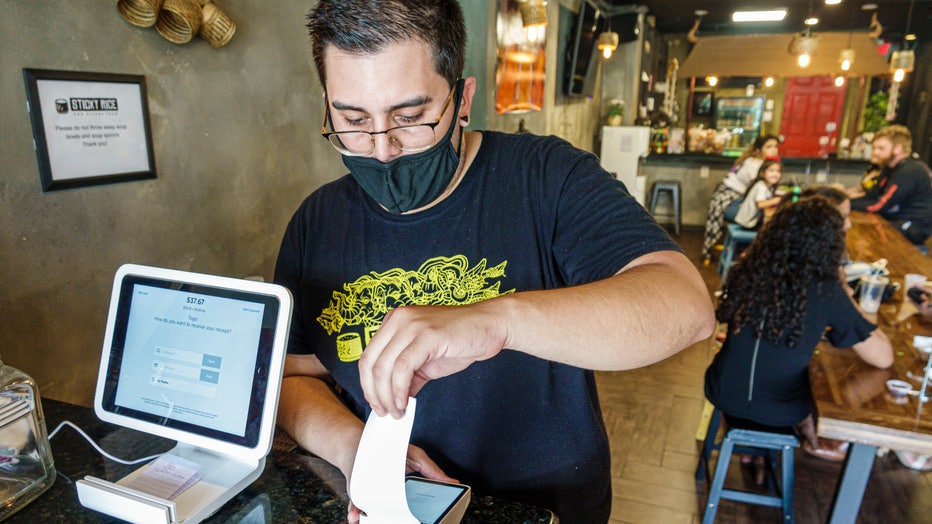 Florida, Orlando, Little Saigon, Sticky Rice Lao Street Food, employee processing Square credit card reader, remote payment. (Photo by: Jeffrey Greenberg/Education Images/Universal Images Group via Getty Images)
"Because the cashier is often looking right at you when you decide whether or not to tip them, and customers behind you in line might be snooping too," adds.
The amounts are also very strategic. They typically are 10%, 15% and 20% or 20%, 25% and 30%.
SURGING INFLATION: HOW TO TRIM $200 FROM YOUR MONTHLY BUDGET
A lot of people tip in these instances out of guilt.
"Starbucks, for example, says half of its customers who pay with credit and debit cards leave a tip," reports Rossman. "These pre-entered screens shift the tipping dynamic from needing to actively decide to tip (like putting spare change or a couple bucks in a tip jar) to actively declaring that you don't want to tip (which isn't always easy on those pre-entered screens). I suspect a lot of people don't really want to tip for something like a coffee or food truck order, but they're guilted into it, and then they feel bad afterward.
How has the pandemic affected tipping culture behavior?
The survey reports that people said they would tip better during and after the pandemic, but that hasn't really lasted, says Rossman.
"At present, 14% of Americans say they're tipping more than they did prior to the pandemic, and 9% say they're tipping less," he explains. "Other components of our survey point to a marked decline in the frequency of tipping for various services. Every single category is down from the recent past."
How does age play into tipping attitudes?
Bankrate's report outlines that Americans are tipping less often for numerous services, demonstrating a steady decline over the last few years. According to its research, Gen Zers (ages 18-26), millennials (ages 27-42), and men stand out for being the worst tippers across multiple service categories.
In general, Rossman says, older Americans tend to be better tippers.
"I think this is mostly because they have more money, but also perhaps because they're more ingrained with the social norms surrounding tipping," he says.
This pattern continues across the majority of other services, with differences in how Gen Zers, millennials and men in particular tip hair stylists/barbers, food delivery people and taxi/rideshare drivers, says Bankrate.
The study reports that "While 53% of U.S. adults who have a hair stylist/barber always tip them, just 24% of Gen Zers, 40% of millennials, and 46% of men always do so, compared to 60% of women, 67% of Gen Xers, and 70% of baby boomers."
Similarly, 50% of U.S. adults who order food delivery always tip the delivery person, but just 31% of Gen Zers, 42% of millennials, and 45% of men do the same, compared to 54% of women, 63% of Gen Xers, and 62% of baby boomers, Bankrate's study reports.
Finally, according to the study, while 40% of U.S. adults who ride in taxis/rideshares always tip the driver, just 22% of Gen Zers, 30% of millennials and 36% of men always tip them, compared to 45% of women, 51% of Gen Xers, and 56% of baby boomers.
CLICK HERE TO GET THE FOX BUSINESS APP
Tipping culture general feedback, according to the study, says 30% of U.S. adults overall say that tipping culture has gotten out of control, with the tendency to feel this way increasing for older generations and higher earners. Thirty-three percent of Gen Xers and baby boomers agree with this sentiment about tipping culture, compared to 27% of millennials and 22% of Gen Zers.
How do income levels and tipping attitudes intersect?
Forty percent of those in the highest-earning households (earning $100,000-plus annually) say tipping culture has gotten out of control, according to Bankrate's data, compared to 34% of those  earning between $80,000 and $99,999 annually, 33% earning between $50,000 and $79,999 annually and 23% in the lowest-earning households (earning less than $50,000 annually).
And, benevolence surely still matters, as the study says that 35% of people say they feel good when they leave a generous tip.
Bankrate's survey was conducted May 3-5, 2023, with a sample size of 2,437 U.S. adults.
LINK: Get updates and more on this story at foxbusiness.com.