Apple to move from lightning charger to USB-C format for iPhones
Apple will reportedly soon change how its next models of iPhones charge.
The California-based tech giant will pivot the upcoming iPhone 15 to the USB-C format, forgoing the Lightning port of past models, CNN Business and other outlets reported. iPhones have sported the Lightning charger since 2012.
The change will apply to all the upcoming iPhone 15 models, according to some reports. 
FOX Business reached out to Apple for comment.
APPLE REPORTEDLY DOING 3D PRINTING TRIALS FOR WATCHES
Apple isn't a stranger to the USB-C port, with some devices put out by the company already utilizing it. Those include MacBooks and iPads. 
The USB-C port can also be found on tech from many other companies.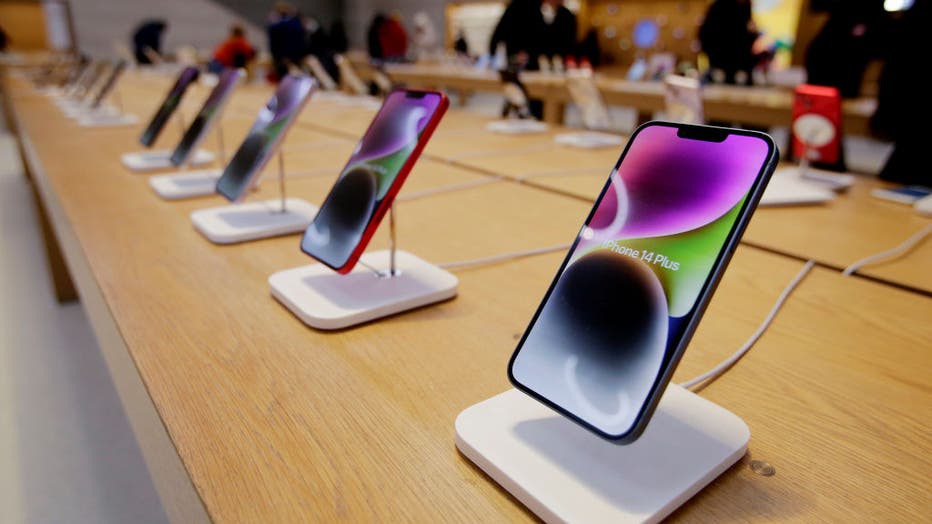 iPhones are displayed in the Apple Store on February 03, 2023 in New York City. (Photo by Leonardo Munoz/VIEWpress)
The European Union's parliament announced in late 2022 it had passed a law mandating the incorporation of a USB-C charging port for "all mobile phones, tablets and cameras sold in the EU." Companies will have to comply with that measure by 2024's year-end, it said. 
Under the regulation, laptops in the EU will also become subject to the USB-C requirement in 2026.
The reports of Apple adding the USB-C format to its iPhone 15 comes ahead of the California-based company's "Wonderlust" event on September 12. Many predict that the iPhone 15, as of yet not officially announced, will get its introduction then. 
APPLE'S IPHONE 15 REPORTEDLY DUE IN SEPTEMBER
iPhones make up a large portion of Apple's total net sales each year. 
The devices have generated $156.78 billion over the first three quarters of Apple's fiscal 2023 year, according to a press release. That marks a roughly 3.7% decline, compared to the first nine months of 2022, when it posted $162.86 billion in net sales. 
For the third quarter, results for which came out in early August, Apple saw $39.67 billion in net sales from its iPhone segment, a decline of 2.4% compared to the same time the prior year. 
CFO Lucas Maestri said at the time that Apple "expect[s] iPhone and Services year-over-year performance to accelerate from the June quarter" in the fourth quarter. 
The ninth series of the Apple Watch could also make its debut at the event, outlets have reported.
PRODUCTION OF APPLE IPHONE 15 REPORTEDLY KICKS OFF IN INDIA
Read more of this story from FOX Business.