Beaumont Health temporarily laying off 2,475 employees, permanently eliminating 450 jobs
ROYAL OAK, Mich. - Beaumont Health says it is temporarily laying off thousands of employees and permanently eliminating several hundred more jobs as the hospital system braces for the financial hardship brought on by COVID-19.
In a press release Tuesday, one of Metro Detroit's biggest hospitals reports 2,475 employees will be furloughed as the health care organization adjusts its workforce amid the pandemic. As another 450 positions are permanently ended, the CEO and other executives are already taking a hefty pay cut as well.
"I am extremely proud of our team's rapid response to COVID-19. While many front-line employees have never been busier, other parts of our operations have drastically declined or ceased. We must make difficult, quick decisions now to protect and readjust to an uncertain future," said CEO John Fox.
Additionally, Beaumont is also putting some nonessential projects on hold while it advocates for federal and state assistance badly needed to rescue the health care industry.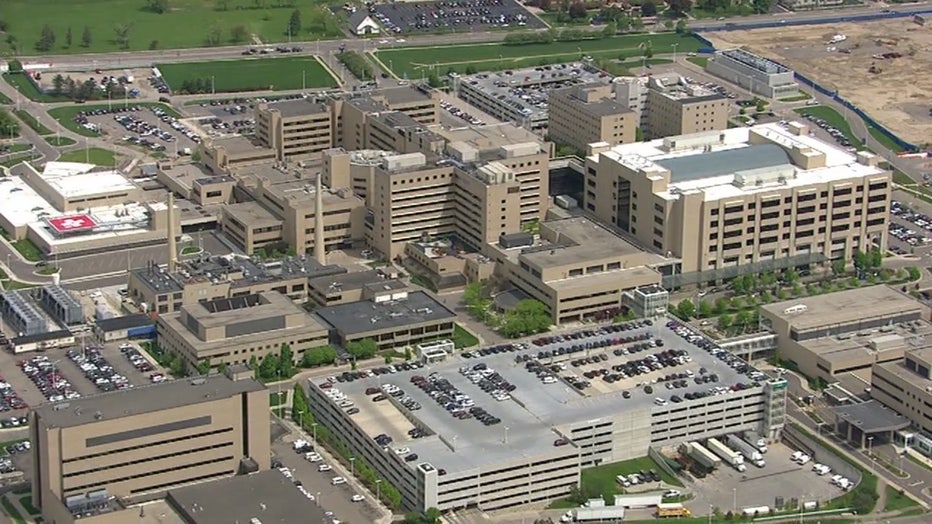 Temporarily laid-off employees can apply for enhanced unemployment benefits through the state. Many can expect to return to their jobs as additional medical services are brought back once COVID-19's spread slows. For those whose job has been removed altogether, employees can receive a lump-sum severance package. 
Most of the positions experiencing temporary layoffs are hospital administrative staff and others not directly caring for patients with or without COVID-19. Most of the permanent job eliminations are part of the corporate staff or other administrative roles. Most non-COVID-19 medical services relating to inpatient and outpatient surgeries have been halted while the number of patients seeking care has been dramatically reduced since the hospital started accepting COVID-19 patients five weeks ago.
Despite Beaumont being one of the largest hospital systems in the state, even it wasn't shielded from the widening economic fallout attributed to COVID-19. Characterizing just how steep of a dive the hospital's finances has taken, the company earned more than $400 million less in its first quarter this year compared to last 2019. Operating revenue fell more than a billion.
Executives anticipate the second quarter to be just as bad if not worse.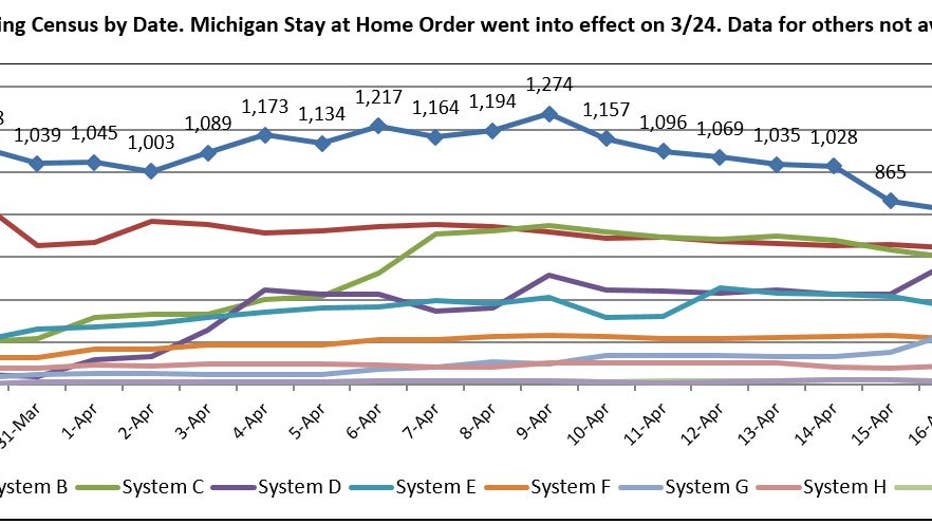 Beaumont's hospital capacity spiked in early April as COVID-19's spread quickened throughout Michigan (Beaumont Hospital)
"We also expect economic pressures on Beaumont and the health care industry to continue well after the COVID-19 initial surge subsides, which is why we made the difficult decision to eliminate 450 positions. We must adjust the way we operate our organization moving forward. This pandemic has changed the delivery of health care, and we will be treating patients with this virus until we get a vaccine," said Fox.
One of the first Beaumont hospitals to close was in Wayne County, which left employees confused and with lots of questions. As criticism against the hospital mounted, Fox released a statement that they weren't permanently closing, but the building was "now temporarily paused and not serving any patients."
RELATED: 5.2 million more seek unemployment aid as US layoffs spread
The economic toll on Michigan has been mounting for the last month. More than a million workers have filed for unemployment benefits as industries in travel, service, manufacturing, and now health care have suffered catastrophically since social distancing measures went into effect.
Other healthy systems have weighed in with statements about their own staffing levels.

McLaren Health Care:
"The coronavirus has impacted all businesses including hospitals, physician offices and other ambulatory health care services. McLaren continues to be successful at maintaining the staff necessary to provide and support direct patient care throughout this crisis."
Henry Ford Health System:
"There is no question that the COVID-19 pandemic is having a major economic impact on our health system and we are continuing to assess the full effects as this crisis evolves. Like other health systems across our region, we are exploring a number of options to stabilize our financial performance and position ourselves to continue serving our community, including pursuing federal assistance programs and identifying ways to reduce expenses. We are committed to transparency and will share more details when we finalize our plans."
Ascension:
"The health and safety of our patients, providers and associates is our top priority. In addition to our existing comprehensive pay and benefits programs, Ascension Michigan has implemented numerous programs and resources to support our associates during this global pandemic. Some examples include:
 
"Ascension is committed to protect the pay of associates during this time of disruption from COVID-19, including a commitment to no layoffs and a variety of pay protection programs, and will continue doing so as long as possible. This includes support for those who are temporarily assigned to a different job within our ministry or unable to work because they have been diagnosed with or are suspected of having COVID-19.
"Ascension Critical Staffing Pay has been enhanced and expanded to include all frontline clinical associates who are working in markets with patient surges.
"We are covering 100 percent of the hotel stay cost for clinical associates who choose to stay in a hotel to eliminate any concern regarding unintentional cross contamination to their family members and/or who have volunteered to serve in a market more than 50 miles from their home.
"We have established a COVID-19 Hardship Financial Assistance Program to help our associates who are experiencing financial hardship as a result of the pandemic.
"We also are providing dependent care support to help ease the financial hardship of unexpected dependent care expenses for elderly and special needs family members and children under age 13.
"As a faith-based health ministry, we are acutely aware of how important it is to provide not only financial resources, but also those resources that support and feed the mental, emotional and spiritual well-being of our associates as well:
Prayers and Mindfulness Resources - including prayer requests, virtual associate prayer gatherings, virtual group meditations, etc.
On Demand Spiritual Care - one on one conversations with experienced chaplains anytime/anywhere, in addition to the spiritual care our chaplains are continuing to provide safely onsite.
Virtual Peer Support Sessions - colleagues can join virtual peer support sessions as a way to connect with peers.
Employee Assistance Program resources including virtual counseling, are available to help our associates handle stress, manage relationships, or find a new normal.
"We've also partnered with organizations to provide stress-relieving podcasts, e-learning courses, internet services, meal deliveries and more to Ascension associates and their family members.
"Ascension Michigan is following all CDC guidelines regarding the use of personal protective equipment (PPE). Ascension has taken proactive steps with our distributor and suppliers to ensure access to personal protective equipment and supplies. We are arranging expedited shipments directly from manufacturers, assessing alternative products and taking advantage of our abilities as a national system to make intra-hospital inventory transfers when appropriate."