Ben Stiller says he never apologized for 'Tropic Thunder': I'm 'proud of it'
article
Ben Stiller took a stand on the controversial 2008 film "Tropic Thunder" Tuesday, responding to a tweet alleging he had apologized to the "woke" cancel culture mob for participating in the film.
"I make no apologies for Tropic Thunder. Don't know who told you that. It's always been a controversial movie since when we opened. Proud of it and the work everyone did on it," Stiller tweeted.
The post came in response to a conservative user named Benny S. who wrote, "@BenStiller Please stop apologizing for doing this movie. It was and still is funny AF... Even funnier now with cancel culture the way it is. It's a MOVIE. Ya'll [sic] can just get over it. I was DYING laughing when I first saw it back in the day and so was everyone else."
Along with the caption, the user posted a screenshot of another tweet from his account, discussing how "liberals are trying to 'cancel culture'" the film and circulating another claim that Stiller had apologized for it.
"When the Wayans Brothers made 'White Chicks…. nobody said a dang thing!!!! STOP APOLOGIZING FOR THIS STUFF!!!!" one quote from the image read.
SUGGESTED:
Further along in the thread, the user shared a 2018 tweet from Stiller who, at the time, responded to another Twitter user who jokingly said the film should be boycotted after former Olympic athlete Shaun White's controversial Halloween costume emulated the intellectually disabled Simple Jack character from the film.
"Actually Tropic Thunder was boycotted 10 years ago when it came out, and I apologized then. It was always meant to make fun of actors trying to do anything to win awards. I stand by my apology, the movie, Shaun White, And the great people and work of the @SpecialOlympics," Stiller wrote at the time.
Benny S., who sparked the discussion, wrote of the tweet, "I'm guessing people saw this.... and took it, misconstrued it and ran with it. That movie is a classic to this day. I stand with you bro."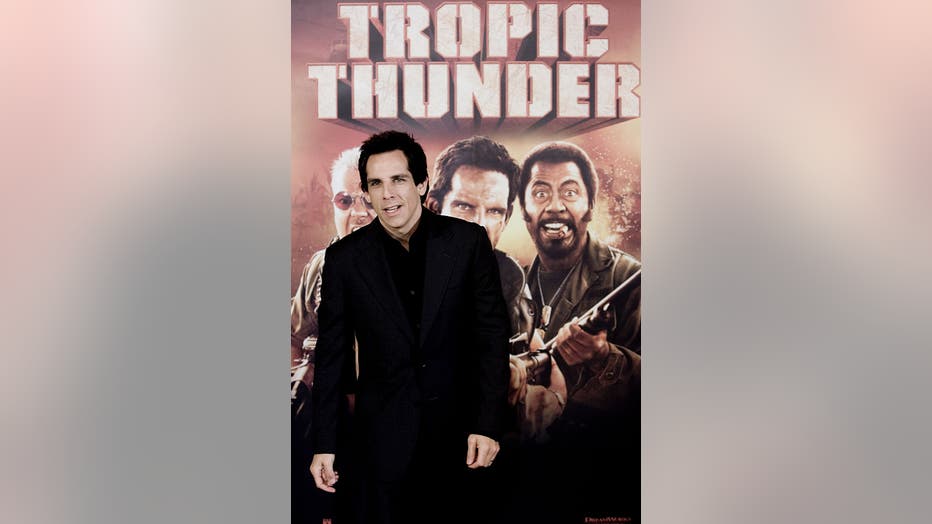 US actor Ben Stiller poses during a photo call at Rome's Grand Hotel St. Regis to promote his latest movie "Tropic Thunder." (Photo by Alessandra Benedetti/Corbis via Getty Images)
The 2008 comedy, starring Stiller, Jack Black, Brandon T. Jackson and "Iron Man" star Robert Downey, Jr., has garnered longtime criticism for depicting Downey in blackface along with other controversial elements.
Downey's character Kirk Lazarus is an Australian method actor whose skin is darkened to portray a Black soldier in a war film.
Downey discussed the portrayal in a 2020 interview on "The Joe Rogan Experience," saying the role allowed him to "hold up to nature the insane self-hypocrisy of artists and what they think they're allowed to do on occasion."
"It was impossible to not have it be an offensive nightmare of a movie," Downey added during the interview.
Fox News' Julius Young contributed to this report.