Biden marks Memorial Day with wreath-laying ceremony, lauds troops' sacrifice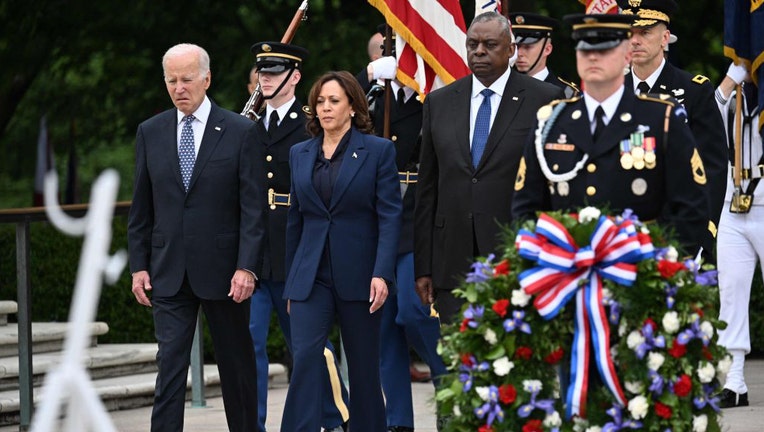 article
WASHINGTON - President Joe Biden and first lady Jill Biden attended a wreath-laying ceremony at the Tomb of the Unknown Soldier on Monday to commemorate the 155th National Memorial Day observance at Arlington National Cemetery.
The president and first lady were joined by Vice President Kamala Harris and Harris' husband, Douglas Emhoff for the ceremony. The president had a moment of contemplation in front of the wreath, which was adorned with flowers and a red, white and blue bow, and then bowed his head in prayer, the Associated Press reported. 
"We must never forget the price that was paid to protect our democracy," Biden said later in an address at Memorial Amphitheater. "We must never forget the lives these flags, flowers and marble markers represent."
"Every year we remember," he said. "And every year it never gets easier."
The commander-in-chief gave an address at the Memorial Amphitheater following the wreath-laying ceremony.
RELATED: Memorial Day: 5 things to know about the holiday, including its controversies
"On Memorial Day, we honor America's fallen heroes who gave their last full measure of devotion to this nation."
"We'll never be able to repay the debt we owe them.  But today, we rededicate ourselves to the work for which they gave their lives, and we recommit to supporting the loved ones they left behind," Biden tweeted Monday.
Before Monday's ceremony at the Arlington, Virginia, cemetery, the Bidens hosted a breakfast at the White House for members of veterans organizations, military service and military family organizations, surviving families of fallen U.S. troops, senior Department of Defense officials and other administration officials.
The president and the first lady were scheduled to return their home near Wilmington, Delaware, later Monday to spend the rest of the federal holiday.
Memorial Day is a day of reflection and remembrance of those who died while serving in the U.S. military, according to the Congressional Research Service. The holiday is observed in part by the National Moment of Remembrance, which encourages all Americans to pause at 3 p.m. for a moment of silence, the Associated Press reported. 
RELATED: Top 10 travel destinations to honor the fallen on Memorial Day
The holiday stems from the American Civil War, which killed more than 600,000 service members — both Union and Confederate — between 1861 and 1865.
There's little controversy over the first national observance of what was then called Decoration Day. It occurred May 30, 1868, after an organization of Union veterans called for decorating war graves with flowers, which were in bloom.
The Associated Press contributed to this report. This story was reported from Washington, D.C.