Chaos at Florida airport after Spirit flights canceled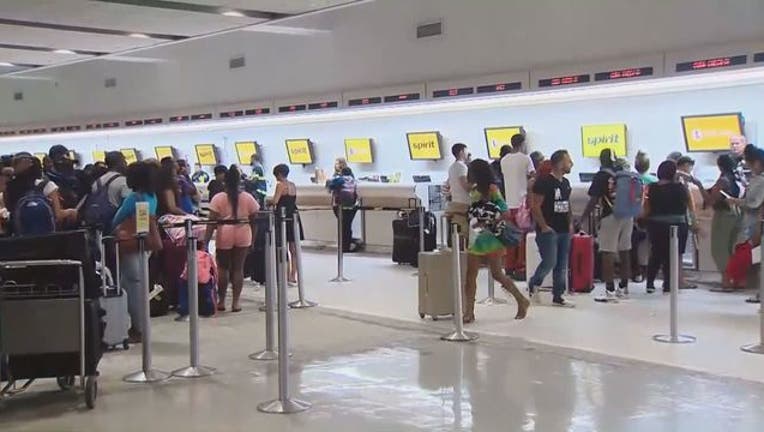 article
FORT LAUDERDALE, Fla. (AP) - Three New Yorkers remained jailed Tuesday after authorities said they started a near-riot at Fort Lauderdale's airport after Spirit Airlines canceled nine flights, leading to chaos in its terminal.
The Broward Sheriff's Office said about 500 people were crowded into Spirit's terminal at Fort Lauderdale-Hollywood International Airport late Monday night after the airline cancelled the flights because there were no pilots. The discount airline says pilots are refusing to pick up open flying assignments, which Spirit claims is an illegal and concerted plot by the Air Line Pilots Association to apply pressure during contract negotiations. It has filed a lawsuit. The union has denied the accusation, saying the cancellations are the airline's fault.

WARNING: Videos have strong language
Sheriff's reports released Tuesday say 22-year-old Desmond Waul of Selden and 24-year-old Janice Waul and 22 year-old Davante Garrett, both of Brentwood, were seen by deputies threatening the airline's front counter employees. Deputies said their actions caused the crowd to become increasingly aggressive to the point of near-violence and that they wouldn't leave when ordered. When deputies tried to arrest them, they said the three threatened them and resisted efforts to handcuff them.
The three are charged with inciting a riot, disorderly conduct, resisting arrest and trespassing. They were being held Tuesday at the Broward jail in lieu of $10,000 bond each. Records do not show if they have attorneys.
Jennifer Glann said at the airport Tuesday that she was in the crowd Monday night, trying to get home to New Haven, Connecticut. She said conditions were "awful" and "horrible."
"There was nowhere to stand, nowhere to sit," she said. Employees were forcing people to go outside, she said. Soon, scuffles started. "People were getting arrested left and right."
Paul Yankowitz of Newark, New Jersey, said he tried to remain calm as the crowd became enraged. He didn't think the cancellations were worth getting angry about.
"It sucks but like anything else in this life, life is short and you can't get stressed," he said.
Fort Lauderdale airport was the scene of a mass shooting in January that killed five people and wounded six. It happened in another terminal on the opposite side of the airport.
Airport spokesman Greg Meyer said Tuesday that the airport staff has added security agents and other staff at the terminal to help Spirit. He said passengers are often anxious before flying, so any serious disruption can aggravate matters. Three more flights were canceled Tuesday.
"For many people, airline travel is very challenging. A lot of people don't do it frequently, so they are nervous anyway. When your flight is canceled and you need to be somewhere at a certain time it is an imposition and we understand that. The airport tries to work with our airline partner to work with our passengers," Meyer said.