Detroit nightclub blames hackers for offensive tweets amid show cancellations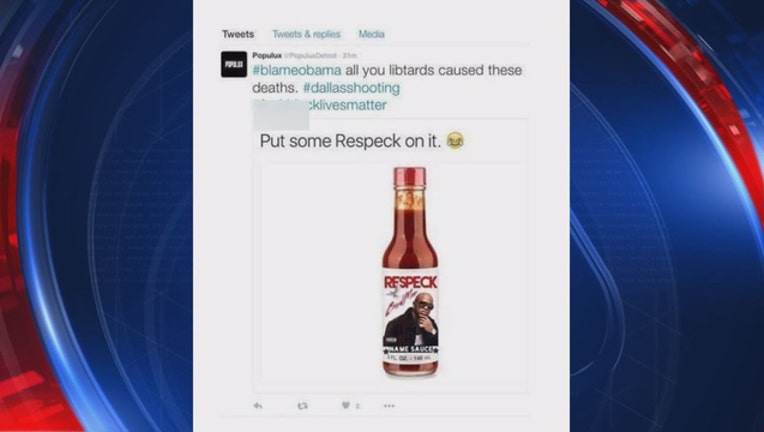 article
DETROIT (WJBK) - Several musical acts have canceled upcoming appearances at a Detroit nightclub, citing offensive Black Lives Matter tweets that were sent out from the club's Twitter account. However, the club says it did not post any of them.
The offending messages were posted to Populux night club's Twitter in the wake of the police shootings in Dallas.
Some of the messages included retweets from  former Illinois congressman Joe Walsh, who wrote a series of tweets early Friday blaming President Obama for the attacks.
The club's owner has launched an investigation into the possible hack.
And while some people believe the club's social media pages were compromised, others are not so sure.
"My belief is, I'm kind of torn between it. I think that's it's somewhat of an inside job," says Detroiter Rachael Taylor.
"I believe somebody hacked in on their account," says Carol Green.
Populux has also retweeted several messages from dubious users, such as one saying, ""hacked" doesn't mean "forgot to switch accounts,"" and others saying they will never never supporting the club again.
After deleting the messages early Friday, the club's owner released a statement saying, "We don't endorse hate of any kind. We didn't authorize the tweets. We stand in solidarity with the Black Lives Matter movement." Their account's profile picture has been changed to a photo with the words "Black Lives Matter" on it, and their cover photo now also states, "Because it is very apparent that our judicial system doesn't know that."
The club's Facebook page is no longer active.
Musical artists that have canceled shows include rapper Vic Mensa, the Bixel Boys and Hunter Siegel.
Warning: embedded tweets below contain language that might be offensive to some. 
App users tap here if you cannot see the tweets
Five police officers were killed Thursday night in Dallas at the end of a Black Lives Matter protest. The suspect has been identified as a lone sniper named Micah Johnson. He was killed in a standoff during attempted negotiations with police.
Populux is located at 4140 Woodward Avenue, in the same venue as the Majestic Cafe and the Garden Bowl. Populux is in the site of the former club the Magic Stick.