Dog named King abandoned at Burger King with note reading 'I'm a good boy'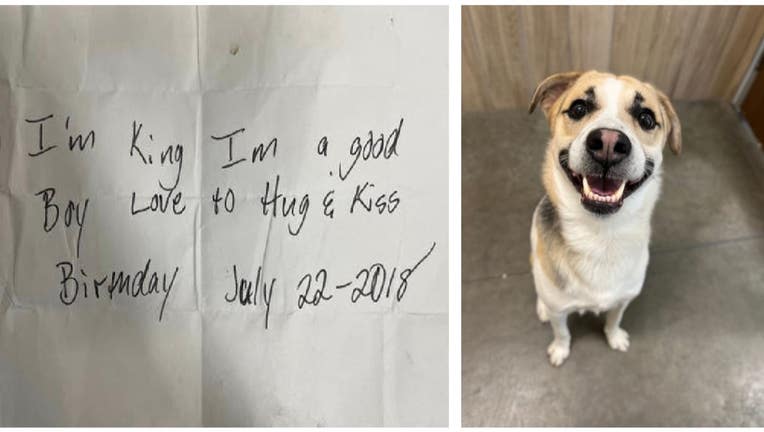 article
MONEE, Illinois - When people heard that someone had abandoned a dog outside a Burger King in suburban Chicago with a note reading "Hi, I'm King, I'm a good Boy, Love to Hug & Kiss," there was some outrage over the dog's situation.
After all, who would dump their dog?
But, Monee Police and the South Suburban Humane Society (SSHS) now say King's story is a sadder and more complicated story about how much people struggle to take care of their pets. They are trying to help the owner out, so they can be reunited.
"[H]is pet parent came to the shelter to tell us what had happened. After suffering a major medical event, she had moved in with family and has been trying to get back on her feet. Her family member abandoned King without her knowledge and she is devastated.," the South Suburban Humane Society said in a Facebook post.
"She brought all of his food, toys, treats, and we had a tearful conversation together," the post continued. "She wants to try and find a new place to live to keep her extremely well taken care of dog that she deeply loves. So one of our amazing staff members agreed to foster King at her house for a month so we can hopefully make a reunion happen."
"They knew he would be well taken care of at our PD so they attached the note and had someone bring him into the station. He was never placed in danger," Monee police said in a Facebook post.