DTE gas customers risk losing service, paying costly restoration if they don't schedule inspection
DETROIT (FOX 2) - Have you gotten a flyer from DTE recently? It'll have a red stripe with an alert requesting the customer schedule a safety inspection for their gas meter.
It's not a scam and should be high on the priority list of anyone whose received the piece of paper.
That's because a cut to service and costly restoration of gas could be waiting for anyone who doesn't schedule the checkup.
"We absolutely do not want to cut off anyone," said Cedric Flowers. "We just want you to participate with us for this 15-minute check every three years until we move the inside meters to the outside."
Flowers is the vice president of gas operations at DTE. He said the utility is still waiting on 18,000 customers to schedule a service check for their gas lines. 
"Ultimately, what we have to do is to shut the service down if we can't validate the safety of equipment," he said.
The chance of a gas-related home explosion is rare - but not rare enough in Metro Detroit that stories of someone's house blowing up don't get reported. 
They've become frequent enough in recent years that DTE has been ordered by the Michigan Public Service Commission to conduct service checks at homes around the region. A number of old Metro Detroit homes still have their meters indoors.
MORE: Commission that regulates Michigan utilities proposes penalties for outages
That includes on Detroit's east side, where workers were out Thursday afternoon doing work.
"Ultimately, we want all these meters outside," Flowers said. "That allows for safer operation, but also, if there's an event where the fire department and DTE can quickly get to your meter and address it, as opposed to trying to get in the home."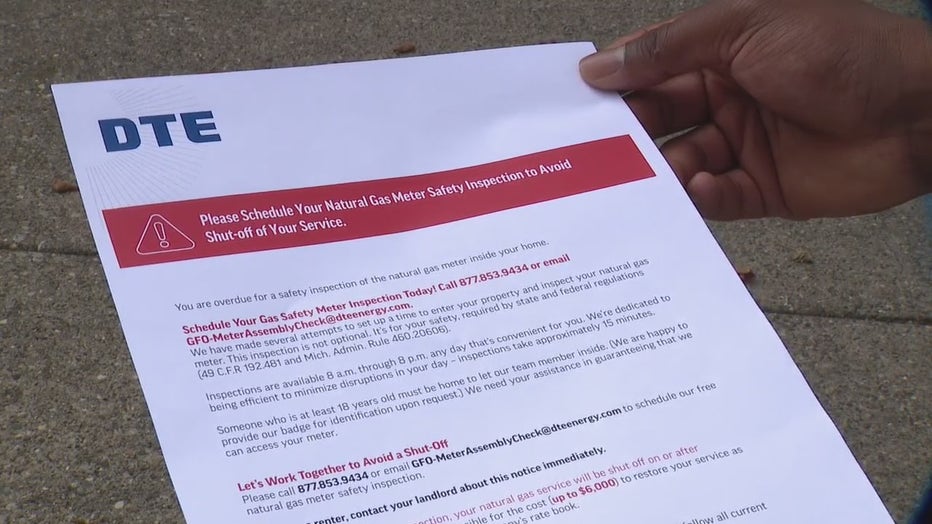 Safety is the main motivation, but if a homeowner doesn't schedule their check, they could be on the hook for up to $6,000 to restore service due to parts and labor costs.
The utility is looking to complete all its inspections by Dec. 31.