Fifth grader leaves beautiful letter for Atlanta teacher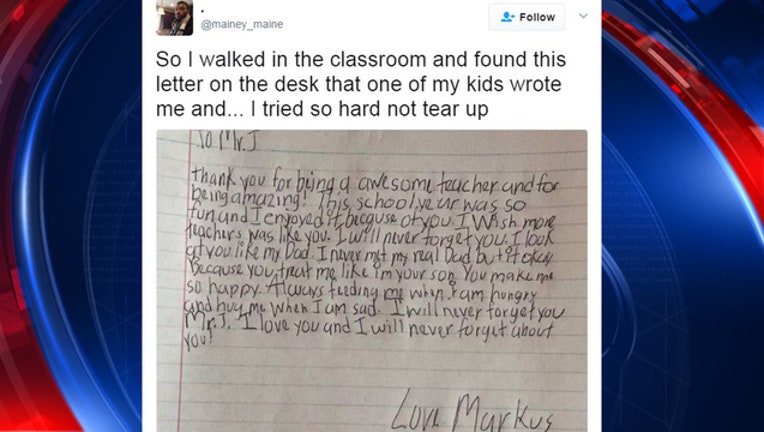 article
(WJBK) - An Atlanta-area fifth grade teacher posted on Twitter a picture of a letter that he says he received from a student in his class. The young boy poured his heart into the letter and hundreds of thousands of people are seeing it now.
Twitter user @maney_maine - real name not available - posted the Twitter photo that we embedded below. He wrote that when he walked into the classroom, he found a letter on his desk that one of his students wrote him. He said he tried hard not to tear up.
ROYAL OAK TEACHER PRANKS STUDENTS WITH ABSURD APRIL FOOLS' SPELLING TEST
Here's what the letter said:
"To Mr. J
Thank you for being a awesome teacher and for being amazing! This school year was so fun and I enjoyed it because of you. I wish more teachers was like you. I will never forget you. I look at you like my dad. I never met my real dad but it okay because you treat me like I'm your son. You make me so happy. Always feeding me when I am hungry and hug me when I am sad. I will never forget you Mr. J. I love you and I will never forget about you!
Love Markus"
After posting the picture, he said that he teaches fifth grade. He did not say what school or city he teaches in, but based on his profile, it appears that he teaches in Atlanta.
DETROIT MAN'S EMU COLLEGE GRADUATION INSPIRING TWEET GOES VIRAL
In the hundreds of replies that have come to the tweet, many people are offering to help pay for supplies in his classroom. He continues to decline any offers and says it's not about the money.
Teachers can have a profound impact on students' lives. It's obvious that this teacher has done his job very well for Markus and other students. See the entire exchange below:
Our affiliate in Atlanta is working to get in contact with the Twitter user.