Ford unveils plan to build $3.5B electric vehicle plant in Michigan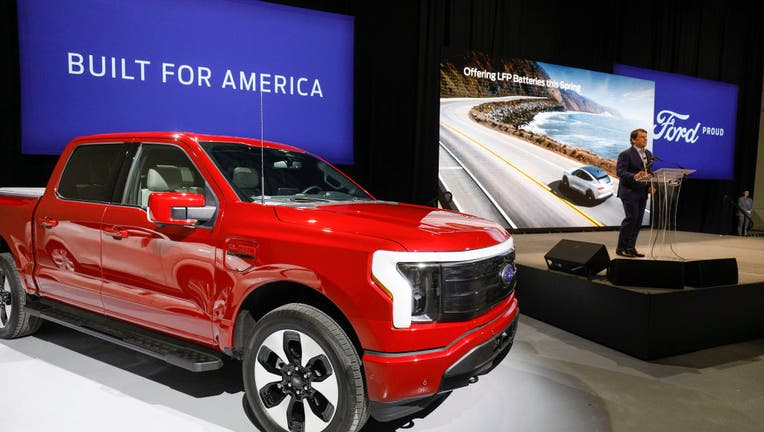 article
DETROIT (AP) - Ford Motor Co. plans to build a $3.5 billion factory in Michigan that would employ at least 2,500 people to make lower-cost batteries for a variety of new and existing electric vehicles.
The plant, to be built on land being readied for industrial development about 100 miles (160 kilometers) west of Detroit, would start making batteries in 2026. It would crank out 35 gigawatt hours worth of batteries, enough to supply 400,000 vehicles per year, Ford said.
The factory near the city of Marshall would produce batteries with a lithium-iron-phosphate chemistry, which is cheaper than the current nickel-cobalt-manganese chemistry now used in many EV batteries.
Consumers could then choose between a battery with lower range and cost, or pay more for higher range and power. The company wouldn't give any prices just yet.
"The whole intent here is to make EVs more affordable and accessible to customers," said Marin Gjaja, chief marketing officer for Ford's electric vehicles.
Ford says a wholly owned subsidiary would own the factory and employ the workers. But China's Contemporary Amperex Technology Co. Limited, or CATL, which is known for its lithium-iron-phosphate expertise, would supply technology, some equipment and workers.
Ford cutting prices of Mach-E by as much as $6,000
The announcement comes at a time when U.S.-China relations are strained, and the Biden administration is offering tax credits for businesses to create a U.S. supply chain for EV batteries. To get a full $7,500 per vehicle U.S. tax credit to customers, EV batteries won't be able to have metals or components from China in them.
Ford is hoping that the structure of the deal will defuse criticism of spending tax incentive money on a joint-venture factory that wou
ld be part-owned by a Chinese company. Last month the state of Virginia dropped out of the race for the same Ford plant after Gov. Glenn Youngkin characterized the project as a "front" for the Chinese Communist Party that would raise national security concerns. At the time Virginia had not offered an incentive package to Ford.
The company expects to take advantage of U.S. factory tax credits, and says that buyers initially would get at least $3,750 in tax credits because the vehicles are produced in North America. Gjaja said that over time they could get the full $7,500 credit depending on sourcing of battery minerals.
Lithium-iron-phosphate batteries would go into standard-range versions of Ford's EVs. For instance, the lowest price Mustang Mach-E electric SUV would get an LFP battery and would be able to travel 247 miles per charge. The long range version of the Mach-E will have a nickel-cobalt-manganese chemistry that takes it to 310 miles per charge.
The plant was revealed Monday at a meeting of the Michigan Strategic Fund, which approved a large tax incentive package for the project near the junction of Interstates 94 and 69.
About $210 million came from Michigan's Strategic Outreach and Attraction Reserve Fund, known as SOAR, set up to lure industry and jobs to the state. But the total size of the incentive package wasn't clear.
The SOAR Fund has received nearly $1.8 billion from the state's general fund since it was first created in December of 2021.
Added electric vehicle charge in Michigan comes with extra revenue, privacy concerns
A tax-relief bill passed in the Michigan House last week could send up to $1.5 billion over three fiscal years to the SOAR Fund in addition to an $800 million one-time deposit that Gov. Gretchen Whitmer outlined in her budget proposal last week.
The tax-relief bill, which still needs state Senate approval, has been heavily criticized by Republicans for giving too little to taxpayers and too much to large corporations.
Last summer, Ford announced that CATL will make lithium-iron-phosphate battery packs for Mustang Mach-E electric SUVs in North America this year and for F-150 Lightning electric trucks early in 2024 "creating more capacity for high-demand products." The batteries at first would come from China, then be switched to the Michigan plant in 2026, Ford said.
The company expects to be able to produce electric vehicles at a rate of 600,000 per year by late this year.
Whitmer said the plant will bring "generational opportunities" for west Michigan families. It will "make sure that production lines aren't stalled by global shocks or shipping delays," she said.
Lithium-iron-phosphate batteries already are in use in consumer electronics and some competitors' vehicles, but all the batteries are imported, said Lisa Drake, vice president of industrialization for Ford's electric vehicles.
"This project is aimed at de-risking that by actually building out the capacity and capability to scale this technology in the United States," with Ford controlling the manufacturing and the workforce.
Conrad Layson, senior analyst with AutoForecast Solutions, says the new battery factory could supply multiple Ford models. "As Ford increases the number of all-electric nameplates, the output from this factory could be used to make lower-cost versions of those future all-electric Ford vehicles," he said.