Former Congressman John Dingell hospitalized after suffering heart attack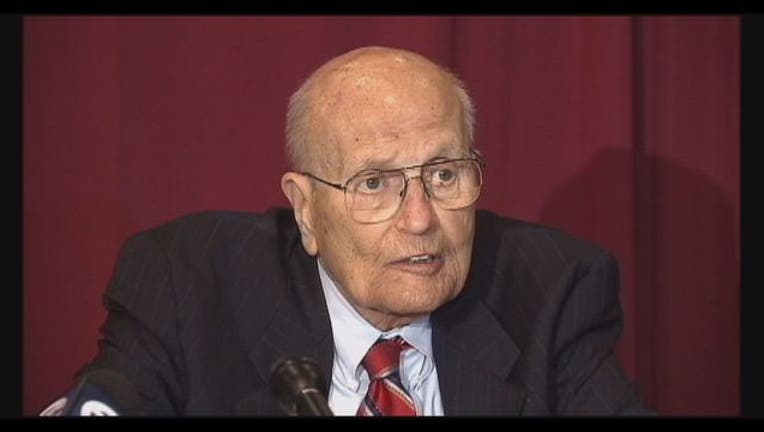 (WJBK) - WEB UPDATE: Former Michigan Congressman John Dingell is feeling better resting Monday night after a heart attack. He may have to undergo a catheterization, according to his wife, Congresswoman Debbie Dingell.

"He is feisty, flirting with the women and just dictated tweets he wants to send tomorrow," Debbie Dingell said. "And I told him enough! We will know more tomorrow on whether they have to do a catheterization. It worries me but day by day. We are in God's hands. Thank you for caring."

News broke that Dingell had suffered a heart attack via the office of Rep. Debbie Dingell said Monday afternoon. 
The congresswoman said on social media it appears John, who is 92 years old, had a heart attack earlier this morning. 
"He's alert and in good spirits, cracking jokes like always," her tweet reads. Her office confirmed he's being hospitalized in Detroit but didn't elaborate on how serious the situation is. Her tweets didn't give any other details at this time either, but offered her gratitude to all the medical professionals and nurses at their sides. 
She said they expect to know more later. 
This is a developing story. Stay with FOX 2 for updates. 
Dingell served in Congress longer than anyone in U.S. history at the time of his retirement in 2014, serving for nearly 60 years. The Democrat was first sworn in as a member of the House in 1955, taking over the seat his father held for more than two decades. His wife, Debbie, won his seat in Congress, keeping the Dingell name going in the 12th Congressional seat up on Capitol Hill.
Over the years, he helped push through legislation that shaped our country. He authored the Clean Air Act, the Safe Drinking Water Act, the Affordable Care Act and the Patient's Bill of Rights. But he considers his vote for the Civil Rights Act of 1964 as his most important of his career.
In 2014, he was awarded the Presidential Medal of Freedom.