GOP, Dems show no sign of retreat in shutdown's first day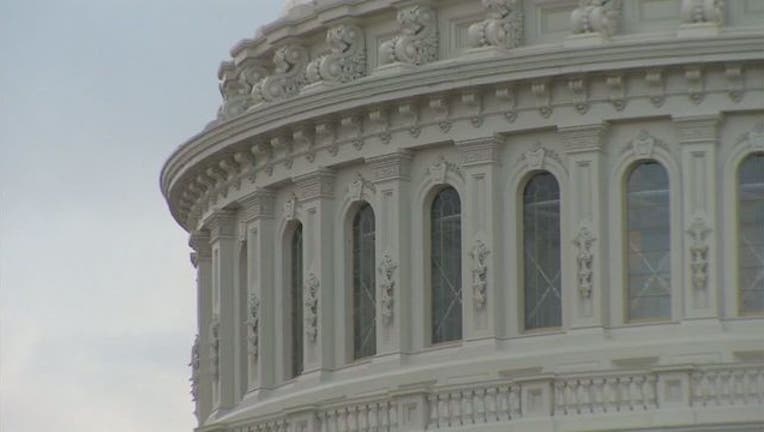 article
WASHINGTON (AP) - Republicans and Democrats showed no signs of ending their standoff over immigration and spending Saturday as Americans awoke to the first day of a government shutdown and Congress staged a weekend session to show voters it was trying to resolve the stalemate.
The closure of many government agencies was a striking display of Washington dysfunction, played out on the one-year anniversary of President Donald Trump's inauguration, and there was more finger-pointing than signs of bipartisan dealmaking.
Trump made light of the debacle in a tweet that Democrats "wanted to give me a nice present" to mark the start of his second year in office.
The president spoke with Senate Majority Leader Mitch McConnell, R-Ky., to discuss the next possible steps, while chief of staff John Kelly also worked the phones. White House negotiators, legislative affairs director Marc Short and budget chief Mick Mulvaney, went to Capitol Hill to meet with House Republicans, who emerged holding fast to their stance they would not negotiate while the government was shuttered.
Right around midnight, Senate Democrats killed a GOP-written House-passed measure that would have kept agencies functioning for four weeks. Democrats were seeking a stop-gap bill of just a few days in hopes that would build pressure on Republicans, and were opposing a three-week alternative offered by GOP leaders.
Democrats have insisted they would back legislation reopening government once there's a bipartisan agreement to preserve protections against deporting about 700,000 immigrants who arrived in the U.S. illegally as children. Each party believes it had a winning political hand, and the day's first words by party leaders underscored that so far, neither side believe it was time to give ground.
"The American people cannot begin to understand why the Senate Democratic leader thinks the entire government should be shut down until he gets his way on illegal immigration," said McConnell
Senate Minority Leader Chuck Schumer, D-N.Y., said voters will fault Trump and the GOP. He blamed Trump for reneging on a near-deal that Schumer said the two men had approached during a White House meeting Friday.
"Negotiating with President Trump is like negotiating with Jell-O," Schumer said.
Though the House and Senate were in session Saturday, it was unclear whether lawmakers would take any votes of consequence.
Democrats said they oppose the three-week plan, viewing it as a way to stall negotiations over the future of the "Dreamers" immigrants, whose protections expire in March. Republicans declared they would not reopen talks until the government shutdown ends, a strategy aimed at trying to erode Democratic cohesion.
House Democratic leader Nancy Pelosi of California said Trump had earned an "F'' for "failure in leadership." She said Republicans are "so incompetent and negligent that they couldn't get it together to keep the government open."
The fourth government shutdown in a quarter-century began at the stroke of midnight at the start of a weekend, so many of the immediate effects will be muted for most Americans.
Social Security and most other safety-net programs are unaffected by the lapse in federal spending authority. Critical government functions will continue, with uniformed service members, health inspectors and law enforcement officers set to work without pay. But if no deal is reached before Monday, hundreds of thousands of federal employees will be furloughed.
Arguing that Trump's predecessors "weaponized" that shutdown, Mulvaney said his budget office would direct agencies to work to mitigate the impact this time, although it was unclear how long that was possible. That position is a striking role reversal for the conservative former congressman who was one of the architects of the 2013 shutdown.
Political damage could grow quickly if the closure is prolonged.
Both parties are wagering that voters will punish the other at the ballot box in November.
Democrats are laying fault on Republicans, who control both chambers of Congress and the White House and have struggled with building internal consensus. Republicans branded the confrontation a "Schumer shutdown." The senator assembled enough Democratic opposition to kill the House-passed bill.
Trump said Democrats "could have easily made a deal but decided to play Shutdown politics instead." In a series of tweets hours after the shutdown began, the president tried to make the case for Americans to elect more Republicans to Congress in November "in order to power through this mess." He noted that there are 51 Republicans in the 100-member Senate, and it often takes 60 votes to advance legislation.
The stop-gap measure won 50 votes in the Senate, including five Democrats.
Trump and Schumer tried to cut a last-minute deal that would have included greater military spending and money for a wall along the Mexican border. But the talks fell apart almost as abruptly as they started.
Trump had been set to leave Friday afternoon to attend a fundraiser at his estate in Palm Beach, Florida, where he intended to make the inauguration anniversary. But he remained in Washington.
The last shutdown came in 2013. Tea party Republicans, in a strategy not unlike the one Schumer is employing now, sought to use a must-pass budget bill to try to force President Barack Obama to delay implementation of his health care law. At the time, Trump told "Fox & Friends" that the ultimate blame for a shutdown lies at the top. "I really think the pressure is on the president," he said.
___
Associated Press writers Jill Colvin, Richard Lardner, Matthew Daly and Catherine Lucey in Washington and Jonathan Lemire in New York contributed to this report.