'Like we did as kids': Horse makes snow angels with her owner in New Hampshire
BRADFORD, N.H. - All that snow in parts of the Northeast has more than just kids jumping for winter joy. 
Sandy Hodskins, owner of West Meadow Farm in Bradford, New Hampshire, took time from shoveling Wednesday to enjoy the snow with her horse, West Wind.
The 17-year-old Kiger mustang mare was born in Bend, Oregon, said Hodskins, who got her as a yearling. The two have been a team ever since. 
"We study natural horsemanship. It is a way to communicate to horses using psychology to connect with the horse at every level – recreation, training and competition," Hodskins said.
While her husband was out plowing, Hodskins said she brought her horse to a new paddock with fresh snow, and they started making snow angels. 
DOES MARCH REALLY COME IN LIKE A LION AND GO OUT LIKE A LAMB?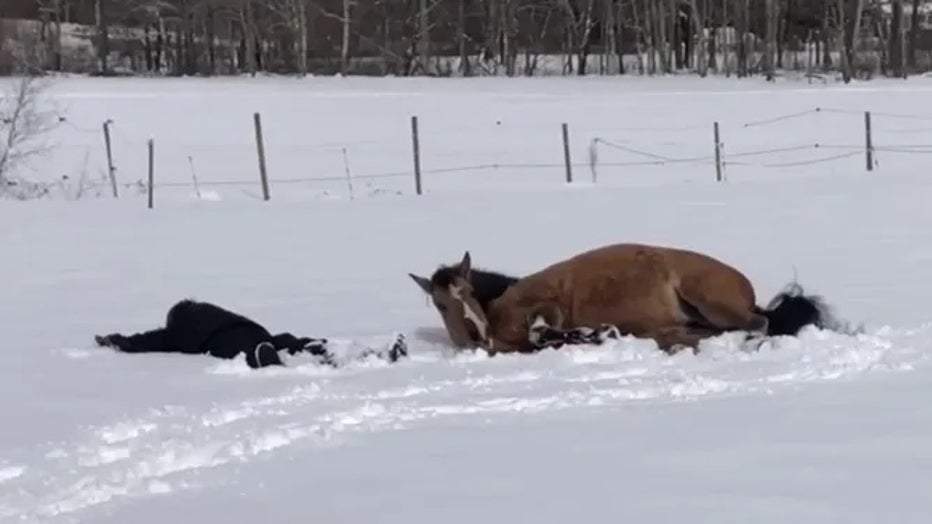 Sandy Hodskins and West Wind, her 17-year-old Kiger mustang mare, enjoy making snow angels together in Bradford, New Hampshire, on Wednesday, March 1, 2023. (West Meadow Farm)
"She decided she wanted to join me," she said. "The psychology part is I know she enjoys lying down in fresh snow."
About 12 inches of snow has fallen in the area, according to Hodskins, and another 8 to 14 inches is expected from Friday night into Saturday.
"We were just having fun like we did as kids," Hodskins said. "Something we often forget to do when we turn into an adult."