Jailed clerk who fought gay marriage is ordered released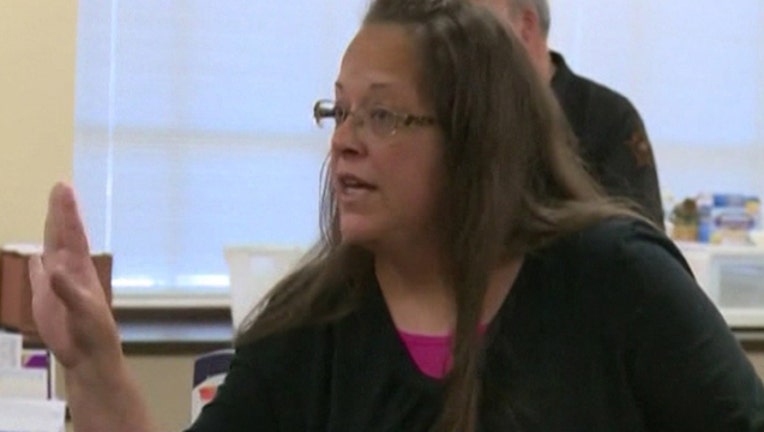 article
GRAYSON, Ky. (AP) - After five days behind bars, county clerk Kim Davis was ordered released from jail Tuesday by the judge who locked her up for refusing to issue marriage licenses to gay couples.

U.S. District Judge David Bunning lifted the contempt order against Davis, saying he was satisfied that her deputies are fulfilling their obligation to grant licenses to same-sex couples in her absence. But he warned Davis not to interfere with them.

The move came down just before Davis was to receive jailhouse visits from presidential candidates Mike Huckabee and Ted Cruz. Dozens of her had supporters gathered on the jailhouse lawn for what they called a rally for religious freedom.

Davis was thrown in jail on Thursday, becoming a hero among religious conservatives for the boldest act of resistance by a public official yet to the U.S. Supreme Court ruling earlier this year that effectively legalized gay marriage across the nation.

Outside the jail where Davis was held, word spread slowly through a crowd of supporters in the afternoon, and some said they couldn't believe the news.

In lifting the contempt order, Bunning asked for updates on the five deputy clerks' compliance every two weeks.

Davis, an apostolic Christian, says that gay marriage is a sin and that it would be against her conscience to issue a marriage license to a same-sex couple.

Davis' jailing has offered some of the many GOP presidential candidates an opportunity to appeal to the party's evangelical Christian wing, which opposes same-sex marriage and casts Davis' imprisonment as an issue of religious freedom.

On Monday, Davis's lawyers took their case to a federal appeals court, asking that Davis be allowed to remove her name and title from marriage certificates issued in Rowan County so that she would not have to act against her conscience.

Davis stopped issuing all marriage licenses in June the day after the Supreme Court ruled that gay couples have the right under the U.S. Constitution to marry.

Two gay couples and two heterosexual couples sued her. Bunning ordered Davis to issue the licenses, and the Supreme Court upheld his ruling. But she still refused, and was held in contempt of court and sent to jail.

Her deputy clerks -- except for her son, Nathan Davis -- then began issuing licenses to gay couples with Davis behind bars.