Michigan State shooting victim Arielle Anderson wanted to study medicine, family says
HARPER WOODS, Mich. (FOX 2) - Arielle Anderson's life was violently ripped away on Monday, one of three Michigan State University students who were shot and killed on campus. With her entire life ahead of her and plans of studying medicine, Arielle's life abruptly ended at 19.
Arielle is from Harper Woods and graduated from Grosse Pointe North High School and was described as a compassionate and driven young woman who dreamt of becoming a doctor.
Her uncle, Timothy Davis, echoed those sentiments and said the entire family is fighting.
"I look at this whole thing is a spiritual battle," he said. "She was driven. She was going to be a surgeon. (She had) great grades. (An) A student all the way through."
Arielle was one of three students killed on Monday when a man opened fire at Berkey Hall and the MSU Union. Brian Fraser, 20, and Alexandria Verner, 20, have been identified as the other two killed in the shooting.
Davis said the 2021 graduate selected Michigan State so she could stay close to home because of her deep love for her family.
"She loves being around family, She loved helping out. My little sister – she was a big help to her. She was loving. She was an asset to the family. I'll say that," he said.
Arielle had only been back in East Lansing for a day after traveling home over the weekend to attend a Pistons game at Little Caesars Arena.
"She was so innocent. I never really heard her talk about boys and all that stuff. She was very mature," Davis said.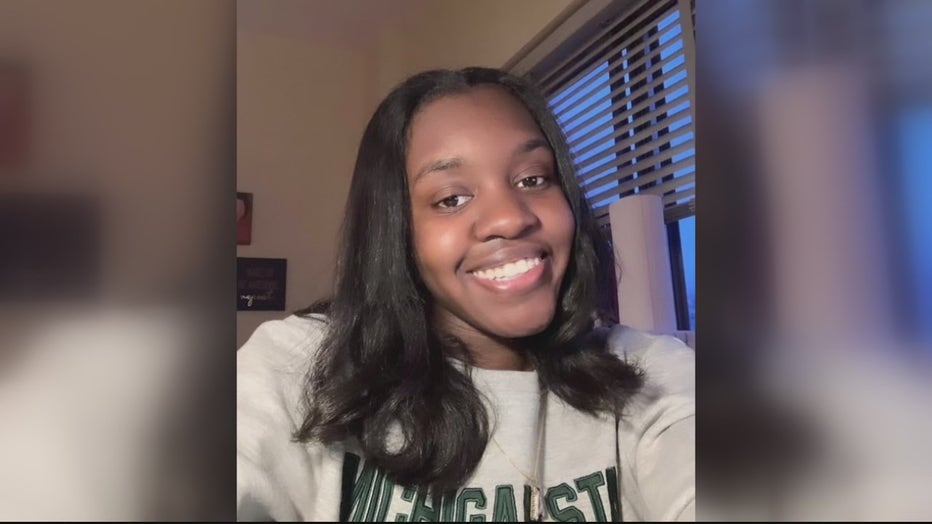 Arielle Anderson, 19, was killed Monday by a shooter on campus at Michigan State University.
Davis said Arielle's mom called and alerted him about what happened.
"(She said) there's been a shooting at Michigan State and Arielle is not answering her phone," he said.
So the family got in the car and immediately drove to East Lansing. 
Over the week, the family has been kept informed of the investigation by police but the details - including a motive - all remain a mystery.
"I don't hate the guy for doing it. It's done. We have to move forward from here," Davis said. "My family feels that way also."
The family has set up a GoFundMe account to help as they try to figure out how to move forward.
"The lesson though is…you gotta live life to its fullest, cherish your loved ones, just be a better human being. That's all," Davis said.
Funeral arrangements are pending.