Northern US in store for a colorful light show from the Northern Lights
A geomagnetic storm has the potential to produce aurora borealis over the Northern Hemisphere from Sunday evening into Monday morning, with some states along the U.S.-Canadian border having the potential to see the Northern Lights.
According to NOAA's Space Weather Prediction Center, the event will reach a level two out of five on the Geomagnetic Storm Impact scale.
An event that registers as a G-2 is fairly common and occurs about 360 days over an 11-year cycle.
According to NOAA, some northern power systems may experience voltage alarms, spacecraft may exhibit orbit changes and radio frequencies can fade at higher latitudes.
If the night sky is clear, some northern states from Washington to Maine might be able to see the geomagnetic activity in the form of an aurora.
THESE ARE THE 5 CATEGORIES THAT MEASURE GEOMAGNETIC STORMS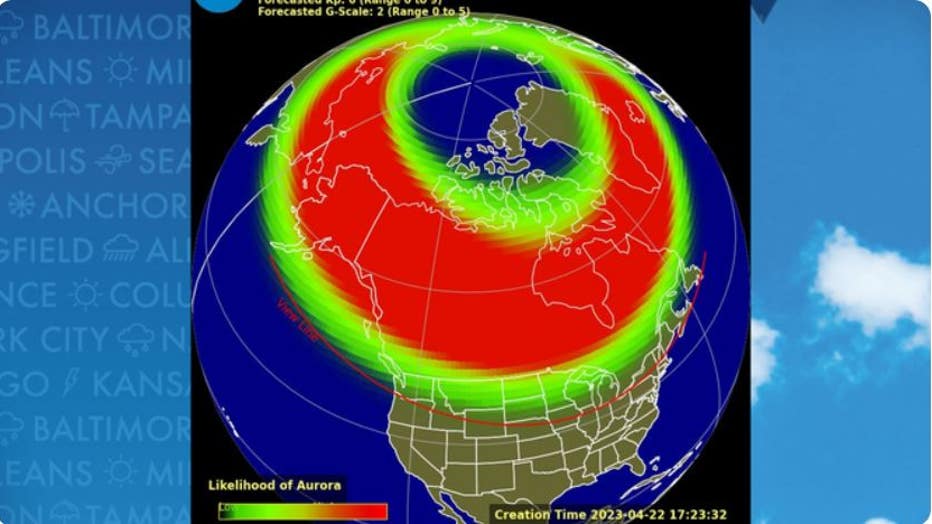 Aurora forecast for Sunday night-Monday morning. (NOAA)
7 THINGS TO KNOW ABOUT THE NORTHERN LIGHTS
The level of geomagnetic activity is also monitored by ground-based magnetometers, and the event is measured on the Kp index scale, which ranges from 0 to 9.
As of Saturday, the highest value expected for the upcoming event on the Kp index was a 6.3, which means cities such as Seattle, Minneapolis and Green Bay will be able to see the Northern Lights, if skies are clear and light pollution is low.
Cloud cover can inhibit viewing, and large sections of the Pacific Northwest are forecast to be under a decent layer of clouds. Most of the Midwest is expected to be nearly cloud-free, which will enable viewing.
If initial forecasts are underestimating the event and the geomagnetic storm is stronger than expected, the chance to observe to aurora would sink further south and include communities around Des Moines, Iowa; Chicago; Cleveland; and Portland, Maine.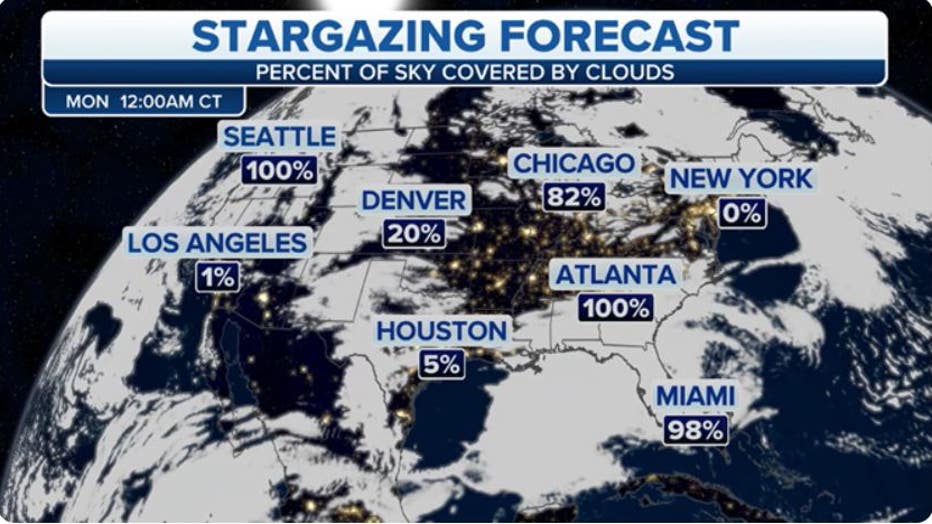 Expected U.S. cloud cover
WATCH: LUCKY PASSENGER CAPTURES STUNNING TIME-LAPSE VIDEO OF NORTHERN LIGHTS FROM PLANE WINDOW
The best viewing is typically between 10 p.m. and 2 a.m. local time, and due to the moon being in a Waxing Crescent phase, the lunar body should not be a hindrance to skywatchers.
The late weekend event is expected to be much weaker than March's severe geomagnetic storm that caused the Northern Lights to be seen as far south as Las Vegas, Phoenix, Nashville and Asheville, North Carolina.
The Space Weather Prediction Center identified the spectacular event as a level 4 on its 5-point scale.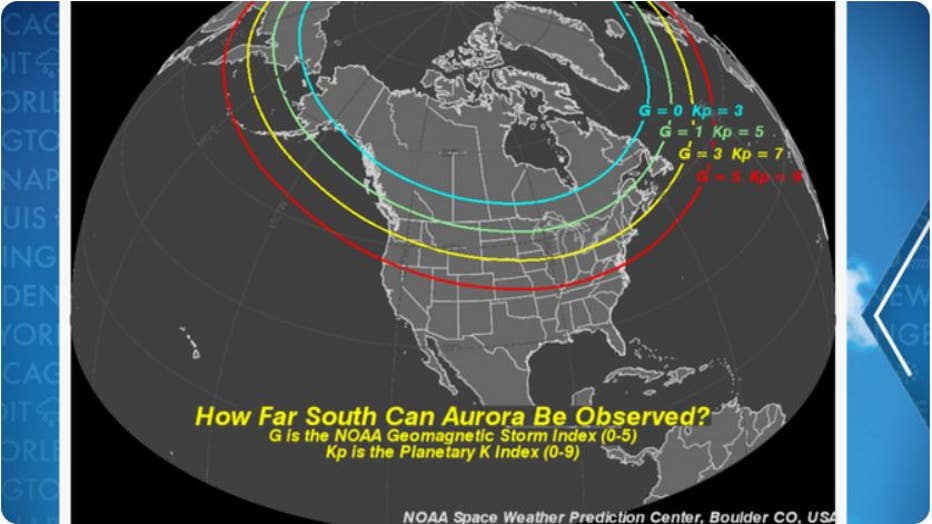 What Kp index value is needed to see the Northern Lights in the U.S. (NOAA)