Pres. Trump announces short-term deal to reopen government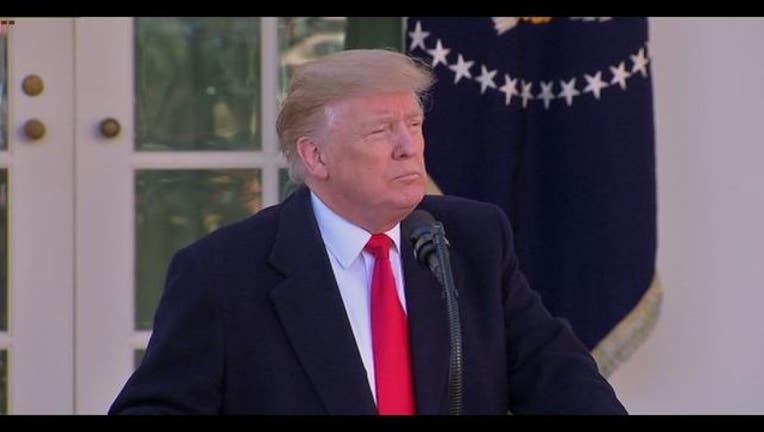 WASHINGTON (FOX 2) - President Donald Trump announced Friday a short-term deal to reopen the federal government.
UPDATE 2:17 p.m.
Trump said he plans to sign a bill to open the government for three weeks until February 15, while Congress debates a package on border security.
"I will make sure all federal employees receive their back pay very quickly -- or as soon as possible," Trump said.
Some 800,000 federal workers have had to work without pay or have been kept from doing their jobs as Trump and congressional Democrats were locked in a stalemate over the billions of dollars that Trump has demanded to build a U.S.-Mexico border wall.
Even as President Donald Trump backs down and agrees to a short-term deal that reopens the government, he isn't giving up on his push for a U.S.-Mexico border wall.
And on top of that, he's threatening to shut down the government again or use his presidential powers to address the border issue if he doesn't get what he's calling a "fair deal."
Trump says the border barrier he wants built isn't "medieval' and shouldn't be "controversial" because it will keep drugs and criminals from crossing into the United States.
He's calling it "smart" and "see-through" walls.
Watch below:
TRUMP TO MAKE ANNOUNCEMENT 1:40 p.m.
President Donald Trump is expected to speak from the Rose Garden Friday afternoon to address the ongoing government shutdown that's now in day 35.
The news of the surprise announcement started surfacing around 12:30 Friday afternoon on Twitter. A little after 1 p.m., Press Secretary Sarah Sanders tweeted that the President would speak at 1:30 from the Rose Garden. 
There's growing speculation that lawmakers and the White House are on the verge of reaching a deal to end the impasse, according to the Associated Press.
According to the Wall Street Journal, President Trump is considering agreeing to sign a three-week spending bill which could temporarily reopen the government as early as Friday.
The Washington Post reports the pact would reopen the government for three weeks while leaving the issue of border wall funding to further talks. The Post quoted officials who spoke on the condition of anonymity.
President Trump's announcement comes the same day that intensifying delays at airports have started to cause serious disruptions. The world's busiest airport -- Hartsfield-Jackson Atlanta International Airport -- was experiencing long security wait times, a warning sign the week before it expects 150,000 out-of-town visitors for the Super Bowl. 
LaGuardia Airport in New York and Newark Liberty International Airport in New Jersey were both experiencing at least 90-minute delays in takeoffs Friday.
Trump and the Democrats in Congress remained at odds over his demand that any compromise include money for his coveted border wall.
The standoff has become so severe that, as the Senate opened with prayer, Chaplain Barry Black called on high powers in the "hour of national turmoil" to help senators do "what is right."
Senators were talking with increased urgency after Thursday's defeat of competing proposals from Trump and the Democrats. The bipartisan talks provided a glimmer of hope that some agreement could be reached to temporarily halt the longest-ever closure of federal agencies.
Information from the Associated Press was used in this report