School closed after Confederate flag-bearing truck gatherings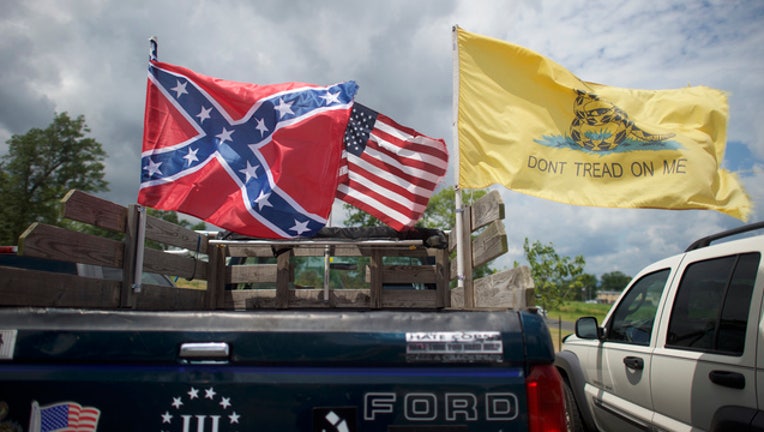 article
AUBURN, Mich. (AP) - Officials say a potential threat has forced the closure of a central Michigan high school where students parked their pickup trucks adorned with Confederate flags outside for two days.
Bay City Public Schools Superintendent Stephen Bigelow tells The Bay City Times he has canceled classes Thursday at Bay City Western High after being informed about rumors that people planned to confront students.
WJRT-TV reports Bigelow said in a message to parents that the "unsubstantiated" rumors involved threats from outside the school district.
Six trucks flying or painted with the Confederate battle flag parked outside of the school on Tuesday and were joined by others on Wednesday, when they were met by a counter-demonstration against racism and bigotry.
Confederate flag-bearing trucks park outside Michigan school
The school is in Auburn, about 100 miles northwest of Detroit.
Cameron Myers, a student who was waving a Confederate flag, said a flag was torn from his vehicle on school property last week. He denied that his faction was trying to intimidate anyone by waving the flag.
"It's not about racism; it's a country boy thing," Myers said.
"If we were going over there and saying racist slurs and cussing them out, that would be another thing," he told The Bay City Times.
But some students saw it otherwise.
"We have such a small minority population of students and we're in a conservative area," said Kendrix Szilagyi, who organized the counter-protest and called the Confederate flag display "racism."
Only some of the Confederate flag faction are students at the school.
"The majority of the people who were out there weren't actually students of ours,'" superintendent Stephen Bigelow told The Associated Press on Wednesday, referring to the owners of the vehicles. "For the most part, the majority of our students were inside doing the right thing."
Bay County Sheriff Troy R. Cunningham said deputies were monitoring the situation.