Soldier charged with killing wife, trooper plotted 1999 Michigan school attack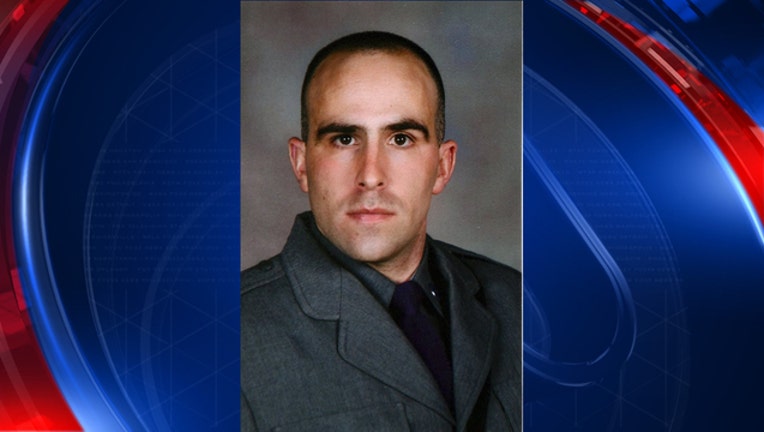 article
THERESA, N.Y. (AP) - Court records show that a U.S. Army soldier charged with killing his wife and a New York State Police trooper once plotted to shoot up his Michigan middle school while a teenager.
MLive.com reports Justin Walters was 15 and a ninth-grader at Macatawa Bay Middle School in Holland, Michigan, when he and a classmate were accused of compiling a "die or dead list" and planning to shoot people then kill themselves.
Another classmate tipped off police to the 1999 plot. The Grand Rapids Press reports Walters pleaded guilty in family court to conspiracy to carry a dangerous weapon.
Now 32, Walters was charged with murder Monday after police say he fatally shot his wife, Nichole Walters, and Trooper Joel Davis on Sunday at the Walters' home in Theresa.
Trooper Davis was approaching the couple's home in rural Theresa, near the Canadian border, when Staff Sgt. Justin Walters shot him in the torso with a rifle, leaving him in a roadside ditch, police and court documents said. Another trooper arrived and found Davis, who died about an hour later at a hospital.
Walters' wife, Nichole Walters, was found dead in the driveway, with multiple gunshot wounds. A female friend of hers, who was living on the property, also was shot, suffering non-life-threatening injuries, police said.
Davis, 36, had been a state police trooper for four years, after 10 years as a county sheriff's deputy in the area, police and friends said.
"He truly did love being a law enforcement officer," family friend Chris Fletcher said. "One of his last texts to another one of his cousins was he couldn't believe he got paid to do what he does."
Gov. Andrew Cuomo said "the entire New York family grieves" for Davis, a married father of three teenagers who was commissioner of a youth baseball league in his tight-knit community.
State police Superintendent George P. Beach II noted that signs had already sprung up around the area to pay tribute to Davis.
"It's not just the police who suffer a loss like this," Beach said.
Justin Walters, 32, was barefoot and clad only in shorts when he was taken to a town court around 4 a.m. Monday to be charged with murder. He was in an orange jail uniform and shackles when he was re-arraigned Monday evening in LeRay Town Court, where he was ordered held without bail for grand jury action.
His assigned lawyer, Eric Swartz, waived a preliminary hearing. He said the next appearance would be in Jefferson County Court later. He wouldn't comment further, saying he had only met Walters minutes before court.
Walters, a native of Zeeland, Michigan, joined the Army in 2007 and did two one-year tours in Afghanistan, in 2009 and again from March 2011 to March 2012, Army officials said. He was stationed at Fort Drum, home of the 10th Mountain Division.
Fort Drum's senior commander, Maj. Gen. Walter E. Piatt, called the slain trooper a hero.
"It takes an uncommon valor to run toward acts of terrible violence, to sacrifice for the safety of strangers," Piatt said.
Cuomo, a Democrat, called Davis' death "yet another sad reminder of the risks law enforcement officers face each day."
Davis was the second New York law enforcement officer killed on duty in less than a week. New York City police Officer Miosotis Familia was fatally shot last Wednesday by a man who was then killed by other officers.
The state police superintendent said Davis was wearing body armor but the round hit him in his side, where he had no protection. He said Walters gave no motive for the shootings.
Walters and his wife, who was 27, met around the time she finished high school in Mattydale, a community near Syracuse, her hometown friend Jerry Mikels said. She was devoted to her toddler-age son and was always willing to help people, he said.
"She got along with everybody," he said. "If she knew you needed help, she would help out. She was there for my wife when she had cancer."
Data on domestic violence among military couples varies widely. A 2010 federal Centers for Disease Control survey , prepared for the Department of Defense, said domestic violence aimed at military wives occurs at a similar rate as it does to women in the general population, with about 30 percent of the wives having been physically attacked, raped or stalked by an intimate partner.
But other studies on the percentage of women in military couples who've experienced domestic violence have given rates ranging from about 13 to 60 percent.
Associated Press writers Michael Hill in Albany, New York, and Jennifer Peltz in New York City contributed to this report.