St. Louis Cardinals fan 'Rally Runner' charged with joining Capitol riot
A St. Louis Cardinals mega-fan known as "Rally Runner" was arrested Wednesday on charges that he joined a mob's attack on the U.S. Capitol on Jan. 6, 2021, and used a stolen shield to help other rioters attack police officers, court records show.
Daniel Donnelly Jr., 43, was wearing red paint on his face and a red "Keep America Great" hat when he stormed the Capitol, the FBI said in a court filing.
Donnelly is known in St. Louis for running around the Cardinals' stadium during baseball games while wearing red clothes and red face paint. Donnelly apparently changed his legal name to Rally Runner, according to the FBI.
Tucker Carlson featured Donnelly on a December 2021 segment of his now-canceled Fox News show. Carlson showed an image of Donnelly outside the Capitol as he promoted conspiracy theories that uncharged "agent provocateurs" had infiltrated the mob, HuffPost reported.
"Who is this person? Why hasn't he been charged? That's a very simple ask," Carlson told his viewers.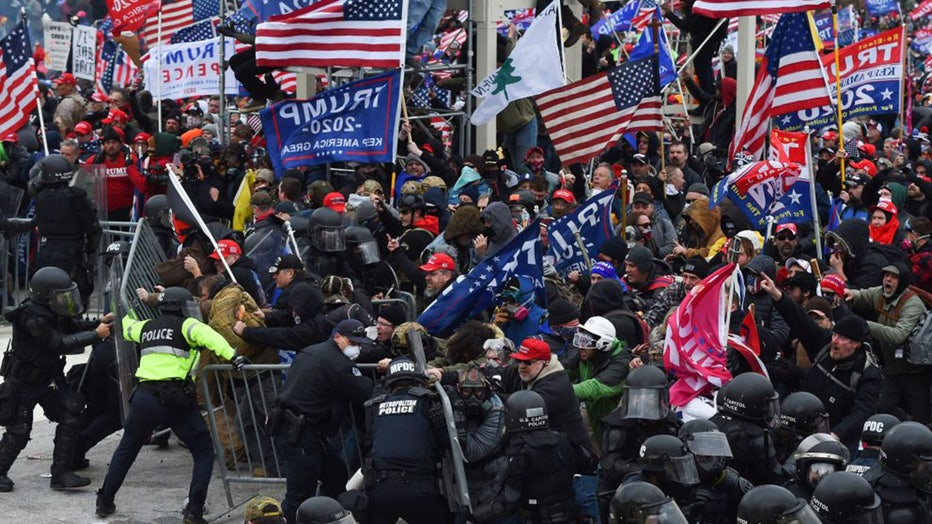 FILE - Trump supporters clash with police and security forces as they push barricades to storm the US Capitol in Washington D.C on Jan. 6, 2021. (ROBERTO SCHMIDT/AFP via Getty Images)
The FBI arrested Donnelly in St. Louis on charges including a felony count of interfering with police during a civil disorder. U.S. Magistrate Judge Shirley Padmore Mensah agreed to free him from custody after his initial court appearance. An attorney who represented Donnelly at Wednesday's hearing didn't immediately respond to an email seeking comment.
Investigators questioned Donnelly at his St. Louis home less than a week after the riot. He told them that he was at the Capitol on Jan. 6 and took one of the police shields that rioters were passing around the crowd, the FBI said.
Video captured Donnelly in the crowd of rioters who attacked police in a tunnel on the Capitol's Lower West Terrace. He and other rioters used shields to form a wall as they clashed with police, the FBI said.
"Rioters continued to push forward as a group, with Donnelly in the lead. A video showed Donnelly at the front of the line using the shield to aid in the advancement of the (rioters) by pushing law enforcement officers back," an FBI agent wrote.
Donnelly was still wearing face paint and his Trump hat when talked about his part in the Capitol attack in a Facebook video posted on Jan. 6.
"We pushed them all the way into the doors. It was working until more cops showed up. I'm right at the front of it and got through those doors into the Capitol, and that's when reinforcements came," he said on the video.
Approximately 1,100 people have been charged with federal crimes related to the Capitol riot. More than 100 police officers were injured during the attack. The mob disrupted the Jan. 6 joint session of Congress for certifying President Joe Biden's 2020 presidential victory over Trump.