Storm cleanup continues from winter blast; 6,300 without power
FOX 2 (WJBK) -
Metro Detroit spent Wednesday night digging out after five to seven inches of snow from today's storm.
Right now, 6,300 DTE Energy customers are left in the dark, while Michigan State Police reported about 20 to 25 crashes on freeways in southeast Michigan today.
"Well the weather guys, I guess they got it right this time. you know," quipped Ed Marena in Troy.
This winter storm packed as much of a punch as expected with wet, heavy snow including Detroit, where the city will have contractors plow residential streets in 24 hours.
"The past couple of years it's been getting better. if they declared a snow emergency, the day after, it'll be done," said Will Boddie, Detroit.
Boddie and his shovel are getting their first real workout this winter. And he has a snowblower, but skepticism
"I still haven't dug (it) out because I didn't believe it," he said. "But after tonight I'm going to dig it out for the next time it does come."
county and municipal crews are zeroed in on the here and now. In Macomb County they have 60 crews working to clear and treat roads.
Detroit has 50 trucks plowing and salting nearly 700 miles of major thoroughfares.
Oakland County has 106 truck plowing.
"Because we got some additional snow expected the next couple of days, we're going to send some of our drivers home, keep some of them on, and get some rest for some of those drivers and then switch them out," said Craig Bryson, Oakland County Road Commission. "So we got a fresh crew to come in in the predawn hours tomorrow morning."
Related: Find the entire school closing list for Jan. 26 here.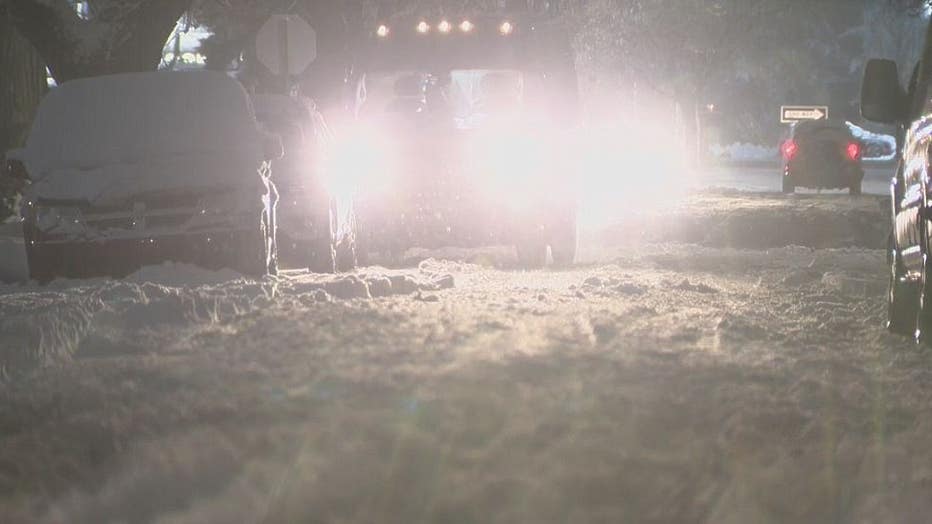 While the storm did not bring high winds and freezing rain that often leads to mass power outages, there are a handful of DTE customers like Betty Palha who are in the dark.
"Well I work from home and around, I think it was like 4:30 and the power went out," said Palha, Troy. "It's dark and it's starting to get cold so I have to find a plan b, on where tonight is going to lead."
More: The DTE Outage Map can be found here.
"We're thinking we can get most of everybody back through the course of the evening, maybe some later into the morning," said Joe Musallam, DTE.
Musallam is the VP of distribution operations at DTE.
"I know for the customers that are out, I want to reassure them we've got 300-plus crews of employees, roughly a 1,000 linemen out and about, setting up and getting those folks back," he said. "We're going to be running through the whole evening."