Toddler defends doll choice to cashier: I'm pretty and she's pretty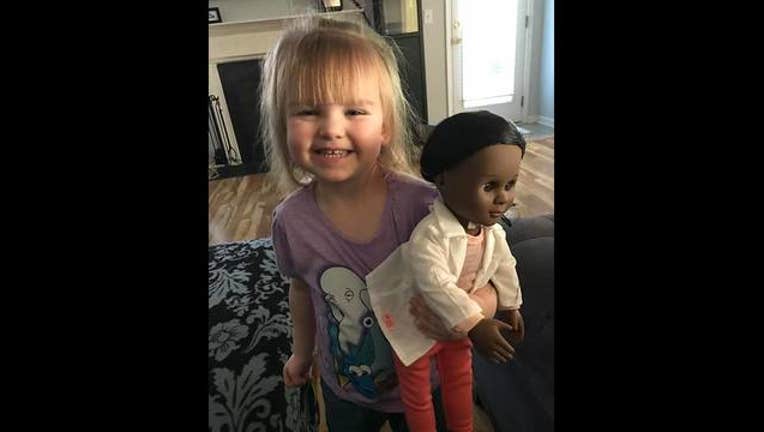 article
Any parent will tell you that potty training is a big deal. So for Brandi Benner, when her little girl used the big girl toilet for a whole month, she got rewarded with a special prize at Target. The story of what she picked out and the encounter with a Target employee is going viral on Facebook.
The South Carolina mom took her little girl to Target to pick out a special prize. It was her holding up her end of the bargain that if Sophia pooped on the potty for a whole month, she'd get the Target treat.
Brandi says that her little girl picked out a new doll. That in and of itself isn't crazy - that's what young girls do - but it's what happened when they went to leave the store that people are talking about. Brandi said what transpired - and has now gone viral - is all about love.
The cashier asked Sophia and Brandi if they were going to a birthday party. When they stared back, the employee pointed to the doll and asked if she picked it out for a friend.
The mom and daughter kept staring until Brandi said that it was a prize for Sophia being fully potty trained. The employee then turned to the little girl and asked this question:
"Are you sure this is the doll you want, honey?"
She said yes and the cashier said "But she doesn't look like you. We have lots of other dolls that look more like you."
Brandi got angry but before she could respond, Sophia already had the perfect reply:
"Yes, she does. She's a doctor like I'm a doctor. And I'm a pretty girl and she's a pretty girl. See her pretty hair? And see her stethoscope?"
Nailed it.
Brandi said the employee dropped the issue and replied with "Oh, that's nice."
For this mom, she said it reaffirmed what she already believed: that skin color doesn't mean anything to children.
"This experience just confirmed my belief that we aren't born with the idea that color matters. Skin comes in different colors just like hair and eyes and every shade is beautiful," she said in her Facebook post.
The post has been shared 188,000 times on Facebook. Brandi told FOX 2 that she has been stunned with the response to her photo.
"The response to my post has been overwhelming but it seems to be truly touching others and I'm completely blown away!" she said.
Check it out below: