Part of Trump election probe report released; grand jury believes some witnesses lied
ATLANTA - The Fulton County special grand jury investigating whether then-President Donald Trump and his allies illegally tried to overturn his electoral defeat in Georgia says they found that there was "no widespread fraud" in the state's 2020 presidential election.
The report's introduction and conclusion, along with a section in which the grand jurors expressed concerns that some witnesses may have lied under oath, were released Thursday. But any recommendations on potential criminal charges will remain under wraps for now.
For nearly eight months, the grand jury has considered evidence and heard testimony from dozens of witnesses, including high-profile Trump associates and top state officials. 
While the special grand jury, by law, cannot indict anyone, the jurors voted to have their findings made public.
In the introduction, the special grand jury states that they received evidence or heard from 75 witnesses during the investigation. After the extensive testimony, the jury voted unanimously that they found "no widespread fraud took place in the Georgia 2020 presidential election that could result in overturning that election," a claim that Trump and other Republicans had previously made.  
The partial release was ordered Monday by Fulton County Superior Court Judge Robert McBurney, who oversaw the special grand jury. During a hearing last month, prosecutors urged him not to release the report until they decide on charges, while a coalition of media organizations, including The Associated Press, pushed for the entire report to be made public immediately.
The report also states that the majority of jurors believe at least one or more witnesses who testified before them lied under oath. While the report does not specifically name anyone, the jury recommends that Fulton County District Attorney Fani Wllis seek indictments "where the evidence is compelling."
What portion of the special Fulton County grand jury report is released?
Judge McBurney said he would allow three parts of the report to be released: the introduction, the conclusion, and section eight.
In section eight, Judge McBurney says the special grand jury discusses its concern that "some witnesses may have lied under oath during their testimony."
Prominent Trump allies whose testimony was sought included former New York mayor and Trump attorney Rudy Giuliani, U.S. Sen. Lindsey Graham of South Carolina, former White House chief of staff Mark Meadows and former national security adviser Michael Flynn, as well as John Eastman and other lawyers who participated in Trump's attempts to stay in power.
Some Trump advisers and allies fought Fulton County District Attorney Fani Willis' attempts to bring them in for testimony, but Willis prevailed in most cases.
High-ranking Georgia officials who testified include Secretary of State Brad Raffensperger and Gov. Brian Kemp.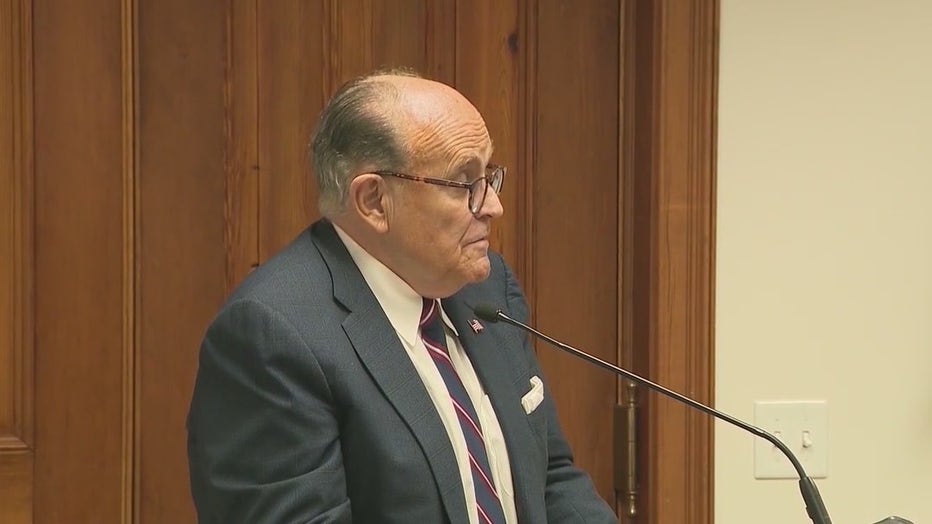 President Donald Trump's former lawyer Rudy Giuliani testifies before a special Georgia Senate subcommittee hearing on Dec. 30, 2020. (FOX 5)
Because the jury does not identify the witnesses in the report, Judge McBurney said the section could be released.
Willis had asked the judge not to release the findings saying that "decisions are imminent" and the release of the report could impact the possibility of a fair trial for "future defendants" connected to the probe.  She could ultimately go to a regular grand jury to pursue charges.
However, Judge McBurney acknowledged there was "great interest" in the results.
What was the special Fulton County grand jury investigating?
The grand jury probe stems from a Jan. 2, 2021, phone call between Trump and Georgia Secretary of State Brad Raffensperger, the president suggested that the state's top elections official, a fellow Republican, could "find" the votes needed to overturn his narrow loss in the state to Democrat Joe Biden.
"I just want to find 11,780 votes, which is one more than we have," Trump said to Raffensperger in the call. "Because we won the state."
A month later, Willis sent letters to Raffensperger and other top state officials instructing them to retain records because she was investigating "attempts to influence the administration of the 2020 Georgia General Election."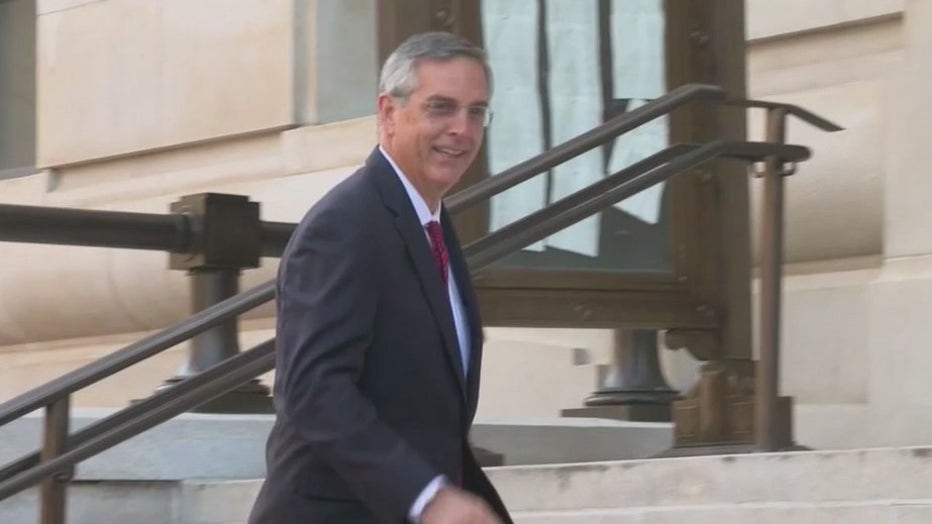 Georgia Secretary of State Brad Raffensperger walks into the Fulton County Courthouse to testify before the special grand jury in the Trump election probe on June 2, 2022. (FOX 5)
In her February 2021 letters to state leaders, Willis said she was looking into potential crimes that included "solicitation of election fraud, the making of false statements to state and local governmental bodies, conspiracy, racketeering, violation of oath of office and any involvement in violence or threats related to the election's administration."
For more than a year after opening the investigation, Willis revealed little. But, ironically, once the special grand jury began meeting in June, its proceedings shrouded in mandatory secrecy, hints about where the investigation was headed began to come out.
Paperwork filed by Willis to compel testimony from someone who lived outside the state revealed why each was a "necessary and material witness." Additionally, anyone fighting a summons had to do so in public court filings and hearings.
In many cases when seeking testimony from some Trump associates, WIllis made clear she was seeking to know about their communications with the Trump campaign and others "involved in the multi-state, coordinated efforts to influence the results of the November 2020 election in Georgia and elsewhere."
A group of fake electors, all Republicans, meet in a hearing room at the Georgia Capitol to "certify" Donald Trump won the 2020 election despite 16 Democratic electors meeting in the Georgia Senate Chamber to certify the election for Joe Biden on Dec. 14, 2020. (FOX 5)
Who could be charged after the special Fulton County grand jury?
Many believe Willis will pursue charges under the state Racketeer Influenced and Corrupt Organizations statute, commonly known as RICO. In a high-profile prosecution when she was an assistant district attorney, she used that law successfully to secure charges against Atlanta educators in a test cheating scandal. She has also used it more recently to target alleged gang activity.
The state RICO law, which is broader than the federal version, requires prosecutors to prove a pattern of criminal activity by an enterprise, which could be a single person or a group of associated individuals. It allows prosecutors to assert involvement in a pattern of criminality without having to prove that each person participated in every act.
As the special grand jury was working, Willis informed some people they were targets of the investigation, including Giuliani and the state's 16 fake electors. It is possible others received similar notifications but haven't disclosed that publicly.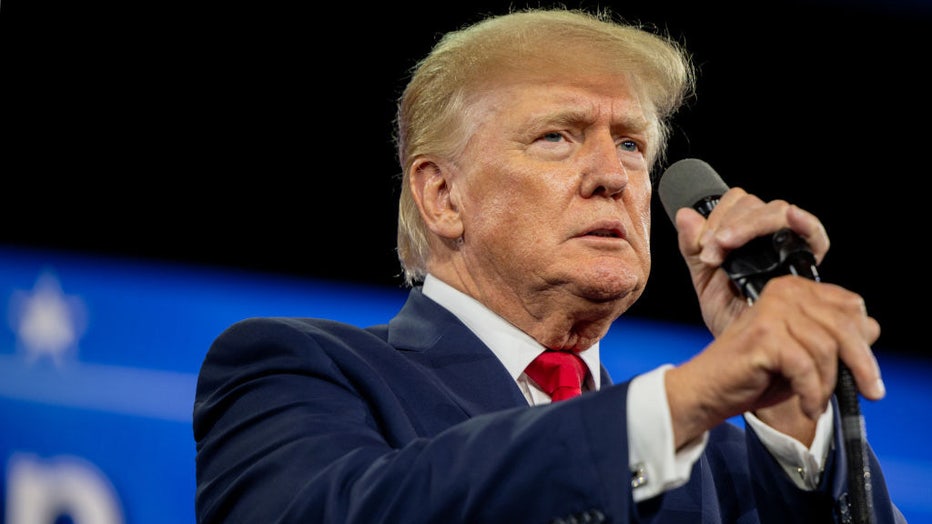 Former U.S. President Donald Trump speaks at the Conservative Political Action Conference (CPAC) in Dallas, Texas. (Photo by Brandon Bell/Getty Images)
Trump and his allies have consistently denied any wrongdoing, with the former president repeatedly describing his call with Raffensperger as "perfect" and dismissing Willis' investigation as a "strictly political Witch Hunt!"
Trump Campaign Responds
Following the release of the report, Trump's 2024 Campaign issued this statement:
"The long-awaited important sections of the Georgia report, which do not even mention President Trump's name, have nothing to do with the President because President Trump did absolutely nothing wrong. The President participated in two perfect phone calls regarding election integrity in Georgia, which he is entitled to do - in fact, as President, it was President Trump's Constitutional duty to ensure election safety, security, and integrity. Between the two calls, there were many officials and attorneys on the line, including the Secretary of State of Georgia, and no one objected, even slightly protested, or hung up. President Trump will always keep fighting for true and honest elections in America!"
The Associated Press contributed to this report