Trump praises new NFL anthem policy on 'Fox and Friends'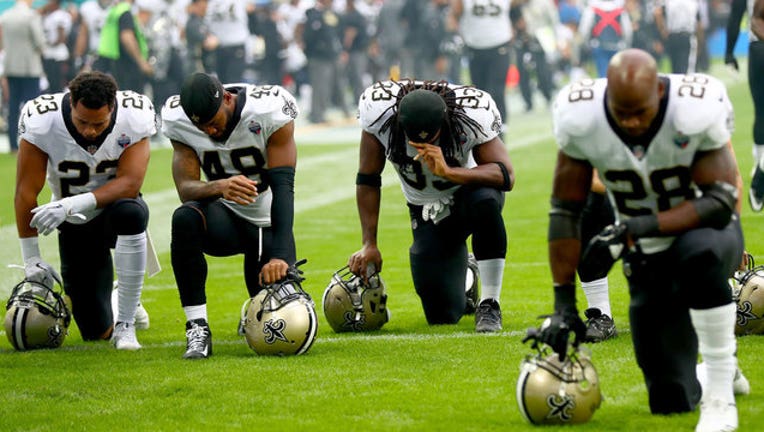 article
(WJBK) - NFL owners wrapped up their spring meeting in Atlanta Wednesday by announcing their new policy for players during the national anthem - stand, or stay out of sight. 
Commissioner Roger Goodell called it a compromise, saying players could stay in the locker room if they wanted but, if they're on the field, they must stand. The protests have been a national debate for months, sparked by Colin Kaepernick who first took a knee in 2016 to bring awareness to police brutality and social injustice. 
President Trump weighed in on the new policy Thursday morning on "Fox & Friends," saying in a taped interview that the NFL "did the right thing."
"I don't think people should be staying in the locker rooms, but still I think it's good. You have to stand proudly for the national anthem. Or you shouldn't be playing, you shouldn't be there. Maybe you shouldn't be in the country," he said. 
Vice President Mike Pence had previously weighed in, too, saying it's "a win for the fans, a win for (the president), and a win for America."
Trump stoked the issue during a political campaign, saying the NFL should fire any players who kneel during the anthem. The NFL started requiring players to be on the field for the anthem in 2009 - the year it signed a marketing deal with the military.
Goodell said the new policy was unanimously approved by NFL owners, but that was immediately called into question when the head of the San Francisco 49ers - Kaepernick's former team, no less - said he abstained from the vote. The owner of the New York Jets also took a more conciliatory approach, promising not to punish any player who continues to protest against social injustice in full view of fans.
So, what happens to a player who decides to keep kneeling during "The Star-Spangled Banner?" 
Considering Kaepernick is heading into his second year without a job and a former teammate and fellow protester, Eric Reid, is also out of work, it seemed to clear to at least one player what message the NFL was trying to send.
"If the team says 'this is what we're doing,' and ownership (does too), you either deal with it or you're probably going to get cut," Pittsburgh Steelers guard Ramon Foster said. "They'll find a way to get you up out of there."
---
The Associated Press contributed to this report