Trump supporters hold prayer rally as former President is arraigned
DETROIT (FOX 2) - For the first time in history, a former President of the United States has been arraigned on felony charges as Donald Trump pleads not guilty to falsifying business records.
Trump's arraignment inside the Lower Manhattan courtroom lasted about an hour. Trump sat before the judge at a table alongside his legal team.
No cameras were allowed inside the courtroom during the arraignment, though some media were allowed to take photographs in the brief moments before the proceedings began.
Trump was impeached twice but never convicted of charges while in office. 
Shelby Township trustee John Vermeullen was part of a crowd of Trump supporters on Tuesday who gathered to pray for the former President and says the Manhattan DA has overstepped the law.
"Trump was surrounded by huge legal teams. Accountants, lawyers." "What you have is something that's tortured use of the law," Vermeullen said.
The implication by those gathering on Tuesday is that Trump could do no wrong despite the 34 charges against him
"You know I think it's a persecution issue. They basically made a murder out of the president, and they don't see it," Vermeullen said.
But Democratic attorney Mark Brewer sees it quite a bit differently.
"He's very good attorney himself into a martyr, a victim, and fleecing his supporters for money," Brewer said.
It appears that a state judge may have to interpret federal campaign law, which Brewer says happens regularly.
"State judges interpret federal all the time- it's part of their job. Not a problem at all," he said.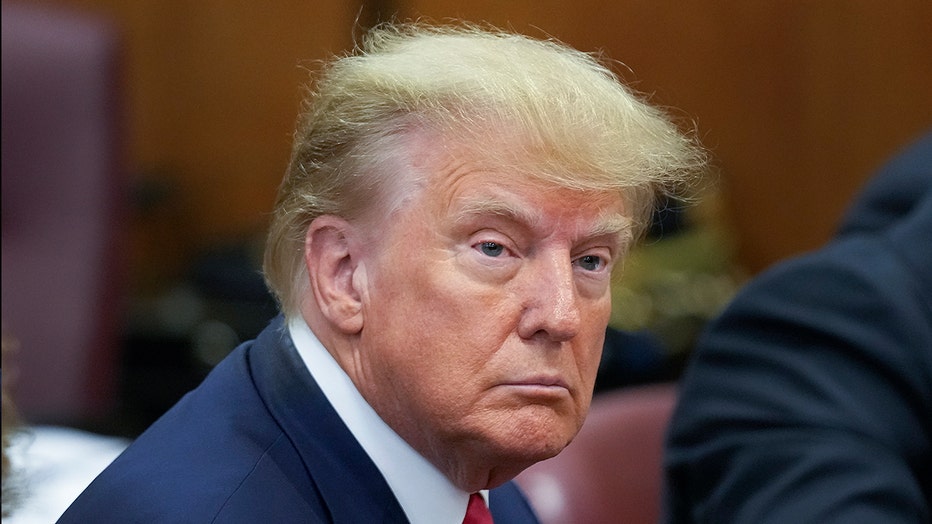 Former U.S. President Donald Trump sits at the defense table with his defense team in a Manhattan court on April 4, 2023 in New York City. Trump was arraigned during his first court appearance today following an indictment by a grand jury that heard
Trump's indictment came after a grand jury probe into hush money paid during the 2016 presidential campaign to squelch allegations of an extramarital sexual encounter. The indictment itself has remained sealed, as is standard in New York before an arraignment.
The investigation dug into six-figure payments made to porn actor Stormy Daniels and former Playboy model Karen McDougal. Both claim to have had sexual encounters with the married Trump years before he got into politics. He denies having sexual liaisons with either woman.
According to Manhattan District Attorney Alvin Bragg, Trump and his associates are accused of a "'catch and kill' scheme to identify, purchase, and bury negative information about him and boost his electoral prospects." between August 2015 and December 2017.
"Trump then went to great lengths to hide this conduct, causing dozens of false entries in business records to conceal criminal activity, including attempts to violate state and federal election laws," Bragg said in a press release.
Bragg said in once instance, American Media Inc., or AMI, paid $30,000 to a former Trump Tower doorman. The doorman claimed to have a story about a child Trump had out of wedlock.
The D.A. also said in another instance, AMI paid $150,000 to a woman who alleged she had a sexual relationship with Trump. Bragg said Trump explicitly directed an unidentified lawyer from Trump's special counsel to reimburse AMI. The lawyer said the payment should be made via a shell company and not by cash. However, AMI ultimately declined the reimbursement but had "made false entries in its business records concerning the true purpose of the $150,000 payment."
Bragg also pointed out a third instance that Trump's special counsel wired $130,000 to an attorney for an adult film actress days before the presidential general election.  The special counsel made the payment through a shell corporation funded through a Manhattan bank and later pleaded guilty and served time in prison. However, Bragg said Trump reimbursed the special counsel through checks issued for a phony purpose. Bragg said nine of the checks were signed by Trump and each check was processed by the Trump Organization and illegally disguised as a payment for legal services.
Trump has pleaded not guilty to all charges and is expected to speak to supporters from his home in Mar-a-Lago, Florida, later Tuesday evening.
The Associated Press contributed to this report.