Wildfire threat still huge in rain-starved Michigan with 90% of Grayling blaze contained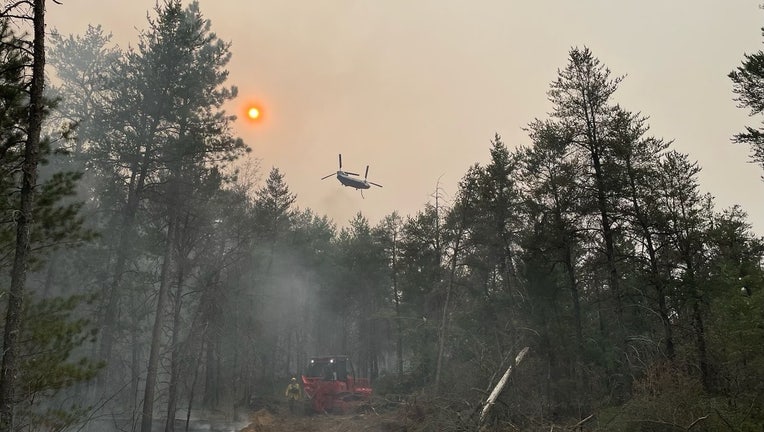 article
GRAYLING, Mich. (FOX 2) - A drought-stricken state and a weekend of battling wildfires? One could be forgiven for thinking they were in California the way officials are responding to a dangerous blaze.
Instead, they're in northern Michigan where crews spent much of Saturday and Sunday working to suppress a wildfire in Crawford County that spilled out into thousands of acres. The fire started from a private campground.
As of the most recent update Sunday night, 90% of the blaze had been contained. It's destroyed three buildings and forced evacuations at dozens of homes and campgrounds.
The fire is located on the Wilderness Trail southeast of Grayling.
A sight of the fire was posted online that showed a state police helicopter flying over a section of land in the crosshair of a fire that started Saturday afternoon. Heavy smoke was slipping through the forest while the grass below had been scorched.
The fire is the result of historically dry conditions over the past month, as well as wind this weekend that made having a fire a danger. 
State officials were aware of the dangers that a fire might break out, notifying residents that fire danger throughout the week was rated as "Extreme."
See the latest weather forecast and alerts here
Those warnings aren't likely to diminish with few chances of rain in Michigan for the next several days. In Southeast Michigan, which is also covered in extreme fire risk warnings, the soonest rain may fall is next weekend.  
A similar pattern is playing out further north where sun and temperatures in the 70s are expected most of the week.
Wilderness Trail Fire near Grayling
The Michigan DNR says 90% of the fire that broke out near Grayling has been contained. 
Help came in the form of 10 firefighters from Wisconsin who brought three Type 4 engines with tractor plow dozers and two Type 6 engines to assist with fighting the fire. They arrived early Sunday afternoon. 
"We're grateful for the help from our neighbors in Wisconsin as well as the support from federal, state and local fire departments, emergency management officials and law enforcement personnel," said Mike Janisse, leader of the DNR Incident Management Team responding to the fire.
Michigan is part of the Great Lakes Forest Fire Compact agreement, which includes states of Minnesota, Wisconsin, and Michigan, as well as Canadian provinces of Ontario and Manitoba.
While the threat has been big, officials have managed to keep the damage to a minimum. Only three outbuildings were lost in the fire.
Preliminary estimates show that the fire threatened 35 residences, 38 vehicles including 23 campers and three boats, and 58 outbuildings.
The fire started at 1 p.m. Saturday, torching jack pines, mixed pine, and oak forestland.