Michigan wildfire 85% contained, DNR says the source was a campfire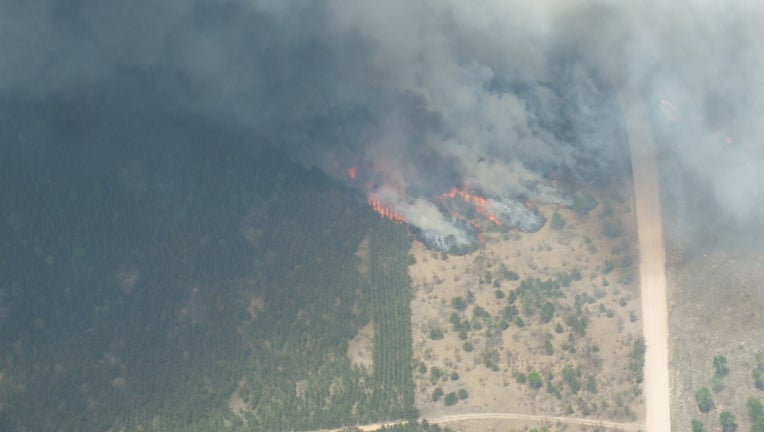 article
GRAYLING, Mich. (FOX 2) - The Michigan DNR says the wildfire near Grayling is 85% contained as of Sunday afternoon.
The DNR and local firefighters have been battling a wildfire that has burned over 3,000 acres in Crawford County. The fire is located about 4 miles southeast of Grayling in Grayling Township, near Staley Lake Road.
Fire crews have been working through the night to contain the wildfire which was last estimated to cover 2,400 acres.
The Michigan DNR says the source of the fire was linked to a campfire on private property.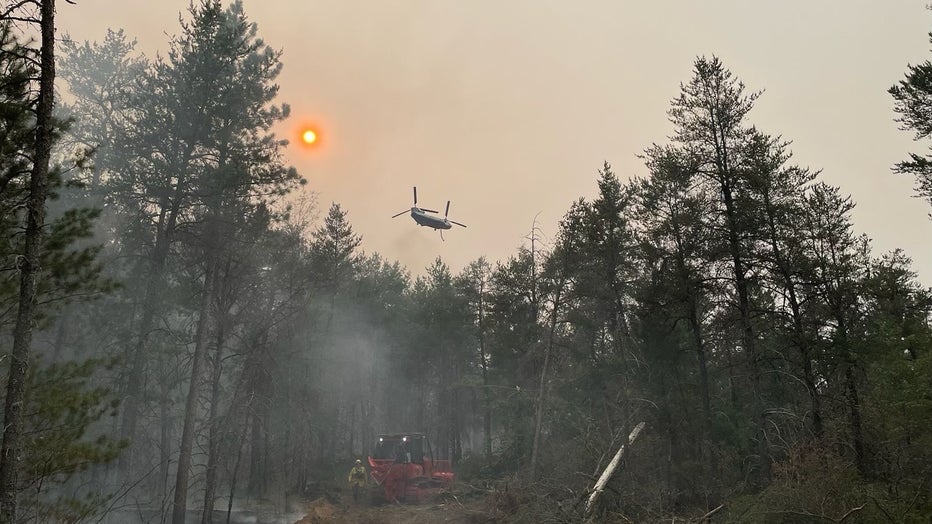 Emergency personnel use aircraft and heavy equipment to suppress the wildfire. (Photo: Michigan DNR)
According to the DNR, evacuations have been lifted. The Red Cross assisted with evacuations Saturday.
Previously closed sections of I-75 between 4 Mile Road to North Down River Road are now open.
Multiple closures are in place:
Staley Lake Road from M-72 to 4 Mile Road is closed.
Wilderness Trail from Keystone Landing Road to Staley Lake Road is closed.
Staley Lake Beach and Neff Lake Beach are closed. 
Aircraft from the USFS and MSP are assisting with fire suppression.
"For safety, a Temporary Flight Restriction is in place for a 5-mile perimeter around the fire below 5,000 feet. All other aircraft, including drones, need to avoid the area," the DNR said in a tweet.
Governor Gretchen Whitmer has activated the State Emergency Operations Center (SEOC).
"Today, I am activating our State Emergency Operations Center to coordinate an all-hands-on-deck response to the wildfires in northern Michigan," said Governor Whitmer. "By taking this action, we can ensure state and local first responders have what they need to get this fire contained and prevent loss of life or property. I want to thank the first responders who have been working to keep Michiganders safe."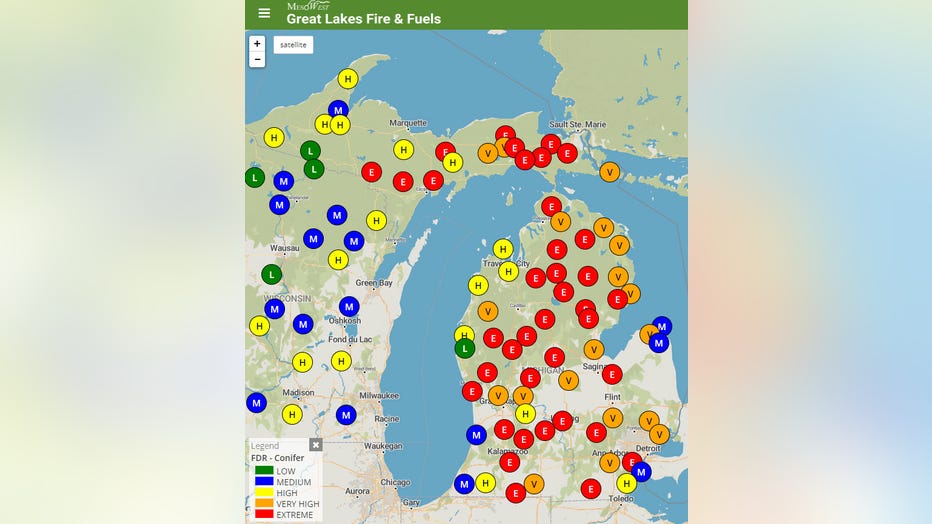 A map indicating fire danger levels in Michigan for June 3, 2023 shows high, very high and extreme fire danger icons in the majority of the state. (Photo: Michigan DNR)
Due to prolonged hot and dry weather conditions, Michigan remains under extreme fire danger conditions.
DNR recommendations to reduce the risk of wildfire:
Never leave a fire unattended, even for a moment.
Check first to see if conditions permit open burning at gov/BurnPermit.
Always put fires out completely with water. Drench, stir with a shovel and drench again.
Don't park hot equipment over dry grass on the roadside, which can ignite.
More information is available at gov/PreventWildfires.
 READ MORE: 23-year-old dead after drowning at Milan Beach in Monroe County