Bengals eliminate Lions from playoff contention 26-17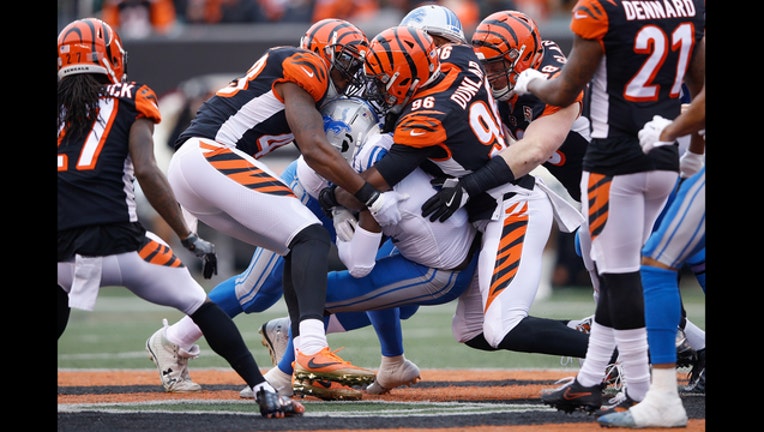 article
CINCINNATI (AP) - Matthew Stafford made a right-hand turn out of the visitors' locker room and headed into the gloomy night with yet another long offseason soon to follow. With everything on the line, the Lions came up short again.
Stafford and the Lions couldn't take advantage of a down-and-out team to stay in playoff contention Sunday. Giovani Bernard ran for 116 yards and a clinching touchdown that sent Cincinnati to a 26-17 victory, a good moment for Marvin Lewis in possibly his final home game as Bengals coach.
Nothing good for the Lions (8-7) , who ended their playoff chances in appropriate form. After rallying for a fourth-quarter lead, they self-destructed and let it all slip away.
"It's not fun when you get eliminated," said Stafford , who was only 19 of 35 for 203 yards with a touchdown and an interception. "It's not fun."
Detroit repeatedly wasted chances to move to the thick of the playoff chase during the season. It still had an opportunity to extend its hopes for one more week after Tion Green's 5-yard touchdown drive put the Lions ahead 17-16 early in the fourth quarter.
Then it all fell apart.
"We laid an egg out there today," Lions receiver Marvin Jones Jr. said .
Penalties for holding and pass interference extended Cincinnati's drive to Randy Bullock's 51-yard field goal. Given one last chance, Detroit self-destructed with a holding penalty, a false start and a short punt.
"We were not sharp in any way, shape or form," coach Jim Caldwell said.
The Bengals (6-9) then finished it off in front of a half-empty stadium. Bernard broke free for a 12-yard touchdown run with 1:54 to go, sending fans to the exits.
The erratic season raised questions about Caldwell's future after four seasons in Detroit without a playoff win. The Bengals haven't won a playoff game since the 1990 season, the sixth-longest stretch of postseason futility in NFL history. The Lions are right behind them in futility.
"Anytime you lose, everything's up for consideration," said Caldwell, adding that he hasn't talked to management about the future.
The focus on Lewis' future in Cincinnati has increased since a 23-20 loss to the Steelers on Monday night essentially snuffed out the Bengals' chances.
There wasn't much reaction from the small crowd when Lewis' name was announced as part of the pregame team introductions. He's finishing his contract and has been cryptic about whether he thinks he'll return for a 16th season.
Lewis didn't show any extra emotion about the game.
"Emotional?" Lewis said. "Why? Do you know something I don't know?"
The win ended Cincinnati's streak of three straight dismal losses, momentarily salving the sting of the Bengals' second straight losing season.
"We have a lot to play for, too - the logo on our jersey and name on our backs," Bernard said. "That was Marvin's message to us every day."
INJURIES
Lions: Detroit's offensive line was in flux again. Center Travis Swanson was out for the second straight game with a concussion, and guard T.J. Lang was inactive with a foot injury. Right tackle Rick Wagner missed his third game with an ankle injury.
Bengals: LB Vontaze Burfict was back after missing two games with a concussion, but hurt his right shoulder shortly before halftime. Running back Joe Mixon - who also missed the last two games with a concussion - left with an injured right ankle in the first quarter, putting the onus on Bernard.
STAFFORD'S STREAK SNAPPED
In his three previous games, Stafford completed 80 percent of his passes overall. The Lions' offense never got into a rhythm against the Bengals. His passer rating of 69.1 was his lowest in six games.
"Sometimes it's not going to be easy," Stafford said. "For some reason or another, we didn't score enough points."
DISAPPOINTING RETURN
Jones was one of the Bengals' top receivers for four seasons. He was hoping to have a big game in his return, but was limited to three catches for 50 yards. He topped 1,000 yards receiving for the season.
"It really doesn't mean anything right now," Jones said.
EMPTY SEATS
The 65,000-seat stadium was half-empty for the kickoff. The Bengals sold 47,732 tickets, though many went unused. It was their smallest announced crowd since 2011.
UP NEXT
The Lions host the eliminated Packers. They're 3-4 at home this season. Detroit won at Green Bay 30-17 on Nov. 6.
The Bengals play at Baltimore, which is in the thick of the playoff chase. The Ravens opened the season with a 20-0 win at Paul Brown Stadium.